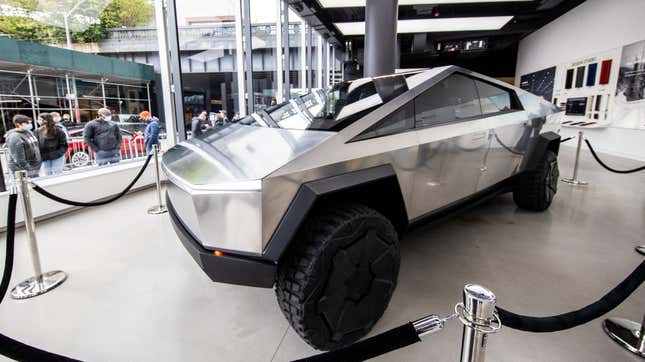 The first of Tesla's highly anticipated Cybertrucks rolled off the assembly line at the Texas Gigafactory on Saturday (July 15), setting the stage for more updates about the electric pick-up truck during the company's earnings call yesterday (July 19).
What inspired Elon Musk's design for Tesla's Cybertruck?
The electric vehicle maker CEO Elon Musk discussed more details about the Cybertruck, which has been creating buzz since it was first unveiled in 2019, including its dimensions. The futuristic-looking sub-19 foot truck will have four doors over a six-foot bed. As bigger SUVs and pickups outgrow household garages, this one "will fit into a 20-foot garage," Musk said. Yet it will allowing for a more roomy inside compared to its rivals. For instance, the Ford F-150 electric pickup truck, which launched just over a year ago, is 19.25 feet long with a 5.5-foot bed.
Details that were already known about the truck include its design features, like a stainless steel exoskeleton with armored glass, as well as the fact that it would come in three different configurations of 250-, 300-, and 500-mile ranges.

Tesla's Cybertruck, by the digits
10,000: "Unique parts and processes" in the Cybertruck that has "a lot of new technology in it," according to Musk
10 million: Amount of 4680 battery cells that have been manufactured at Tesla's Texas gigafactory. The production of these cells, used in the Cybertruck and other EVs, increased by 80% in the second quarter versus the first
$100: Cybertruck pre-order fee, which is meant to be fully refundable
More than 1.7 million: People who had placed preorders for the Cybertruck by as of January this year
Quotable: Tesla Cybertruck is highly sought-after
"Demand is so far, off the hook, you can't even see the hook. So, that's really not an issue. I do want to emphasize that the Cybertruck has a lot of new technology in it. Like a lot." —Tesla CEO and product architect Elon Musk during the July 19 earnings call 
A brief timeline of Tesla's Cybertruck production
2019: Elon Musk unveils a concept Tesla Cybertruck at the Tesla Design Studio in Los Angeles. He says the starting price will be $39,900 and production will start in 2021.
August and September 2021: Tesla delays the schedule for production and delivery to 2022 and then specifically late 2022, citing shortages in sourcing components derailing plans for the Cybertruck and also the Model Y.
October 2021: Tesla removes specs and pricing options from the Cybertruck pre-order page
July 2022: Musk sets a new production schedule for summer 2023.
April 2023: Musk says Tesla will host a delivery event for the Cybertruck toward the end of the third quarter
May 2023: At the company's annual shareholder meeting, Musk says Tesla could deliver between 250,000 to 500,000 units per year once production begins. Mass production is scheduled for the end of this year.
One more thing: Ford's cutting F-150 electric pickup truck prices
Th price of the Ford's F-150 has gone up from around $40,000 to more than $55,000 between its late 2021 launch and earlier this year. But to better compete against Tesla, the legacy automaker is slashing prices for its electric pick up trucks.
The price cut of nearly $10,000 for the least expensive models, and at least $6,000 for all others, brings the base variant's price tag below $50,000. The company was able to make the reductions on the back of improvements in scale and decrease in battery costs.
Related stories
🤯 Tesla's Cybertruck is ridiculous, but who wants to bet against Elon Musk?
👀 Elon Musk readies to unveil Tesla's third master plan at the company's first investor day