stoc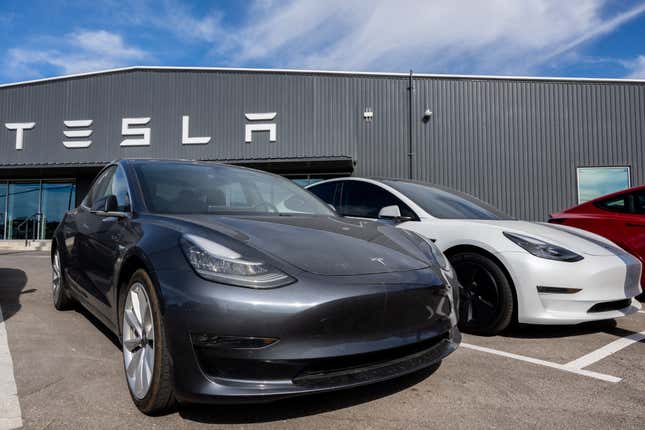 What inspired Elon Musk's design for Tesla's Cybertruck?
Tesla CEO Elon Musk will address investors tomorrow (March 1) at the company's electric vehicle gigafactory in Austin, Texas.

Billed as the company's first investors day, Musk is expected to announce new Tesla products that aim to reduce reliance on fossil fuels and lead to a "fully sustainable future", including a potential low-cost solar panel for individual residences.

The company has said it plans to invest heavily in personal energy storage, building on the rollout of the Powerwall, an electric battery that can power residences that aren't connected to a central power grid. Musk is also expected to give an update on his Robotaxi projects, a series of autonomous cars-for-hire that Musk plans to start producing in 2024.

Musk has a long history of hyperbole at such big, flamboyant events. At a similar conference in 2019, he said there would be a million Robotaxis on the road by 2020 (there aren't). He has also said he plans to turn Twitter into a "super app" that will serve all user needs (no progress as of yet), as well as promising that his company SpaceX will colonize Mars by the end of the decade (let's check back in 2029).
Other possible announcements at Tesla's investor day
🚗 Cheaper Tesla models: Musk is expected to give an update on his "Generation 3" plan that will unveil a cheaper Tesla model, priced somewhere between $25,000 and $30,000, and will be mainly used for his Robotaxi fleet.
🏭 Expanded production capabilities: Musk has said that his long-term goal is for Tesla to produce 20 million cars annually by 2030, with some speculating that Musk will reveal new plans for increased production capacity. Mexican president Andres Manuel Lopez Obrador announced on Tuesday (Feb. 28) that Tesla will open a new plant in the state of Monterrey.

🛻 Cybertruck: Tesla's electric semi-trucks went into limited production in 2022, and the Cybertruck pickup truck is expected to begin manufacturing at the end of 2023, fueling speculation that the vehicle could make an appearance on stage with Musk and perhaps recover from its not-so-successful 2019 demo.
What about Tesla's other master plans?
2006: Musk's first master plan describes what Tesla is trying to achieve. The plan gives step-by-step instructions to build a luxury car and use the profits to build a more affordable electric vehicle, while building clean energy options on the side.

2016: The second master plan was an update on Tesla's production goals, specifically building electric vehicles for all major segments of the industry, including semi-trucks and pickups. It also outlined the company's mission to create an autonomous network of self-driving cars.

2023: Tesla is due to unveil its third master plan, which Musk anticipated being a "message of good hope" relevant to all "people and life of Earth."

Tesla shares rebound makes Musk the world's richest person again

Tesla's stock surged ahead of tomorrow's meeting with investors, making Musk the wealthiest person in the world, once again. He reclaimed the top spot from Bernard Arnault, the CEO of French luxury brand, posting a net worth of roughly $187.1 billion, according to Bloomberg's Billionaires Index.
Musk's personal fortune fell precipitously in late 2022 as Tesla's stock price slipped along with a broader decline in the tech industry and concerns he was spending too much time focusing on Twitter. The record loss made Musk the first person ever to see $200 billion wiped off his net worth.
Musk has bounced back, however, with Tesla shares swelling nearly 70% so far this year. The surge is due, in part, to a recent announcement by the US Treasury Department that it would allow luxury electric vehicles, including multiple Tesla models, to qualify for the new electric vehicle tax credit.
Charted: Tesla share price 2022-2023

Electric vehicles made up 10% of all new cars sold in 2022
Global demand for electric vehicles has surged. Last year, car companies sold 7.8 million fully electric cars, a 68% increase from the previous year.
The increase was mainly fueled by European and Chinese markets, with electric vehicles accounting for 11% of total car sales in Europe and 19% in China. If you include plug-in hybrid vehicles, the share of electric cars sold in Europe goes up to 20.3%.

In Germany, Europe's largest auto manufacturing market, electric cars accounted for a quarter of all production. And, in the month of December, Germans purchased more electric vehicles than cars with conventional engines.

Electric vehicle sales reached record heights despite the overall new car market falling slightly. While there was a 4% increase in China, the market for new cars declined by 8% in the US and 7% in Europe, as high inflation rates weakened consumer purchasing power and Russia's war in Ukraine caused energy prices to climb.
Related stories:
🇮🇳 India has found a major deposit of lithium, suddenly making it a major player in batteries and EVs
📉 Tesla's share of the EV market is dropping in the US
🚘 How electric vehicles contributed to a record 2022 for Stellantis