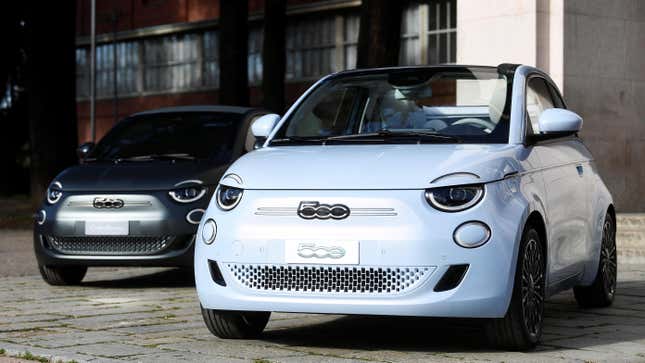 Auto manufacturer Stellantis posted record results for 2022.
The Netherlands-based carmaker, formed in 2021 when the Italian-American Fiat Chrysler company merged with France's PSA Group, reported a boost in electric vehicles sales in the US and Europe that contributed to the stellar results.

Why a tightening of credit conditions could lead to a weak economy
The company said it is planning for 100% of passenger car sales in Europe and 50% of passenger car and light-duty truck sales in the US to be electric vehicles by the end of the decade. Starting 2026, all new products hitting the European market will be EVs.
Charted: The growing BEV market in Europe
Stellantis's 2022 report card, by the digits
€179.6 billion ($191.2 billion): Net revenues, up 18% from the previous year
€16.8 billion ($17.88 billion): Net profit, up 26% from the previous year
€10.8 billion ($11.5 billion): Industrial free cash flows up 78% year-over-year—a positive sign that the company is on the trajectory to achieve its objective of €20 billion by 2030.
4.2 billion euros ($4.48 billion): Dividend on 2022 results
Up to 1.5 billion euros ($1.6 billion): Share buyback program to be completed by the end of this year
2%: Fall in vehicle shipments for the group, due to the semiconductor crunch and logistics issues, especially in Europe
41%: Increase in global battery electric vehicle (BEV) sales year-over-year, to 288,000 vehicles in 2022. By the end of the decade, Stellantis is aiming to post global BEV sales of 5 million
23: Stellantis's current BEV portfolio. The company aims to more than double this number to 47 by the end of 2024, and 75 by 2030
5: Confirmed locations for gigafactories (three in Europe and two in North America), with Automotive Cells Company, Samsung SDI, and LG Energy Solution. They will contribute to the 400 gigawatt hours of capacity the company estimates it'll need by 2030
10: Startup investments Stellantis Ventures made in 2022, with three projects to launch in 2023
11%: How much the company reduced its industrial and real estate (Scopes 1 & 2) carbon footprint by over 2022. Stellantis aims to achieve net-zero carbon emissions by 2038
1.6%: How much Stellantis shares climbed during early trade in Europe
∼30%: Reduction in vehicle defect rates three months after delivery to the end-customer
27%: Leadership positions held by women. The company is targeting 30% by 2025
Car of interest: Fiat New 500
In 2022, the Fiat New 500 topped the EV sales charts in Italy. It was the third-most sold EV in the 10 major European markets and it was Stellantis's best-selling BEV in Europe.
In the second quarter of the year, the New 500 became the best-selling full-electric car in Western Europe, dethroning a Tesla model for the first time since the last quarter of 2020, according to analyst Matthias Schmidt. (It's worth noting Tesla was affected by a supply slump because of lockdowns in China.)
Stellantis's success didn't come from just one of the eggs in its basket. The Peugeot e-208 bagged the top EV spot in France.
Stellantis's electric future
In addition to establishing gigafactories, Stellantis is also…
🔋 "accelerating development of solid-state batteries" to make faster charging and the product lighter
📦 "working to secure a decarbonized supply of battery-grade lithium hydroxide"
🔌 "building a fast-charging network in Europe."
Quotable: Stellantis's North America electrification push
"We now have the technology, the products, the raw materials, and the full battery ecosystem to lead that same transformative journey in North America, starting with our first fully electric Ram vehicles from 2023 and Jeep from 2024." —Carlos Tavares, CEO
Related stories
🏭 Stellantis has blamed rising EV costs for idling an Illinois plant that makes Jeep Cherokee
🤝 What happened to Amazon's deal with Rivian?
💰 Why Elon Musk is no longer a fan of government subsidies for electric cars