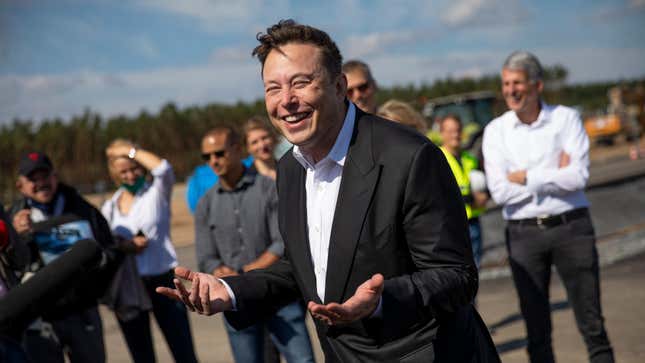 Elon Musk has no plans of stepping down as Tesla CEO any time soon.

Ahead of Tesla's annual general meeting in Austin, Texas, yesterday (May 16), five shareholder proposals were on the table, one of which wanted clarity on who was in line to succeed Musk. A year ago, Musk said he would stay at the automaker as long as he is useful, and last November, Tesla board director James Murdoch testified in court that Musk had identified a potential successor—but did not name the individual in question.
However, shareholders rejected the proposal to publish a report on "Key-Person Risk," which sought to identify key persons and establish succession plans. (Tesla will publish the official vote tallies later in the week.) According to Reuters, a shareholder even sought confirmation Musk wasn't planning to step down: "Say it ain't so," to which Musk replied: "It ain't so."
Quotable: Some Tesla shareholders worry about Musk
"At a time when Tesla's technological leadership should be on display, the investment community largely sees us as adrift, with management focused on all matters not-Tesla, watching as Tesla's brand favorability dropped by 15 points last year, something that costs us margins. When people look at this company…they see the company as a synonym for its CEO, and the discussion turns to everything except for where it should be focused,"—Karen Robertsdottir, a shareholder in Reykjavik, Iceland, during the event.
Musk's Twitter distraction
Ever since Musk bought Twitter in October, Tesla investors had voiced concerns about the CEO being distracted, hurting Tesla's performance and therefore its share price.
Musk acknowledged he wasn't fully focused on Tesla. "There was a short-term distraction because I had to do major open-heart surgery on Twitter to ensure the company's survival" he said, quoted in Reuters.
But now that he found his successor as Twitter CEO in NBCUniversal's former advertising head Linda Yaccarino, Musk is focusing again on Tesla. On Monday (May 15), he sent an email to the automaker's staff saying no new employee can be hired without his consent: "No one can join Tesla, even as a contractor, until you receive my email approval."
Tesla is in dire need of close attention amid softening demand and delayed production. Since the start of this year, the company has tweaked the price tags of its cars several times spree of price cuts, focusing on clocking higher volumes and delivering larger fleets over improving profitability.
Person of interest: Tesla co-founder and ex-CTO JB Straubel
JB Straubel won the election to Tesla's board even though some investors objected to his return due to concerns about independence and accountability. The company's co-founder and former chief technology officer will take over the spot vacated by Hiromichi Mizuno, the former chief investment officer of Japan's $1.5 trillion pension fund.
Straubel, who left Tesla in 2019 after 15 at the automaker, is currently the CEO of battery recycling and materials company Redwood Materials. He is considered a potential successor to Musk, even though the most likely choice would be chief financial officer Zack Kirkhorn, who according to the Wall Street Journal, operated as a shadow-CEO of sorts.
A non-exhaustive list of other updates at Tesla's AGM
🛻 Tesla would like to produce 250,000 Cybertrucks—its very first pickup that'll compete with Ford's F-150 Lightning, the electric version of Ford's iconic F-150, and Rivian's R1T—each year. Musk himself plans to drive one on a daily basis.
🚘 The engineering and design of its next-generation Roadster sports car will be complete this year, and production of the delayed model will "hopefully" start next year, Musk said.
👀 Two new mass-market models are under development, with a massive target production of 5 million annually.
👦 Tesla will conduct a third-party audit to ensure there is no child labor in cobalt mines that supply the ingredient used in making batteries, and install a webcam on the mine for monitoring.
📮 For the first time, Tesla, which has so far relied on word-of-mouth, Musk's tweets, and referral programs instead of indulging in traditional marketing, is willing to "try a little advertising," Musk said. "There are amazing features and functionality about Teslas that people just don't know about" he said.
Related stories
📱 Tesla investors are worried Elon Musk enjoys operating "above the law"

🌬️ Tesla finally disclosed the full extent of its carbon emissions