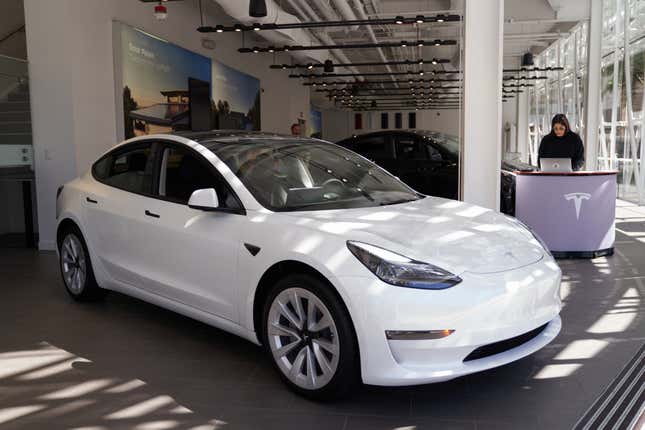 Tesla slashed US prices for some Model 3 and Model Y vehicles for the sixth time this year, according to its website, as the world's largest electric vehicle (EV) manufacturer looks to increase demand. The decision comes on the eve of its first quarter earnings report, which is expected to show a dip in profit.

What inspired Elon Musk's design for Tesla's Cybertruck?
Specifically, the company cut the cost of the Model Y by $3,000 and the Rear-Wheel Drive (RWD) Model 3 by $2,000, two of its most popular offerings. The change comes after new regulations on the sourcing of battery components reduced the RWD Model 3's eligibility for a full tax rebate.

The new $39,990 price tags confirms RWD Model 3 to be Tesla's least expensive car, but the vehicle's tax credit dropped from $7,500 to $3,500 because the minerals in its batteries come from China. Other Tesla vehicles aren't affected by the tax credit change.
Tesla has been slashing its prices as it seeks to retain dominance in an increasingly crowded EV market. In January, the company cut the price of its vehicles by as much as 20% after missing delivery estimates in 2022.

In China, Tesla has been engaged in a price war with manufacturers like Xpeng and Nio, slashing the cost of its locally produced Tesla by about 14%, making them almost 50% cheaper than those sold in the US. The China Association of Automobile Manufacturers publicly called for a pause on the discounts in March, as it looked to protect local companies.


What to expect from Tesla's Q1 2023 earnings report
Tesla is expected to report lower earnings on higher sales, a trend that is largely in line with the EV industry as a whole. As the EV industry explodes, automakers like Volkswagen, Ford, and Jeep are spending billions of dollars to compete with Tesla, forcing the company to slash prices and ramp up production.
Tesla is expected to announce a 24.2% year-over-year increase in revenue, despite an anticipated 2.4% decrease in profit due to price cuts, according to data from Refinitiv via Reuters.

Tesla shares were slightly down 1.5% on the news of price reductions, as of 11:30 am in New York. The stock price overall is up 67% in the first quarter of 2023, recouping some losses after the company's shares lost roughly two-thirds of their value last year.


Which EVs are no longer eligible for the EV tax credit?
The US Treasury has changed the tax rebate policy for EV purchases, with two new requirements, each worth $3,750 in tax credits, going into full effect this month.
The new rules require that 50% of the value of the car's battery components must be produced or assembled in North America to qualify for the first credit. For the second, 40% of the value of minerals in the vehicle's battery—such as lithium, cobalt, and nickel—must be sourced from the United States or a designated trading partner.

Here is a full list of EVs that will still be eligible under the new rules.


Related stories:
🇺🇸The US is reducing tax credits for foreign-made EV models

🔌 BYD profit surged by 400% last year as the electric vehicle market keeps going in China

🚗 Tesla is the latest American manufacturer to invest in Mexico