Hi Quartz Africa readers,

Contrary to what most might believe, one of the world's worst most recent maritime disasters in terms of human devastation, was not the sinking of the Titanic, but rather the September 2002 sinking of the Joola in the Casamance region of Senegal that resulted in over 1,800 deaths. It was recently described by the New York Times as "the second deadliest maritime wreck ever recorded in peacetime."

Efrem Gebreab, producer and director of a recent documentary on the Joola, told the BBC's Africa Today podcast the ship sank so quickly that no distress call went out. For hours, no one knew the ship had sank.

Aliou Cissé, the legendary coach of the Senegalese national football team, lost 10 family members including one of his sisters. He says, "In reality, the whole region was decimated. Everyone in the city of Ziguinchor [the capital of Casamance] had one, or two, or even ten family members who were left in that shipwreck."

If this is the first time you are hearing about the Joola, you are likely not alone. I first learnt of it in 2016 when I moved to Senegal. It's a powerful reminder that the stories that get most prominence are not necessarily the biggest or the most important ones. They simply tell us about geopolitics, about who has access to power and influence.

We need to have the humility to acknowledge that at best, the major stories that get surfaced are still just a tip of the iceberg of the global human experience.
—Ciku Kimeria, Africa editor

---
What to watch for in the Quartz Africa member brief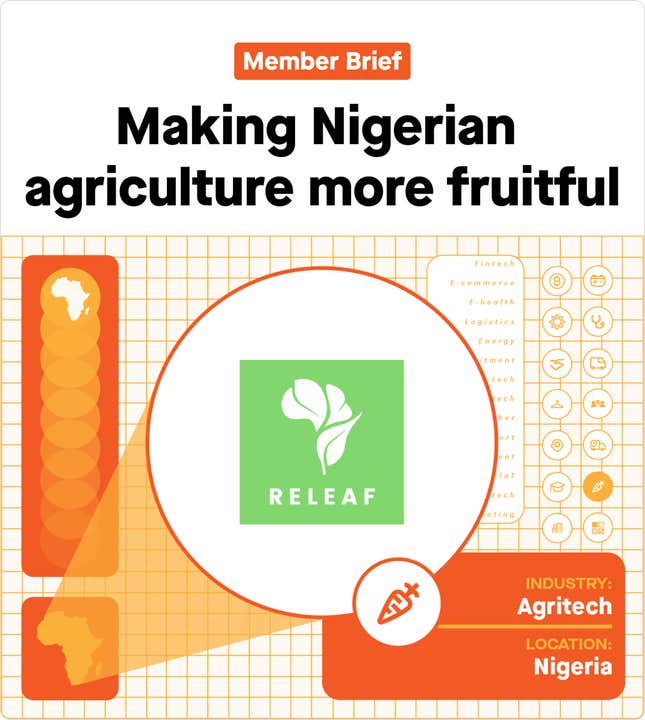 By The digits
23%: Agriculture as a share of Africa's GDP
$1.2 billion: Value of agricultural exports from Nigeria in 2021
60%: Farmers as a share of the population in sub-Saharan Africa
25: African countries that import more than a third of their wheat supplies from Russia and Ukraine
40%: Food as a share of consumer spending in Africa
1.5%: Nigeria's contribution to the world's total palm oil output, making it the world's fifth largest palm oil producer
Learn more about Releaf, a Nigeria-based agritech startup, in this past week's edition of the Quartz Africa Member Brief. To get the Member Brief directly in your inbox (and save 40%), become a member today!
---
Stories this week
Technology is shedding light on Britain's Mau Mau detention camps in Kenya. Maxine Betteridge-Moes reports on how interactive maps and 3D digital models are helping historians research and preserve knowledge about the British crackdown of the Mau Mau rebellion.
Senegal is installing air sensors in stadiums. Faustine Ngila explores the growing trend of providing athletes with clean air.

Tech investors bet big on a restaurant-focused startup. Two of the largest tech investors in Africa, TLcom Capital, and Partech, led an unprecedented funding round for a startup whose mission is to help restaurants buy supplies and manage inventory, Alexander Onukwue writes.
Demand for blockchain developers is rising in Africa. After funding started trickling into the continent last year, the race to train Africans in blockchain development is heating up. Faustine Ngila highlights the challenges this technology can solve.

Shell bought its first African renewable energy company. Alexander Onukwue reports on the significance of the oil major's acquisition of Daystar Power, a Nigeria-based provider of commercial and industrial solar power solutions with 32 megawatts of installed capacity.

---
Charting mobile data costs in Africa
If you're looking to spend the least on mobile internet data, then any of the seven northern African nations will be a good choice, with Algeria having the continent's cheapest mobile data, according to data published by UK-based internet affordability analysis firm Cable.
The Worldwide Mobile Data Pricing 2022 index, which analyzed the average cost of one gigabyte (1GB) of mobile internet from over 5,000 mobile data plans in 233 territories, found that of all 13 regions it surveyed, northern Africa leads in mobile data affordability at an average price of $1.05. Faustine Ngila details the cost of data in every African country.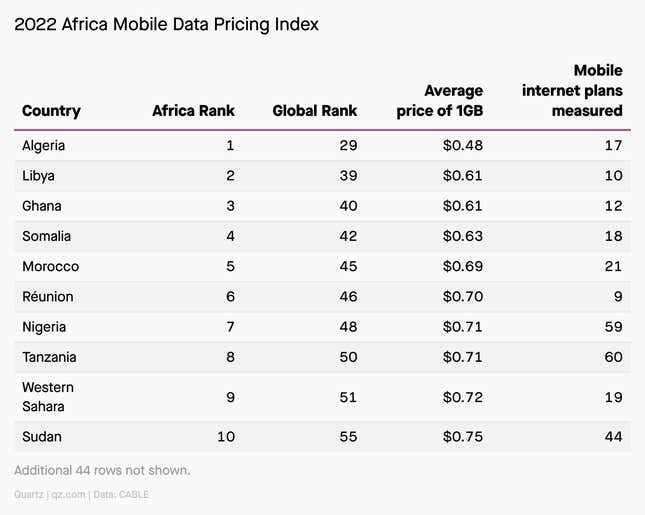 ---
Spotlight on a Quartz Africa 2021 Innovator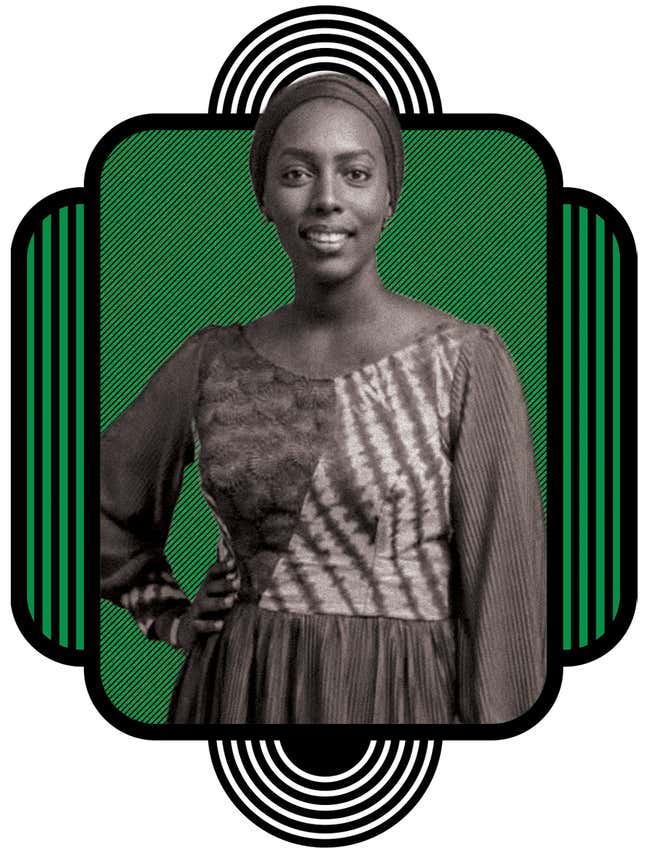 After 10 years living in France and working mostly in marketing roles, Seynabou Dieng returned to Mali only to realize that most food products within reach were foreign goods. It inspired her to start Maya, a food processing company for products made with ingredients sourced from farmer associations.
Maya has processed 78 tons of vegetables and cereals since 2017, and has trained 250 farmers to make them potential partners that can supply produce. These farmers are more confident to invest in producing goods because there is now a market for what they harvest. It has the potential to increase agriculture's contribution to Mali's GDP which currently stands at 30%.

With a foothold in Mali, Maya now also operates in Senegal, where it could find a market with Dakar's culturally diverse populace.

Check out Quartz Africa's Innovators 2021 list, which showcases the pioneering work being done by Dieng and other female African innovators.

---
Dealmaker
Numida, a fintech company in Uganda, raised $12.3 million in a debt and equity round led by Serena Ventures, the firm of former Tennis star Serena Williams. Other participating investors include Breega, 4Di Capital, Launch Africa, Soma Capital, MFS Africa, and Y Combinator. Numida offers loans from $100 to $5,000 to small businesses at interest rates of between 10% and 16%, with one month payment periods.
iiDENTIFii, a biometrics tech firm, raised $15 million growth capital. The round was led by African investment company Arise whose cornerstone investors include Rabobank Partnerships, Norfund, NorFinance, and FMO. iiDENTIFii's advanced face authentication technology securely authenticates users via their cellphones or PCs.

---
Quartz Gems
When was the last time the pound crashed?
The British pound hit a historic low against the US dollar this week after huge tax cuts were announced by Liz Truss's new government. The last time the pound flirted so closely with dollar parity was when Margaret Thatcher was prime minister.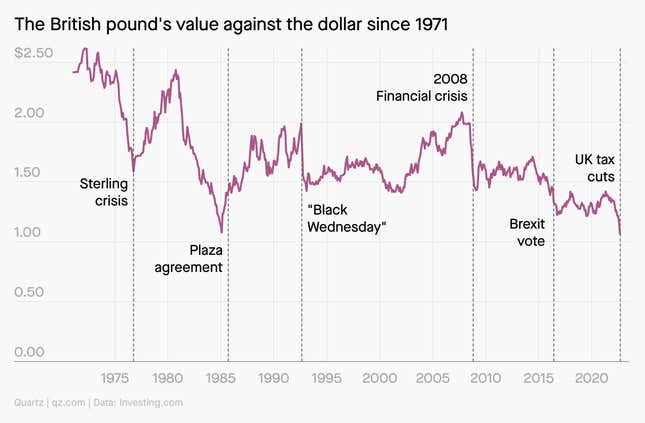 In this situation, central banks often buy their home currency on foreign-exchange (FX) markets to boost it. But you need hefty reserves to do that. Building those up just hasn't been a priority for the UK, which is the world's fifth largest economy but only ranks 18th largest in reserves of foreign currencies and gold.

There aren't a lot of solutions. The Bank of England has made it clear, at least for now, that it's not going to prop the pound. And the IMF has warned the UK that its recent fiscal package would likely threaten its monetary policy and increase inequality.
---
Quartz event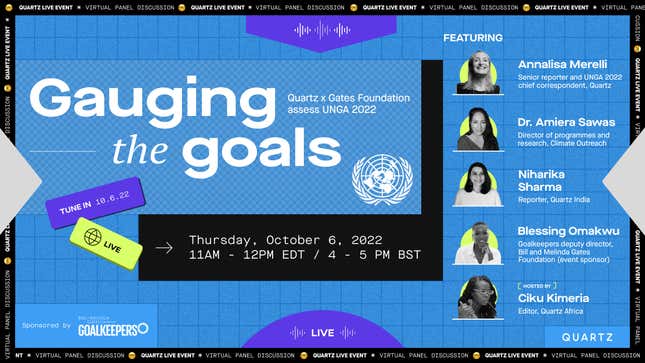 With this year's UN General Assembly now in the rearview mirror, we'll look back at what was accomplished, and at what remains a wishful commitment. Did the delegates move the needle on human rights or sustainability efforts? Did they revive interest in multilateralism as a means for solving urgent problems? Join a panel of Quartz journalists and special guests as we review the impact and implications of UNGA 2022.

---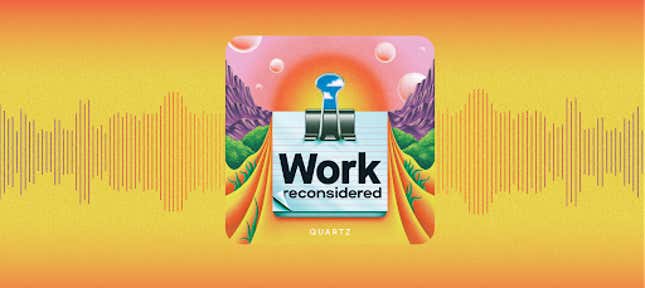 You hear that? Work is changing. Are we really supposed to go back to working five days per week, from an office? Work is at an inflection point; we're questioning our assumptions about how we're doing it, and why. On Work reconsidered, a new podcast from Quartz, we talk to the people making that change right now, and what it means for the future of work. Work reconsidered is out Oct 6 wherever you get podcasts.

---
Other things we liked
Nigeria's emigration wave isn't slowing down. In the Financial Times, Aanu Adeoye talks about how he moved back to Nigeria only to discover most of his friends have left the country, raising questions about the brain drain causing an unstoppable wave of emigration in Africa's largest economy.

Why the current Ebola outbreak in Uganda is concerning. While Uganda has expertise in quelling Ebola outbreaks, the BBC's Ann Soy explains why this particular outbreak is proving more difficult to deal with.

The trial of a suspected financier of the Rwandan genocide began. AP's Mike Corder writes that 87-year-old Felicien Kabuga boycotted the opening of his trial at a UN court on Thursday.

A helicopter crash killed Ugandan troops in DRC. For the Daily Monitor, Tabu Butagira, Allan Chekwech, and Andrew Bagala report that a Mi-17 helicopter that had just delivered food exploded during take off, killing more than a dozen soldiers.

---
ICYMI
Apply for east Africa biodiversity journalism grants. Internews Earth Journalism Network is seeking to award 10 journalists with grants of $1,200 each to produce in-depth conservation features in east Africa. (Oct. 15)
Build smart energy solutions and earn upto €70,000. Smart Energy Solutions for Africa consortium is calling for SMEs in Ghana, Morocco, Malawi, and South Africa to showcase their innovations and get funding of between €50,000 and €70,000 over 18 months. (Nov. 20)

---
🎵 This brief was produced while listening to 'Yene Habesha' by Abby Lakew (Ethiopia)

This week's brief took you to 🇰🇪, 🇳🇬, 🇸🇳, 🇩🇿, 🇲🇱, 🇪🇹, 🇷🇼 and 🇺🇬
---
Our best wishes for a productive and ideas-filled week ahead. Please send any news, comments, suggestions, ideas, cheap data bundles, and blockchain developers to africa@qz.com. You can follow us on Twitter at @qzafrica for updates throughout the day.
If you received this email from a friend or colleague, you can sign up here to receive the Quartz Africa Weekly Brief in your inbox every week. You can also follow Quartz Africa on Facebook.