Hi Quartz Africa readers! [insertSponsor]
The diaspora's bet
Global remittance flows have grown over the past decade at about 4.2% a year to $445 billion in 2016, according to the UN's IFAD agency. Many of the estimated 33 million Africans living outside their countries sent home hard-earned cash to the tune of $60 billion, that's up 36% since 2007.
Those big numbers have caught the eye of several African governments over the last decade. Learning from the success of Israel and India in particular, these governments have been mulling, and in some cases experimenting, with the idea of diaspora bonds. They see these bonds as a route to formalize the inflows of much needed hard currency into an investment for the migrant and a cheaper loan for the government.
On paper, diaspora bonds make a lot of sense. Most immigrants would be keen to formally contribute to the development of their home country particularly when bonds are linked to specific infrastructure projects. The hope is also that the migrant investor will be more likely to take a 'patriotic discount' because they believe in their home country's future more so than an investor without emotional ties.
Ethiopia was the first African country to launch a diaspora bond in 2008 but it was widely seen as a flop because the government was unable to convince investors that it wasn't too risky a bet . Its next diaspora bond was deemed successful but ended up running afoul of US regulatory laws by selling to Ethiopian diaspora without the right permissions.
Nigeria, which has been mulling the idea of tapping into its huge diaspora for some time now, issued its first diaspora bond last month, a five-year bond at 5.625% which raised $300 million.
Ultimately, the key difference between a diaspora bond and say a more traditional issuance like a eurobond, is really all about its marketing. A diaspora bond is targeted at members of that migrant community usually at relatively low retail denominations.
So what does it mean if a country issues a diaspora bond but few in its diaspora hear about it? The reports about the Nigeria bond explain it was targeted through private banks and wealth managers. These are not services that are in common use with many migrants. This would likely mean this debut diaspora bond was mostly taken up by professional investors (who may or may not be Nigerian). But the important thing was probably to get the first one off the ground. There are still millions more patriots willing to bet on their country.
Yinka Adegoke, Quartz Africa editor
Stories from this week
Fake news is already disrupting Kenya's tight election campaign. With just over a month to Kenya's elections, an endless stream of misinformation, propaganda, and made-up stories are flooding both traditional and social media outlets. As Abdi Latif Dahir reports, the stakes are also elevated by the ubiquity of mobile and digital connectivity among the electorate.
Empty shelves, unpaid staff and angry suppliers as East Africa's top supermarkets dispel a rising middle class narrative. Kenya's largest supermarket Nakumatt is facing mounting debts to suppliers leading to empty shelves and the closure of underperforming branches. Nakumatt's woes, like with other local retailers, portend the challenges ahead for investors who have bet on the continent's expanding consumer base, writes Joshua Masinde.
No, Africa is not lacking talented scientists. We're just not investing in them. The debate about scientists in Africa often revolves around how few scientists the continent produces. But as Nina Dudnik argues, we should shift the narrative from lamenting the absence of scientists, to investing and supporting those already here.
Rwanda's opposition candidates finally have a voice—but no real shot at the presidency. On Aug. 4, Rwanda will hold its third multi-party presidential election since 1994. And while opposition candidates have faced intimidation and jail time, this is the first time many can speak freely about the government's shortcomings, explains Lily Kuo.
Africa's presidents keep opting for foreign medical treatment instead of fixing healthcare systems at home. Political leaders in Africa always promise to improve local health systems as part of their campaigns. But the reality proves otherwise says Yomi Kazeem: six of the 12 African leaders who died in office in the last decade did so while seeking treatment abroad.
CHART OF THE WEEK
African students are ditching US and UK universities in favor of China.  China has become a top educational destination for Anglophone African countries, with the student body there growing 26-fold between 2003 and 2015.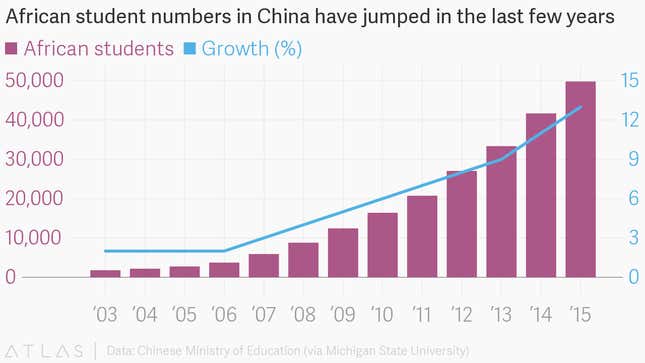 Other Things We Liked
Inside Israel's secret effort to rid itself of African refugees. For decades after its founding in 1948, Israel welcomed refugees from outside the Jewish faith. But as a year-long investigation by Foreign Policy's Andrew Young reveals, the country has implemented a raft of shadowy policies over the last few years, shuffling African asylum seekers from Israel, via Rwanda or Uganda, into third countries where they are no longer anyone's responsibility.
In appealing to elites, Malema mixes radicalism with new political savvy. Julius Malema, the firebrand leader of South Africa's socialist-leaning Economic Freedom Fighters party recently addressed the South African Property Owners Association—an invitation that even "shocked" him. As Rebecca Davis reports in the Daily Maverick, his speech demonstrated how Malema has learned to package his message in a way that might even convince rich, white people to come on board with him.
Keep an eye on
Atlas for Africa trainings (July 4-11). As part of our ongoing training to bring Quartz's chart-building platform to newsrooms and organizations across Africa, we will be conducting trainings in Tanzania and South Africa this week. On July 11, we will also hold a video conference training. If you want to be part of that session, please email us at: atlasforafrica@qz.com.
Our best wishes for a productive and thought-filled week ahead. Please send any news, comments, suggestions, Chinese university scholarships and international health recommendations for African presidents to africa@qz.com. You can follow us on Twitter at @qzafrica for updates throughout the day.
If you received this email from a friend or colleague you can sign up here to receive the Quartz Africa Weekly Brief in your inbox every week.