Hi, Quartz Africa readers!
Better Faster Stronger
Slow or limited internet access in Africa is still a major hurdle for everyone from ordinary consumers to small and mid-sized digital companies trying to grow innovative businesses.
As we noted last month, African countries do not fare well when it comes to global internet speeds. None of the 39 African countries ranked in a cable.co.uk report achieved average speeds above 10 Mbps.
But things won't stay that way for long. A review of African telecom infrastructure development in 2016 shows, in some cases, "staggering" leaps and bounds over previous years, according to telecoms analyst Steve Song.
His report highlights hundreds of millions of dollars investment in undersea cables being laid to connect more parts of the continent with the rest of the world as well as more cables to regions that were already reasonably well connected. The same rapid progress is happening with terrestrial backbone fiber developments. In 2015, Song tracked 19 fibre project announcements valued at a total of $730 million with over 22,000 km of fibre. Last year there were 26 announcements totaling $5.3 billion for a proposed 60,000 km of fibre. Song is quick to point out a portion of this big jump may be down to double-counting from multiple re-announcements but there is little doubt of the trajectory here.
Most of the big investment has come from multilateral players like World Bank and African Development Bank and also from Chinese sources. In fact, the report says Chinese telecoms supplier Huawei is a big winner for several fibre contracts in Africa as well French players in West Africa. Fiber to the home (FTTH) infrastructure is also on the rise particularly in Kenya and South Africa. There's also been more deployments of Wi-Fi services and the expansion of mobile LTE 4G services, as we've covered previously.
If there's one overarching concern, it's whether there'll be enough demand to justify the growing supply. However, the rise and rise in the popularity of streaming video content on everything from social networks to YouTube to Netflix means the demand is there and will continue to grow exponentially. That's the bet the investors and telcos are making. It feels like a safe bet.
— Yinka Adegoke, Quartz Africa editor
Stories from this week
Aid agencies are using chatbots to beat world hunger. Chatbots have been able to transform services ranging from banking to transportation in Africa. Aid organizations like the World Food Program are now using interactive bots to collect data and monitor food insecurity in inaccessible areas.
Foreign observers face scrutiny after the annulment of Kenya's presidential election. Election monitors from Africa, Europe, and the United States endorsed the results of Kenya's Aug. 8 election—which was overturned by the nation's supreme court on Sept. 1. As Lily Kuo and Abdi Latif Dahir report from Nairobi, the invalidation has had observers face the wrath of parties, candidates, and the public.
Ethiopia's biggest pop star is facing government crackdown. Teddy Afro is by far Ethiopia's most famous pop star, with global record best-selling albums. But as Tom Gardner reports from Addis Ababa, the musician has been running into trouble with the government, which has cancelled his concerts and is worried about the political and historical undertones of his songs.
One US dollar in Zimbabwe has three different values—thanks to a cash crisis. With a history of hyperinflation with its old currency, Zimbabwe adopted the US dollar to try and stabilize the economy. But a recent central bank plan to use US dollar bond notes to manage the situation has gone awry writes Problem Masau from Harare.
China's audacious infrastructure ambitions could put a strain on African economies. Under the One Belt One Road initiative, China is set to underwrite billions of dollars in infrastructural development in countries across Europe, Asia, and Africa. But for African nations, this ambitious plan raises concerns about trade, debt management, land acquisition, and political and economic change argues Ricardo Reboredo.
Political scandals don't hurt powerful men—just the women involved. South Africa's deputy president Cyril Ramaphosa is currently embroiled in a scandal where he is allegedly accused of using his wealth to prey on multiple women. These types of accusations barely affect the careers of powerful men, explains Lynsey Chutel, yet often harm—and sometimes destroy—the lives of the women involved.
Chart of the week
Africa's two largest economies are making a slow recovery. After five consecutive quarters of recession, Nigeria's economy has finally started to improve slowly. In South Africa, after political turmoil led to a ratings downgrade, the economy clawed back from a technical recession too. Yomi Kazeem in Lagos and Lynsey Chutel in Johannesburg report on how the economic comeback will affect both nations.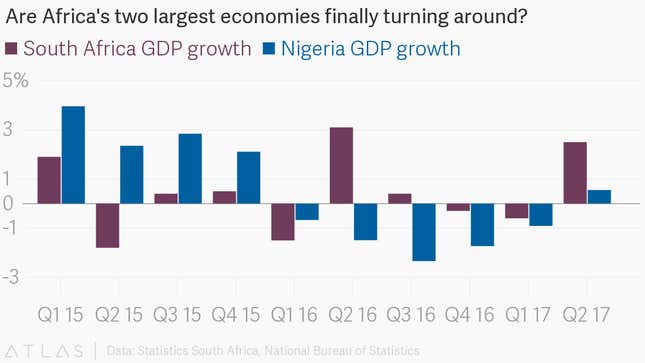 Other Things We Liked
Underground hip hop is the language of protest in Angola. Angolan music has long served as the voice of the oppressed. In Even Magazine, Chloé Buire writes about Angola's now flourishing underground hip hop scene and the artists being targeted for protesting what they say is state corruption.
How Ebola helped transform Liberia's film industry. Killer Bean and Falcao was a comedic film made in Liberia during the height of the Ebola crisis in 2014, with crews not making hand contact during the shoot to avoid infection. For CNN, Thomas Page describes how the movie's actors and directors managed to provide relief for Liberians during a time of hardship.
Somali women are fighting for the right to play basketball. In Somalia, women sports are frowned upon culturally, and is considered immoral and indecent by Islamic extremists. Reporting from Mogadishu for the New Yorker, Alexis Okeowo documents how a women's basketball league is defying all that in order to play the sport they love.
Keep an eye on
Africa at the United Nations Assembly. (Sept. 12-27). African nations will join global leaders at the 72nd session of the UN General Assembly in New York.
Robert Mugabe expected to officially open new session of parliament (Sept. 12). President Robert Mugabe of Zimbabwe will open the fifth session of the eighth parliament on Tuesday, Sept. 12. The session will be the last session before campaigning for the 2018 elections.
The Mobile World Congress Americas (Sept. 13). The future of African mobile networks will be discussed at the inaugural Mobile World Congress Americas in San Francisco.
Accelerating Africa 2 (Sept. 18) at Quartz headquarters. Investors and cutting edge fintech startups will gather together to discuss the future of finance in Africa at the Quartz offices in New York on Sept 18. The event is a partnership between Invest Africa, Lateral Capital and Quartz Africa. Sign up to register interest here.
Our best wishes for a productive and thought-filled week ahead. Please send any news, comments, suggestions, harder better stronger faster internet access and Zimbabwean US dollars to africa@qz.com. You can follow us on Twitter at @qzafrica for updates throughout the day.
If you received this email from a friend or colleague, you can sign up here to receive the Quartz Africa Weekly Brief in your inbox every week.