Hi, Quartz Africa readers!
Interesting times
It's fascinating to be a watcher of China-Africa relations right now. Many of us have been focused on the troubling news out of Guangzhou, China's third largest city and home to one of the largest African communities in Asia. There have been numerous videos or photos of Africans being targeted and evicted from their homes and barred from hotels simply because they were African and supposedly, without evidence, because they were coronavirus carriers.
There were early denials by Chinese authorities then notable diplomatic pushback from African governments. Chinese authorities then tried to downplay the uproar as a "misunderstanding" and several African governments later seemed to readily accept that explanation.
It can't be easy for many African governments to have a full-throated pushback at China right now. As we've written over the last couple of weeks, the biggest challenge for African countries during the coronavirus crisis might not be a major outbreak but instead the very real possibility of economic collapse. One of the potential triggers for this doomsday scenario are upcoming debt repayments for countries that struggled even without a global recession. Not only is China Africa's largest trading partner but also the continent's No.1 creditor.
While the discussions about Africa's multilateral debt with the likes of World Bank and the Paris Club nations seem to be moving in the right direction, there have always been an asterisk on Chinese debt. The concerns the supposed opaque terms of some of the loans and whether China will now swoop in to pick up African assets over unpaid debt. No, that's very unlikely, say veteran China analysts.
African countries are estimated to have built up cumulative debt of around $143 billion to China between 2000 to 2017, led by Angola, Ethiopia, Kenya and Zambia.
There have been calls for some form of debt relief such as debt repayment forbearance there also those who argue given China's role in the origin of the pandemic all debt should be forgiven.
For its part China has indicated it will be dealing with this on a case by case bilateral basis, much in the same way it doled out the funds in the first place. There will be no Paris Club style magic wand to make it go away. There will be negotiations, some tough. But with any luck, there will be positive results.
— Yinka Adegoke, Quartz Africa editor
Stories from this week
Africa's scientists have had to pick testing over genome sequencing for a coronavirus vaccine. Only 1% of coronavirus genome sequences done to date are from Africa. A shortage of laboratory resources means local scientists and public health authorities have had to prioritize testing for the virus. Uwagbale Edward-Ekpu examines how this could have significant consequences for developing a vaccine that works for the majority of Africans.
Ethiopian workers are being expelled from Saudi Arabia and UAE on coronavirus suspicions. For years young Ethiopian men and women have found their way to Saudi Arabia and the United Arab Emirates in search of mostly menial work. This week those countries started expelling thousands of Ethiopians over the mere suspicion some may have Covid-19, writes Samuel Getachew in Addis Ababa.
Kenya's 3D printing community is switching to make Covid-19 equipment to meet market demand. Kenya's fledgling 3D makers are refocusing their efforts on providing much needed specialist personal protective equipment for healthcare workers in the country. From Nairobi, Neha Wadekar reports these makers are not expected to make up for a lack of industrial capacity but can help plug a gap in the supply chain.
The untapped political power of African and Caribbean immigrants in the US is set to take off. Political organizers are starting to tap into the rising numbers of African and Caribbean immigrants in the United States and looking to coordinate for more influence, particularly during elections, learns Chidinma Irene Nwoye in Washington DC.
This is the best time to plan for urban Africa's next health emergency. In Africa and beyond there is an "urgent need for foresight to address the social, environmental and economic factors that have inadvertently colluded to contribute to the emergence of a pandemic and increase the risk of transmission and poor health outcomes." Urban epidemiology professor Tolu Oni lays out recommendations for how public health authorities best prepare now for the next emergency.
Forty years ago, Bob Marley paid his own way to play Zimbabwe's iconic independence concert. On April 18, 1980 after the Zimbabwean flag was raised for the first time at Rufaro Stadium, Bob Marley was introduced and launched into musical celebration of the newly independent country. Olu Alake tells the story of how the Jamaican superstar was so honored to be part of the celebrations he waived any fees and hears how Zimbabweans remember the day.

Dealmaker
The race to bridge the gap in African genomics data research is winning investors over. Genomics research firm 54gene raised $15 million in a Series A round led by Adjuvant Capital, a fund backed by the Bill & Melinda Gates Foundation, Novartis and the World Bank's IFC. The round also saw participation from Raba Capital, V8 Capital, and Ingressive Capital.
A Nigerian VC is trying to democratize startup funding for everyday investors. Iyin Aboyeji, co-founder of Andela and Flutterwave, has launched the Future Africa Collective, an investment network which is offering younger middle class investors opportunities to bet on Africa's most promising startups.
Ingress Healthcare, a South African healthtech startup, raised $318,000 to scale its business model of helping independent medical professionals access and rent spare consulting rooms in hospitals and clinics. The investment round saw participation from Pegasus and Cape Town-based Enso Equity.
Chart of the Week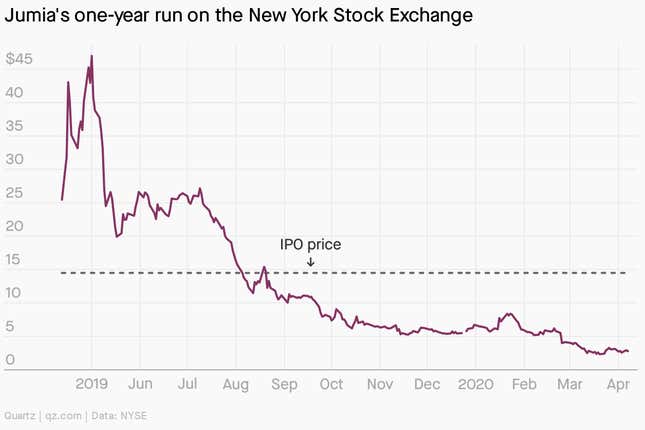 It's been a tumultuous, loss-making year since the billion-dollar IPO of Jumia, "Africa's Amazon". A lot has happened in the dramatic 12 months since Jumia, the Africa-focused e-commerce company, launched a successful IPO on the New York Stock Exchange. Yomi Kazeem looks back over the company's challenges which has seen it shed billions of dollars in valuation from its early peaks.

Quartz Membership
Why do some medical crowdfunding campaigns succeed, and others fail? Some of the reasons are beyond people's control. But there are key elements to money-making campaigns, and optimizing those is the work of a cottage industry of consultants.
Other things we liked
The private banking network Angolan elites used to launder hundreds of millions of dollars to Europe. A grand scheme used to siphon money into Europe offers even more evidence of high-level corruption in Angolan government circles. In an investigation for  the Organized Crime and Corruption Reporting Project, Khadija Sharife and Mark Anderson explain how banks were created and used to launder over $300 million to Portugal, violating the country's banking regulations in the process.
What does an African finance minister do amid Covid-19? As the world reels from the impact of the coronavirus outbreak, African economies, many of which are set to be tipped into recession, will be hit hardest in comparative terms. In a daily diary piece for the Financial Times, Ken Ofori-Atta, Ghana's finance minister, lays out the high-pressure stakes that come with the job of shepherding one of the world's fastest growing economies through a global pandemic.
The coronavirus outbreak should help Africa re-evaluate its relationship with the rest of the world. With most of the world pre-occupied with different response strategies to containing the Covid-19 pandemic, African countries are increasingly within the continent for co-operation and solutions. In Al Jazeera, David Mwambari argues for an African future that sees decolonization processes sped up, with the continent leaders and countries relying less on the West.
ICYMI
Center for Study of African Economies Visiting Fellowship. The program offers a two-month residency at the University of Oxford for Africans pursuing careers in Economics. (June 26)
Zayed Sustainability Prize. African innovators focused on sustainability solutions can apply for the award which offers a total reward pool of $3 million. (May 21)
*This brief was produced while listening to Shekere by Yemi Alade feat. Angelique Kidjo (Nigeria/Benin)
Our best wishes for a productive and ideas-filled year ahead. Please send any news, comments, suggestions, ideas, 3D-printed Kenyan face masks and original Bob Marley in Zimbabwe memorabilia to africa@qz.com. You can follow us on Twitter at @qzafrica for updates throughout the day.
If you received this email from a friend or colleague, you can sign up here to receive the Quartz Africa Weekly Brief in your inbox every week. You can also follow Quartz Africa on Facebook.