Hi, Quartz Africa readers!
Amadou Diallo to George Floyd
41 shots.
That's how many times Amadou Diallo was shot by four New York Police Dept. plainclothes officers in the crammed vestibule of his Bronx apartment building on Feb. 4 1999.
Diallo was 22, an immigrant from Guinea, who had emigrated to the United States with the ambition of studying computer technology. He was unarmed and was shot 41 times after he reached for his wallet.
Diallo's story is well-known to New Yorkers and was a global story at the time. It fit into the well-worn narrative of a police department being encouraged to use devastating force to fight crime, too often at a brutal cost for its black and brown residents.
I was reminded of the case by the author and Quartz Africa contributor Frankie Edozien, who was a newspaper reporter at the time, and covered the case from the Bronx to Conakry, Guinea through to the 2000 trial of the four white police officers in Albany, New York. Edozien features in the Netflix documentary Trial by Media where he talks about his desire to tell a more complete story about the man who had been simplified to "an African street peddler". Diallo had been to school in four countries across Africa and Asia and spoke five languages.
Perhaps of the many striking things about watching New York and the United States from 1999/2000 was how so many of the on-camera comments and placards from Diallo protesters and ordinary New Yorkers featured so many of the same comments and placards we've been hearing and seeing over the past two weeks across so many American cities. One young black boy, about 12, outside the trial had a placard which simply read: "Am I next?"
Given what we know has happened since before 1999 and the many, many names through to George Floyd in Minneapolis last month, that placard was tough to read. It's yet another reminder of how little has really changed even after quite as high-profile and distressing a case as Diallo's.
The greatest strength of all is shown by Kadiatou Diallo, Amadou's mother, from soon as she arrives in New York five days after her son's shooting till present day. She has consistently shown a remarkable determination for her son's name to mean more than just a hapless victim of a random police shooting and started a foundation in his name. "Amadou's legacy is going to continue. I will never stop talking."
Black lives matter.
— Yinka Adegoke, Quartz Africa editor
Five stories from this week
George Floyd's killing touches a nerve with Africans who know police brutality at home and abroad. Calls for justice after the police killing of George Floyd in Minneapolis were echoed across Africa, from a strongly-worded statement by the African Union to a powerful message from over 100 African writers. There were also street protests outside US embassies in African cities which called out police brutality on black people, including African immigrants, in the US, while drawing parallels with similar issues back home.
South Africa's long-standing alcohol abuse problem reemerged a day after lifting a lockdown ban. The ban of alcohol and cigarettes sales was one of the more unusual features of South Africa's strict lockdown. As Norma Young explains from Johannesburg, the ban is best understood through the lens of South Africa's long-running alcohol abuse problems which manifested during the lockdown despite the ban.
One of Nigeria's smallest states has a big plan for fixing the country's broadband access challenge. Africa's largest internet market is attempting to improve its dreadfully slow internet speeds through a new, ambitious broadband policy. But as Yomi Kazeem learns, despite undersea cable projects led by Google and Facebook, the key to improving internet access and speed in Nigeria lies in solving an age-old local problem and one state is determined to fix it.
The truth about Chinese migrants in Africa and their self-segregation. As China has stepped up its high-level efforts to become Africa's most dominant partner over the past two decades, its immigrant population on the continent has also grown. But, amid widespread beliefs that Chinese immigrants in Africa do not fully integrate and interact with local societies, recent research by Yan Hairong suggests otherwise.
Africa's looted artifacts are being put up for sale during the global economic crisis. After years of dialogue, the homecoming of looted artifacts in British and European museums began looking like a real possibility. But amid the Covid-19 economic crisis, some of those prominent pieces are being controversially sold off in online auctions, Oluwatosin Adeshokan reports.
Dealmaker
How Africa's promising startup landscape survives in a post-Covid-19 economy. A slowdown in funding for African startups is on the cards as the knock-on effects of the coronavirus pandemic manifest. From the kinds of startups getting funded to the stage of funding likely to be most impacted Covid-19 might yet be damaging for Africa's tech startups and ecosystems (✦ Quartz member exclusive).
•Jamborow, a two year old blockchain-based fintech platform has raised $400,000 as part of a seed round as it prepares for a full launch in Nigeria. In an already crowded fintech space, the startup is aiming to serve mainly unbanked and underbanked populations in urban and rural areas.
•South African VC firm LionPride has backed local healthtech startup BusyMed through its $29 million Agility Fund. The one-year old startup allows users access pharmacies online for consultation, drug purchases and home delivery.
Chart of the Week
The difficult talks over Africa's Chinese debt. The situation is evolving rapidly but one thing is clear, the hope of delaying repayments for the billions of dollars owed to Beijing by African governments will not be negotiated as a collective. China has insisted every country discuss its terms on a one-to-one basis. A fifth of the total external debt held by African countries—or around $55 billion—is estimated to be owed to China. Research by the China Africa Research Initiative at Johns Hopkins estimates that between 2000 and 2018, China extended more than $152 billion in loans to 49 African countries (✦ Quartz member exclusive).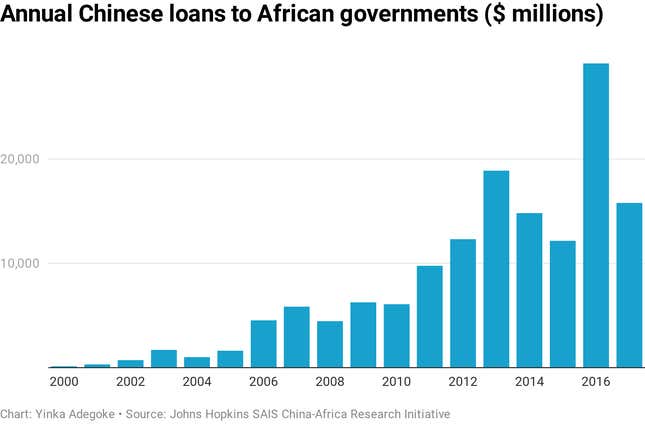 Other things we liked
Manufacturers pulling out of China should consider Africa to diversify their supply chain. The rising labour and land costs of China and the arbitrary way in which the Asian giant has dealt with foreign firms, combined with disappointing results for many in the Chinese domestic market, has already led to some multinationals reviewing their China strategy. Now in the wake of Covid-19, there's a real opportunity for Africa, posits Stewart Paterson for the South China Morning Post.
Listen. Dambudzo Marechera: the story doctor. "I like to write the kind of things which destroys what people take for granted because original thinking can only come when we have discarded anything we have taken for granted," says Dambudzo Marechera, the late Zimbabwean author, in these rare recordings on a podcast anchored by author Tinashe Mushakavanhu.  He discusses a forgotten archive of letters written after Dambudzo Marechera's death, and his attempt to run a writing surgery for young war returnees from Zimbabwe's liberation struggle.
American Spring: How Trump "Africanized" the United States and sparked an anti-racism movement. Africans have watched with horror as the uprising in the US has unfolded, the scenes seem eerily familiar, but disconcerting, writes Rasna Warna for The Elephant. "Suddenly the tables have turned and America is being described in the same way many African countries are depicted by the Western media; the US is beginning to resemble a failed African state."
ICYMI
Aptive Capital pitching contest. The US investment firm is looking to invest $10,000 in five African startups in a virtual pitching contest. Startups must be based in Nigeria, Ghana, Kenya, South Africa, Egypt or Ethiopia. (June 10)
Ghana Tech Lab AI Accelerator program. The lab is calling for applications from Ghana, South Africa, Rwanda and Uganda for the first cohort if its AI Accelerator program. (June 25)
K-Startup Grand Challenge. The three-month startup accelerator program funded by the South Korean government is open to applications from African startups. (June 25)
*This brief was produced while listening to Respectez-nous by Pamela Badjogo (Gabon).
Our best wishes for a productive and ideas-filled year ahead. Please send any news, comments, suggestions, ideas, South African cigarettes and alcohol and faster Nigerian internet access to africa@qz.com. You can follow us on Twitter at @qzafrica for updates throughout the day.
If you received this email from a friend or colleague, you can sign up here to receive the Quartz Africa Weekly Brief in your inbox every week. You can also follow Quartz Africa on Facebook.