Hi, Quartz Africa readers!
Tough ratings
Late on Friday, New York time, Moody's, one of the big three credit ratings agencies, sent out results of a debt downgrade review for four African countries. Typically in the news business, press announcements sent out just before the close of business on a Friday are almost never good news.
And so it was for Senegal, long seen as one of Africa's bright economic spots for growth, its outlook was switched to "negative". Moody's also confirmed an earlier "negative" outlook for Ethiopia, another long-time economic growth star for the continent. Cameroon and Côte d'Ivoire were also reviewed but kept at "stable".
Africa's debt load soared by 150% to over $583 billion in 2018 from $236 billion 10 years earlier, according to World Bank data so it's understandable these reviews are taking place now given the economic upheaval due to the pandemic.
This week Africa saw the number of confirmed Covid-19 cases shoot past the 1 million-mark and the concern now is African countries are likely still under-counting cases given the low number of tests being done per 100,000 people. The next concern is how long it'll take African countries to get access to vaccines when they become available.
Developing countries have obviously had to seek some debt relief to help fund or shore up their health resources and supply chains in the early days of the pandemic and a few countries have tapped into that but not everyone has done so.
Last month University of Cape Town professor Misheck Mutize explained why African countries have been reluctant to jump at a debt service relief package approved by the World Bank, IMF, G20 countries, AfDB and Paris Club creditors to free up about $20 billion to support Africa's health systems.
"Poor countries know that the debt markets are not largely favorable to them," writes Mutize. "And they acknowledge the risk of being punished by existing creditors, prospective investors and rating agencies if they seek a debt moratorium."
He points out the four countries put up for downgrade review in May and June were the same African countries who did request assistance through the program: Cameroon, Côte d'Ivoire, Ethiopia and Senegal.
Moody's lays out the issues clearly in each of its downgrade notes, it's all about the risk for private creditors: "The review for downgrade reflected Moody's assessment that the country's participation in the G20 Debt Service Suspension Initiative (DSSI) raised the risk that private sector creditors would incur losses."
While there has been plenty of press and political noise about Africa's bilateral debt to China in particular, much of the real pain could come from the capital centers of London and New York.
As Mutize notes, the average African finance minister is loathe to damage their country's standing if they can help it so soon after they got access to these private credit markets over the last decade. "There's an implication countries requesting debt suspension have borrowed irresponsibly—they'll be viewed as high-risk and irresponsible borrowers in the future."
— Yinka Adegoke, Quartz Africa editor
P.S: Through August, Africa Weekly Brief will publish every other week. We return to your inbox on Aug. 23.
Quartz announcement
Counting down the days until the end of 2020? We don't blame you. But instead of mindlessly marking off the boxes on your calendar, we think you should make the most of the second half of 2020. And we want to help. Here's half off Quartz membership, so you can stay up to speed on the now and next.
Five stories from Quartz Africa
Despite closed borders, the US is still deporting Africans during the pandemic. One of the effects of the Covid-19 pandemic has been the near total shutdown of international travel globally. But that is not stopping the United States' immigration agency which is still deporting Africans amid uncertainty of the health risks of long-haul flights, Joe Penney reports.
Kenya and Nigeria are leading Africa's push to start taxing Silicon Valley's global tech giants. African governments are increasingly looking to generate tax revenue from global digital services that operate within their territories. As Yomi Kazeem explains, the drive is being led by two of Africa's leading tech economies which are reforming local tax laws to catch up the pace and might of global tech giants.
Africa's largest retailer is pulling out of the continent's largest economy. Shoprite, the South Africa-owned retail giant, is discontinuing operations in Nigeria as it considers selling part or all its stake in the local division. While the move represents a major shake-up in Nigeria's retail sector, it also fosters uncertainty given lingering questions over the company's exit strategy.
The problem with Zimbabwe using a $3.5 billion sovereign bond to compensate white farmers. Zimbabwe's recent agreement to pay 4,500 white farmers $3.5 billion over the controversial land reform program of the late 1990s brings closure to a questionable episode of the country's history. But with the government cash-strapped and sorely lacking in local and international goodwill, the compensation represents a good move at a bad time.
Nigeria has missed an opportunity to make its #MeToo moment stick. A trio of high profile harassment and assault cases against a federal lawmaker, a prominent startup CEO and pop star all fizzled out over the past month. As Shayera Dark reports, the lack of redress—in courts and in public, despite increasing advocacy, shows Nigeria faces an uphill fight in reversing local harassment culture.
Dealmaker
An Africa-focused payments provider has been acquired for $288 million. African payments services provider DPO Group has been acquired by Network International, a Dubai-headquartered payments giant in a $288 million deal.  The acquisition will see DPO Group continue to operate under the same brand while being wholly owned by Network International. DPO Group's executives will own stock in Network International as part of the transaction.
•Africa Foresight Group, a Ghana-based freelance consulting platform which offers access to a network of management consultants across the continent, raised $700,000 in a seed round led by Consonance Investment Managers and Bahrain-based GFH Holdings. 
•Plentywaka, a Lagos-based transport startup, raised $300,000 in a pre-seed funding round which saw participation from EMFATO, Microtraction and Niche Capital. The startup, a subsidiary of Crowdyvest, parent company of agri-tech Farmcrowdy, is aiming to expand beyond Lagos, Nigeria's economic capital.
Chart of the Week
Africa's fast-growing tourism industry could lose up to $120 billion and millions of jobs. When the Covid-19 pandemic hit, Africa's tourism industry had just become the second fastest growing in the world. But with industry stakeholders including safari operators, hotels and flights all hobbled by coronavirus restrictions, Heather Richardson explains the widespread impact on tourism across the continent.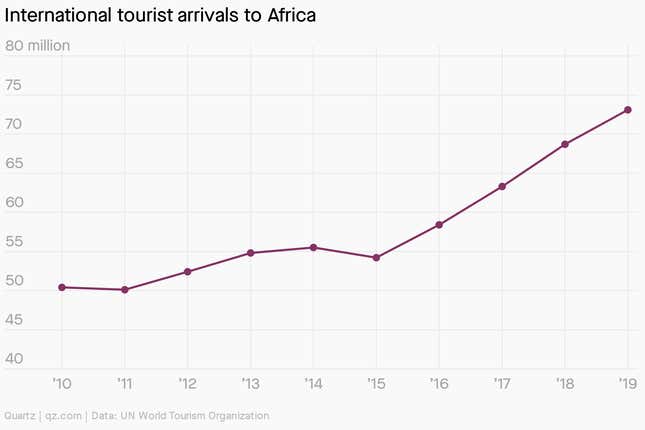 Quartz gems
Why Kodak is perfectly positioned to pivot to pharmaceuticals. The US government—via the Development Finance Corp it set up to fund developing countries—has loaned $765 million to the storied photography company, Kodak. While the one-time household name has fallen on hard times in recent years it will now be using the funds to start producing components for generic drugs—specifically, active pharmaceutical ingredients (APIs). Katherine Ellen Foley explains why it all makes sense.
Other things we liked
The rags to riches tale of an email scammer. Obinwanne Okeke, then 28, once graced the cover of Forbes Africa magazine as one of its 30 Under 30 success stories. But just three years later in 2019 the Nigerian entrepreneur was arrested by the FBI in the US for being part of growing Business Email Compromise (BEC) operation that had scammed a company to the tune of $11 million. For Rest of the World, Aanu Adeoye dives into Okeke's backstory.
It's time to confront anti-Blackness in Asian-African communities. Many Asian-Africans arrived on the continent from the Indian sub-continent as British colonial rule took hold and ended up serving as both as victims and agents of colonial racism. With the passage of time and much upheaval, even with economic success, there has always been a question of authenticity and identity for Asian-Africans, writes Sabrina Mahtani for African Arguments.
China and Russia in Africa: Development allies or geopolitical opportunists? Many African leaders describe China's and Russia's presence on the continent as an antidote to the effects of Western colonization and the continued unequal terms of Western foreign aid to Africa, write Nina Callaghan, Dzvinka Kachur and Mark Swilling in Daily Maverick. But they caution African countries should learn it is in the continent's interests to negotiate fairer agreements that do not leave them saddled with more debt or the potential loss of national assets.
Why cash transfers are an efficient method of reducing food insecurity. Kenya's mobile phone and internet penetration of 91% and 84%, coupled with advanced digital technologies in the financial sector, has provided favorable conditions for cash transfers to the most vulnerable populations, writes Martha Bande for The Elephant. However, corruption and lack of reliable data on beneficiaries could derail efforts to make all Kenyans food secure during and after the Covid-19 pandemic.
ICYMI
Governance for Development in Africa Initiative. The Mo Ibrahim Foundation-funded program offers two  PhD scholarships to African nationals. (Mar. 31, 2021)
Lacuna Fund 2020. The fund offers data scientists, researchers, and social entrepreneurs the resources needed to produce or augment datasets to address an under-served population or problem. (Sept. 3)
*This brief was produced while listening to I Like It by Darassa feat. Sho Madjozi (Tanzania/South Africa).
Our best wishes for a productive and ideas-filled week ahead. Please send any news, comments, suggestions, ideas, Shoprite gift vouchers and pan-African tourist visas to africa@qz.com. You can follow us on Twitter at @qzafrica for updates throughout the day.
If you received this email from a friend or colleague, you can sign up here to receive the Quartz Africa Weekly Brief in your inbox every week. You can also follow Quartz Africa on Facebook.