In early 2012, Shoprite, the largest supermarket chain on the continent, believed it could expand its footprint in Nigeria up to 700 outlets. But eight years later, that outlook is very different as the South Africa-owned retail giant is discontinuing operations in Nigeria as it considers reducing or selling its entire stake in the Nigerian division.
The company says the move is part of a "re-evaluation" of its operating model in Nigeria. It represents a major turnaround in plans since the supermarket opened in its first Nigerian store in Lagos in December 2005.
Shoprite's impending exit is a telling marker of the state of Nigeria's consumer economy. Despite being home to over 200 million people and Africa's largest economy, the actual size of Nigeria's addressable middle-class market remains in question, especially in the backdrop of the reality that nearly half of the country lives in extreme poverty.
"It's bad news for the economy but it's even worse from a signaling perspective—the signals that this sends is really bad," says Dolapo Omidire, lead researcher at Estate Intel, a real estate research firm. "It's sad news for the market."
The choice to pull the plug also reflects operational difficulty of doing business in Nigeria as it comes despite Shoprite's perceived dominance and deep investments in local hiring and supply chains. In the six months to June 28 supermarket sales in Nigeria were down -6.7%, compared to supermarket sales in South Africa which grew by 7.5% in the same period. Supermarket sales were flat in other African markets.
Shoprite employs nearly 2,000 Nigerians and has built a vast supply chain around 300 core Nigerian suppliers from small businesses to farms. But news of its potential exit from Nigeria saw Shoprite's shares spike on the Johannesburg Stock Exchange.
It's unclear if potential buyers of the business will seek to maintain the chain's current footprint of 25 stores across the country. As such, the company's exit also represents a blow to retail real estate market with some malls facing the possibility of losing their biggest tenant. It comes after years of rapid investment which saw large American-style malls become a more regular feature in Nigeria's largest cities. In fact, between 2009 and 2015, Nigeria's retail industry grew rapidly at 40% per year with nearly 200,000 square meters added to the formal retail space.
Unease of doing business
Shoprite's retreat from Nigeria comes in the wake of similar moves by other South Africa-owned retail outlets. Clothing retailer Mr Price disclosed plans to exit Nigeria last month citing "volatility" following a similar choice by TruWorths in 2016. Woolworths also closed its three Nigerian stores back in 2013.
Several South African companies operating in Nigeria have had huge success after the country started to open at end of military rule in 1999, but several have also faced long-running difficulties with unfavorable public sentiments and government regulation.
MTN, which became the continent's largest telecoms operator thanks to Nigerian customers, has a checkered history of regulatory run-ins with the Nigerian government, culminating in its payment of a $1.7 billion fine over a sim card dispute in 2016. Meanwhile, pay TV giant MultiChoice has long been subject of the threat of price regulation by government.
For its part, Shoprite bore the brunt of reprisals over xenophobic attacks in South Africa last year as its Nigerian outlets were targeted, resulting in a clash between police and protesters at one of its Lagos outlets which left one person dead.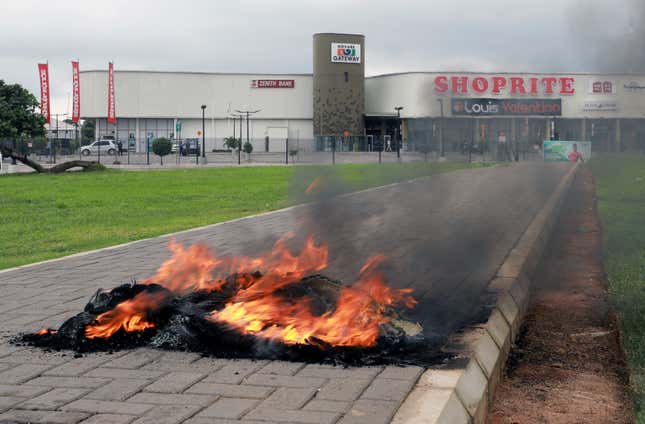 But the grocery giant has also been caught in the crosshairs of Nigeria's tough business climate in another way as it has taken foreign exchange hits with Nigeria's weakening naira currency over the past five years. The uncertainty over the naira's valuation which has multiple exchange rates and limits on the ability to repatriate dollar profits at the most favorable rates would not have helped.
The company's potential exit may yet open up opportunities for local, emerging players in the grocery space. But it represents a significant challenge in rapidly expanding logistics and supply chain capabilities to match the scale of distribution and footprint Shoprite achieved in 15 years. The Cape Town-based retailer built local supply chains from scratch and was able to plug into its existing Africa-wide network.
Another possibility is for financial buyers, including private equity, to look at acquiring the Shoprite Nigeria stores. Such a move could involve rebranding, reducing the cost base and possibly renegotiating its highest expense: mall rent.
But while local retail players harbor hopes of filling the market gaps to be vacated by Shoprite, their choice of expansion mode—either through mall outlets or a standalone retail stores—will likely define their chances of survival.
"There is a large population and an under-supply of retail on a per capita basis but the major problem is that the malls that are built are large and relatively expensive," Omidire says. "Construction costs are linked to the dollar so their income is also linked to dollar. And that puts a lot of pressure on tenants who are earning in local currency."
Sign up to the Quartz Africa Weekly Brief here for news and analysis on African business, tech and innovation in your inbox