Hi, Quartz Africa readers!
Election observers
"Now, finally, in our own country…" Karen Bass, chair of the US House Foreign Affairs Committee had a wry smile and sighed during her committee's Sept. 30 hearing discussing "Democratic backsliding in Africa."
Many long-time Washington DC foreign relations insiders have been worried about how the US, a champion of democracy around the world, has been losing its moral authority as the US' own democratic processes have appeared to buckle and be severely tested over the last year in the run-up to Tuesday's US elections.
Bass started her speech reeling off a long list of African countries including Tanzania, Côte d'Ivoire and Guinea among others where the US is worried about their weakening democratic processes. But the Democrat from California, was unequivocal about the seriousness of the problems at home and why she feels it matters. "The world is watching us and we can't conveniently become an excuse for others backsliding."
There's an opportunity for the US to reset with some humility and acknowledge that all democracies continually evolve, says Judd Devermont, the director of the Africa program at the Center for Strategic and International Studies and a former Africa-based intelligence officer under the Obama administration till early under Trump.  "In the past we've talked as an exemplar, but our troubles over the last few years give us a chance to say to our African partners that we're on this journey together."
Most of the African interest about the state of American democracy and its impact has been from civil society organizations and less from African governments who rarely comment on other African elections much less the US. And while there may be consensus in the US that the democratic process is going through a rough patch, not everyone agrees it is a significant problem for its standing as a democracy advocate.
"I don't think the overall perception is fair and has been bit overwrought," says Joshua Meservey, senior Africa policy analyst, Heritage Foundation, a conservative think tank, with close links to the Trump White House. "Even though the US has had some struggles, by any objective measure its democratic institutions are still carrying on."
But regardless of how the US elections play out on Nov. 3, the world's largest economy will still have a huge influence on democracy around the world especially in Africa. It has both the carrot and a big stick to its advantage notes W. Gyude Moore, a senior fellow at the Center for Global Development and a former Liberian government minister. "US sanctions still carry significant bite and its ability to deny use of its financial system can still cripple any economy," he says. "But any role for the US in African democracy will increasingly become marginal and it would not be out of the ordinary for actors in African democracies to look less and less to the US for direction or support."
— Yinka Adegoke, Quartz Africa editor
P.S: From the Quartz Weekend brief: Nigeria's EndSARS protests have been about much more than police brutality
Stories this week
How bitcoin powered the largest Nigerian protests in a generation. When government authorities seemed to hobble online payments donation links supporting Nigeria's #EndSARS protests against police brutality, organizers started accepting bitcoin. It proved a masterstroke as bitcoin quickly fueled donations, reports Yomi Kazeem in Lagos.
Tanzania blocked social media and text services for its elections. Tanzania became the latest African country to limit internet connectivity during its elections this week with access to social media services shuttered. After widespread reports of irregularities noted by opposition parties and independent election observers, president John Magufuli was re-elected for a second, five-year term with 84% of the vote.
The Trump White House is the last obstacle to a first African leader of the WTO. After winning a raft of global endorsements, including the EU, Nigeria's former finance minister Ngozi Okonjo-Iweala seemed a shoo-in to become the first female and African leader of the World Trade Organization. But the Trump administration is effectively vetoing her appointment by throwing support behind Okonjo-Iweala's main opponent.
African workers in Lebanon are stuck and unpaid by an exploitative labor system worsened by Covid. The global pandemic is worsening the harsh reality for thousands of mostly Ethiopian and Nigerian female domestic workers trapped in Lebanon's controversial migrant employment sponsorship system. The pandemic and Lebanon's ongoing economic crisis means many migrants have lost their jobs, and are unable to get paid to go back home leaving them stuck, Dario Sabaghi reports from Beirut.
Africa's art world has lost one of its most generous but controversial benefactors. Until he died this week, Sindika Dokolo was perhaps best known in recent years as husband of the controversial Angolan billionaire Isabel dos Santos. But as Norma Young notes, the 48-year old had also earned a reputation as a supporter of African art, growing a vast collection and dedicating time and money to the restitution of the continent's works from Europe.
Chart of the Week
The deadly, hidden cost of Africa's billion-dollar business importing used cars from US and Europe. Africa accounts for the highest global imports of used cars as the middle-class and gaps in local production drive up demand across the continent. But without regulatory standards to benchmark the safety and quality of imported cars, African buyers are worsening the continent's air pollution problem by purchasing cars that fall below accepted safety and emissions requirements.

Dealmaker
A software provider for Africa's "pay-as-you-go" solar industry has raised $13.5 million. Software startup Angaza raised $13.5 million in a Series B funding round led by KawiSafi Ventures, an East Africa-based energy impact fund, with participation from Total Carbon Neutrality Ventures, the investment arm of French energy giant, Total. Existing investors including Ajax Strategies, Emerson Collective, Rethink Impact, and Salesforce Ventures also participated in the round.
•Twiga Foods, the Kenyan agri-tech startup,  has secured $29.4 million in debt funding from the Global SME Finance Facility of the IFC. The funds will be aimed at supporting over 300 medium-scale contract farmers to boost Twiga's supply chain.
•Udok, a South African healthtech startup, raised $616,000 in funding from FinX capital.  The three-year old, Cape-Town based startup offers virtual consultations with doctors and is growing its offline offprint by also providing consultations in Clicks, one of South Africa's largest pharmacy chains. 
Quartz gems: Africa, online yet shut out
For our latest field guide on the "splinternet," we imagined hypothetical news events taking place in 2025, as a way of unpacking the stakes of present-day battles between tech giants, politicians, and internet freedom fighters that are directly shaping our online future.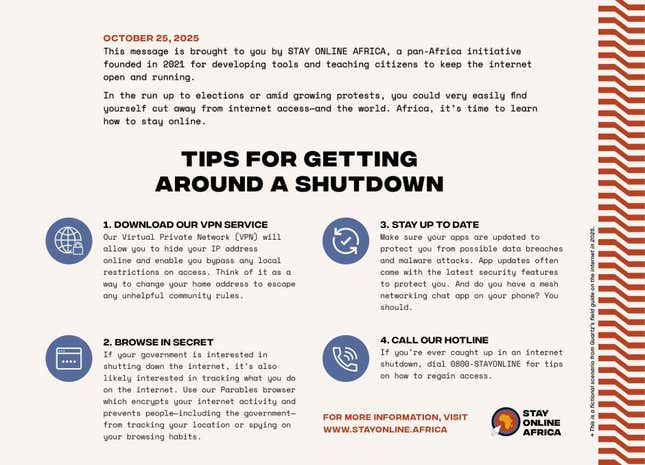 Two trends are on a collision course across several African countries. By 2025, nearly half a billion people will be using mobile internet services in sub-Saharan Africa. But their internet reality could well consist of questionable laws and penalties to limit online expression and frequent shutdowns of the internet to hobble organizations of protests offline.
It's unlikely that governments' antics will pass without pushback. Our fictional example imagines what that could look like, in the form of a tip sheet to staying online. Read more in our guide to the splinternet.
Other things we liked
The perils of postcolonial medicine in Madagascar. In the wake of the Covid-19 pandemic and a global race to develop a working vaccine, a tiny African island nation is intent on positioning itself as a potential savior. As Chanelle Adams writes in The Drift, Madagascar's Covid-Organics "cure" is at the forefront of a questionable campaign by the country's president to catapult its herbal medicine industry into global relevance.
Supercharging Africa's online remittances industry in a pandemic. Before the coronavirus pandemic struck, sprawling informal networks, including commercial bus drivers traveling across and between countries, offered Africans a method to send money home. But, in further evidence of the pandemic's role in accelerating digital adoption on the continent, African migrants are increasingly taking up online remittance methods out of necessity, write Joe Bavier and MacDonald Dzirutwe for Reuters.
ICYMI
DAAD in-Country/ In-Region scholarship programs Eastern Africa. The target group for scholarships are graduates and postgraduates from sub-Saharan Africa with a first academic degree (Master's courses) or a Master's degree (PhD courses). (Dec. 15)
Google Research Ph.D Internship. An internship opportunity in locations including Accra and Lagos for researchers currently enrolled in a PhD degree in computer science or a related technical field. (Dec. 20)
Keep an eye on
Africa Early Stage Investor Summit (Nov. 3-4). VC4A and African Business Angel Network are hosting the 7th edition of the two-day summit virtually this year.
Angel Fair Africa (Nov. 5). The eighth edition of the conference which gives startups and investors a chance to network and strike deals will be hosted virtually in Senegal.
*This brief was produced while listening to Waman by Yabongo Lova (Côte d'Ivoire)
Our best wishes for a productive and ideas-filled week ahead. Please send any news, comments, suggestions, ideas, catalytic converters for secondhand European cars and bitcoins for protests to africa@qz.com. You can follow us on Twitter at @qzafrica for updates throughout the day.
If you received this email from a friend or colleague, you can sign up here to receive the Quartz Africa Weekly Brief in your inbox every week. You can also follow Quartz Africa on Facebook.