Hi, Quartz Africa readers!
Getting animated
If you were an African creative with global ambitions, this was a very exciting week. It was particularly exciting if you were an African animator. Disney, the world's biggest entertainment company, announced it had inked a deal for an original animated series called Iwájú, with a small pan-African animation company called Kugali Media.
The Nigerian-Ugandan founders started out with a comic book before creating Iwájú, which comes out in 2022 and will be part of Disney's global creative expansion as it doubles down on its Disney+ streaming strategy.
It was also the same week a Lagos-based geologist turned creative entrepreneur called Blessing Amidu fulfilled her four-year long dream to put the final touches together on what will be Nigeria's first full-length animated feature film with support from some of Nollywood's big name actors. The story behind the making of Lady Buckit and the Motley Mopsters is one of shooting in the dark and trying again and again despite doubters.
One of the reasons it's been easier for a traditionally conservative Hollywood studio like Disney to work with a startup like Kugali has been a lot of the groundwork Netflix has done in working with African creatives in TV and film especially in Nigeria and South Africa.
It also reminded us Netflix is likely to release its African-made animated series, Mama K's Team 4, ahead of Disney. The show was created by Zambian executive producer Malenga Mulendema and is being produced in partnership with  Cape Town's Triggerfish Studios.
These African creatives, with widely varying levels of resources, are all working on new ways to tell and re-tell African stories on a global stage and imagining the potential is exhilarating.
In the short to medium term it will perhaps be most exciting to consider how the almost limitless resources of giants like Disney and Netflix will boost these shows with everything from their creative technology and licensing prowess to the incredibly important role of global distribution for the highest bidders.
But in the long term, independently-made projects like Amidu's might be more important for figuring out how to ensure African creators retain more of their intellectual property rights as they reach the global stage and compete alongside Netflix or Disney-produced African-made shows.
This not to suggest one route of creative distribution is morally superior to another but for all creators to be conscious to not end up producing a new kind of singular African fantasy narrative if the young industry sub-sector gets dominated by commercial priorities.
— Yinka Adegoke, Quartz Africa editor

Stories this week
Gene editing sickle cell. Scientists learned this month that gene editing is now a promising option for curing sickle cell disease after a successful early trial. Paul Adepoju looks into the likelihood patients in Africa—where the highest disease burden exists—will gain access to the elaborate and potentially expensive treatment.
Starbucks' Covid-19 South Africa success. A strategy of focusing on offering remote workers a break from working from home (WFH) is paying off for Starbucks in South Africa, writes Norma Young in Johannesburg. Despite wider Covid-19 related crises for the local economy, the US coffee retail brand is rapidly expanding to new cities.
Solar power tussle. Given the growing cost savings, industrial and residential customers across Africa are making the switch from grid electricity to solar power services at an increasing rate. Yet, despite the obvious upside for electrification, the trend is sets up a potential face-off with struggling national utilities and conflicted regulators.
Curbing emissions. Decisive moves by African countries are tackling local air pollution problems by upping regulatory checks for imported pre-owned cars, writes Tawanda Karombo from Harare, where the Zimbabwean government has placed more restrictions on imports from major global exporters of used cars, particularly Japan.
Amazon brings the light. In South Africa, Amazon has revealed plans to generate renewable solar energy and transmit it over Eskom's national grid to supply its new data center in the Northern Cape region. Farai Shawn Matiashe reports on how it'll work.

Chart of the week
More African countries relax visa rules. As Africa gets ready for the implementation of continental free trade agreement, more countries are starting to relax their visa rules for easier passage for African passport holders, based on the African Development Bank's annual Visa Openness Index.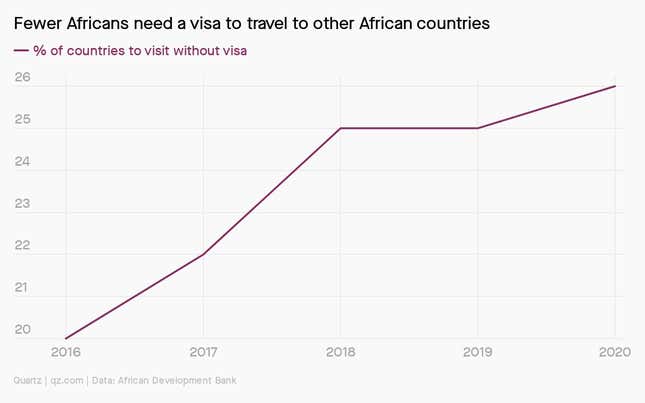 Dealmaker
Big bet on data. The US International Development Finance Corporation has invested $300 million in the expansion of Africa Data Centers, the data storage arm of Johannesburg-based Liquid Telecom. It's a bet on a rapidly growing sector as Africa's data center market, which currently accounts for just 1% of global available capacity, is expected to grow to $3 billion by 2025.
•SunCulture, a Kenya-based provider of solar power systems raised $14 million in a Series A round led by Energy Access Ventures and Électricité de France. Others investors included Acumen Capital Partners and Dream Project Incubators.
Quartz gems: Sports return
African players currently account for about 8.6% of registered players in the English Premier League, and there is abundant evidence to show that they can cut it at the highest levels across Europe and around the world.
Hundreds of young Africans dream of a similar path to the top. But mounting losses have made it difficult, or even impossible, for some clubs to recruit players from abroad. Teams are potentially losing out on a cohort of soccer talent and prospective players across Africa are losing out on the opportunity of a lifetime, and risk being exploited, writes Yomi Kazeem in our latest field guide.
Other things we liked
Culture, appropriation, and an African DJ sample. When US DJ Megan Ryte dropped the video for her latest single, "Culture" featuring will.i.am, a few weeks ago sharp-eared fans of South African gqom star DJ Lag immediately noticed the very close similarity to his 2017 hit, "Ice Drop". For gal-dem, Kampire Bahana covers the backlash and the history of uncredited African sampling.
The Swahili teacher killed in a Nazi concentration camp. Not much has been written about the experiences of Africans during the Nazi years. Deutsche Welle tells how this absence of history prompted one researcher to uncover the story of Mahjub bin Adam Mohamed, originally from Tanzania.
Africa's hashtag revolution. From Nigeria's anti-police brutality #EndSARS to  Namibia's #ShutItAllDown against violence on women, hashtags across Africa have gone beyond social media  to have measurable influence in the real world, notes Chika Oduah for Rest of World.
The untold origins story of SportPesa. For Kenya's Nation newspaper, Paul Wafula digs into the dark but colorful origins of SportPesa, whose Bulgarian co-founders have taken the online betting player to English Premier League and Formula One sponsorship to become one of the biggest companies in Kenya in just a few years.
ICYMI
Energy, Mobility and Agriculture Innovation program. Seedstars and Shell Foundation are calling for applications from startups working towards sustainable and scalable access to energy, agriculture, and mobility. (Dec. 20)
AfCFTA Vision Challenge. Entrepreneurs and innovators who "have ideas for how to make AfCFTA work better" are invited to pitch and potentially secure investment. (Dec. 22)
EFInA COVID-19 Grant Request for Proposals. A £2 million fund to support organizations working to scale financial service-enabled solutions to mitigate the impact of Covid-19 on low-income individuals and households. (Jan. 6)
Keep an eye on
Côte d'Ivoire presidential inauguration. The swearing-in ceremony of Ivorian president Alassane Ouattara for his controversial third-term will take place on Monday (Dec. 14) in Abidjan, in the presence of 300 guests including several heads of state. It follows a tense election on Oct. 31 which key opposition candidates suggested should be boycotted.
*This brief was produced while listening to Ngoma by Fena Gitu (Kenya)
**Congrats to friend of Quartz Africa, Somi, the Rwandan-Ugandan singer's Grammy nomination for Best Jazz Vocal album means she's the first-ever African woman to be nominated in a Jazz category and the first African artist in the Jazz Vocal category. We listened to the album, Holy Room: Live at Alte Oper here and here.
Our best wishes for a productive and ideas-filled week ahead. Please send any news, comments, suggestions, ideas, Iwájú previews or bootlegs, and Starbucks' Mocha Frappuccino WFH recipes to africa@qz.com. You can follow us on Twitter at @qzafrica for updates throughout the day.
If you received this email from a friend or colleague, you can sign up here to receive the Quartz Africa Weekly Brief in your inbox every week. You can also follow Quartz Africa on Facebook.