Hi Quartz Africa readers!
African entertainment startups had their best funding year on record in 2020, even as they struggle to find business models that work on the continent.
The companies raised a total of $13.9 million in 2020, almost 19 times what the sector had raised the previous year and nearly 116 times what it had secured in 2018, says
 by 
, a tech startup news publication. The immensity of the growth reflects the success of a handful of companies—all that funding went to just 10 firms—and not of the sector overall.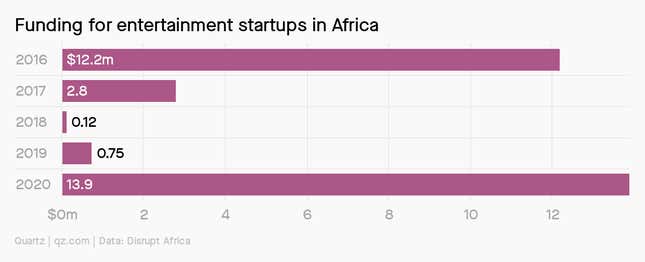 The immensity of the growth reflects the success of a handful of companies—all that funding went to just 10 firms—and not of the sector overall.
Africa's entertainment space "is still in its early days, and is characterized by a clutch of early-mover companies that intermittently raise cash; otherwise, the landscape is relatively sparse," says the report. Despite its record performance last year, entertainment lagged behind most other sectors, with fintech leading the pack by far. Still, the entertainment sector secured 2% of the available funding last year, compared to 0.15% in 2019.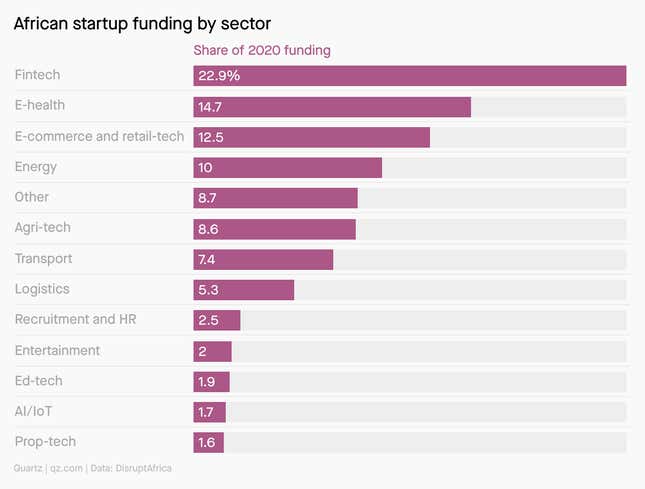 The main funding recipient was Kenya's Mdundo, a music streaming and downloading platform. It raised $6.4 million through its oversubscribed IPO on the Nasdaq First North Growth Market Denmark.
With expanding internet connectivity and an increasing array of devices at their fingertips, Africans are consuming more and more content. However, finding a sustainable model to make entertainment businesses work on the continent remains difficult, as high data costs have spawned rampant piracy. A relatively small middle class and entertainment spending's non-essential nature have also prevented these startups from grasping the market, Tom Jackson, a co-founder of Disrupt Africa, told Quartz.
"Spending power is growing, entertainment startups are increasingly succeeding where others failed, and investors are looking for opportunities beyond busy spaces like fintech, health, and e-commerce," Jackson said. "There was always going to be a drip-down effect, and we are starting to see it."—Carlos Mureithi
Five stories from Quartz Africa
Fairness and clarity through telecom. Ethiopia is moving forward with plans to open up its massive telecoms sector in the midst of financial turmoil brought on by Covid-19 and conflict in Tigray. But as Samuel Getachew writes, current plans to leap from being closed to open and from cash to digital risk creating a two-tier system, with the government on top.
Tanzania can no longer ignore Covid-19. Last week, Priya Sippy explored the use of "pneumonia" as a Covid-19 code word among Tanzanians, whose government had been sticking to the narrative that they'd beaten back the virus. Now, high-profile deaths and external pressure have prompted lawmakers to acknowledge a potential second wave. New precautionary measures still may not be enough.
Cape Town scientists work on a variant-proof vaccine. Researchers will trial a new vaccine meant to safeguard against recent and future coronavirus variants, Brian Browdie reports. The vaccine was developed by US biotechnology companies ImmunityBio and NantKwest, whose chairman, South African-born Patrick Soon-Shiong, has taken to YouTube to explain some of the science.
Mt. Kilimanjaro's ecosystem is in danger. Efforts to develop land near the base of the mountain could turn it into an "ecological island," surrounded by cultivated land and increasingly inhospitable to plant and animal species native to the area. If bridges of vegetation between the mountains weaken or vanish, insects and antelope alike could be at higher risk of isolation and eventual extinction.
How AfCFTA can boost Africa's health. Planetary health—a concept and field covering the health of humans and the environments they depend on—is sometimes an afterthought in development. But as Dr. Ebele Mogo notes, if Africa's new free trade area makes it a priority, it could boost sustainable development in potentially radical ways.
Chart of the week
Mobile lending apps have become an easy source of credit for Kenyans. High-interest loan apps have become popular among Kenyans who don't have bank accounts or the regular income needed to borrow from financial institutions.
But the industry has been largely unregulated. Now, Carlos Mureithi reports, Kenyan legislators want to crack down on the apps, some of which offer loans with annual percentage rates of up to 400%. Borrowers have also accused them of shady practices, including illegally mining customer data and shaming defaulters.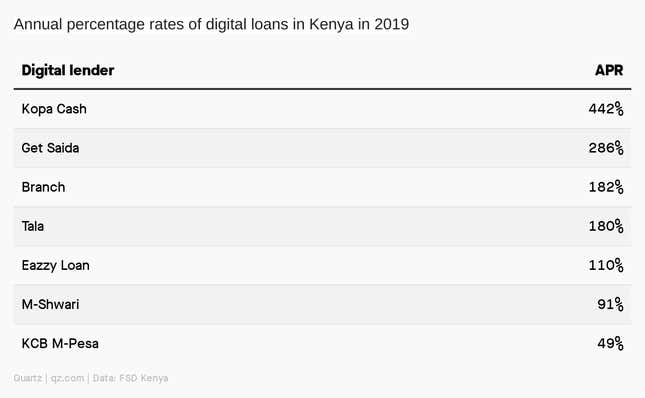 Dealmaker
TymeBank, a South African digital bank, has secured a $110 million Series B capital raise to aid its growth and expansion across the country, and in ASEAN. Apis Growth Fund II, a private equity fund managed by UK-based Apis Partners and JG Summit Holdings in the Philippines provided the funding, considered one of the one of the largest foreign investments any fintech company has secured in South Africa. The new investors now hold a minority stake in the retail bank.
Kenyan solar irrigation startup SunCulture has received a $11 million credit facility to expand its operations across sub-Saharan Africa. The debt funding round was arranged by financing company SunFunder and joined by Off-Grid Energy Access Fund of the African Development Bank's Energy Inclusion Facility (OGEF), Triodos Investment Management, the Danish government's Nordic Development Fund, and investment company AlphaMundi. This comes after last year's $14 million Series A funding round.
Skudu, a South African agritech startup, has raised an undisclosed amount of funding from AgVentures, an agrifood tech investor in Africa, to strengthen its goal to scale across the continent. Skudu, which has been helping agribusinesses maximize their resources since 2018, aims to become the leading online marketplace for agricultural inputs—such as animal feeds, fertilizers, plant protection chemicals—and produce on the continent.
Quartz Gems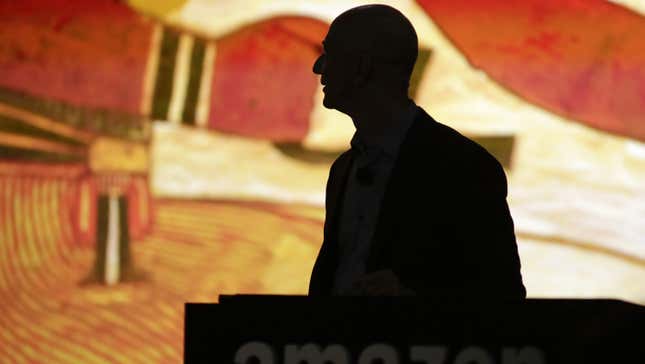 Compared to other regions, Amazon's physical presence in Africa is limited. And yet at the same time, Amazon is everywhere.
The company has not rolled out its e-commerce platform in Africa, although consumers in 17 African countries can order Amazon items to be shipped internationally. Still, Amazon.com is one of the most visited e-commerce sites in South Africa. Amazon's web services arm had its genesis in Cape Town. Prime Video is one of the continent's most popular streaming services. And Jeff Bezos, who announced on Feb. 2 that he was stepping down as CEO of the company after its first $100 billion quarter, has had a significant influence on African entrepreneurs and startups.
Quartz Africa reached out to a number of leaders in the e-commerce space to understand the legacy Jeff Bezos, and Amazon under his stewardship, have left in Africa. Read more in our latest field guide.
Other things we liked
Concerns that Big Tobacco is targeting youngsters. British American Tobacco's aggressive new marketing campaign leans heavily on social media, concerts, and sporting events in countries including Kenya, the Bureau of Investigative Journalism reports.
Most African countries do not count the number of deaths properly. "In order to help the living, we need to count the dead," said a UN demographer, following a BBC News investigation that found only eight countries on the continent using a mandatory system to accurately generate this valuable data.
Congo-Brazzaville's repressive government secretly stocks up. President Denis Sassou-Nguesso has ruled the central African country for 36 years. Ahead of the March 21 election, Khadija Sharife and Mark Anderson uncover in OCCRP the delivery of a cache of weapons to the presidential guard from Azerbaijan.
Covid-19 burnout hits Nigeria's health workers. For a country on track to becoming the world's third most populous nation, Nigeria's healthcare system is dysfunctional. For Sahelien,  Kemi Falodun chronicles the struggles health professionals face in keeping the country, and themselves,  afloat.
Fela's family reaches for new heights. Made Kuti didn't witness his grandfather Fela Kuti's greatness in person, "but the spirit of the music and the weight of his inheritance was enough to direct his musical path," writes Joey Akan in a Pitchfork review of Legacy+, a new double album by the 25-year-old and his father Femi, Fela's eldest son.
ICYMI
Duke-UNICEF Innovation Accelerator. Funding and mentorship over two years for social entrepreneurs working on issues facing young people worldwide. (March 5)
2021 Joburg Smart City Innovation Challenge. Companies and startups in the smart city space could win up to R500,000 ($34,0000) for their solutions in response to Covid-19 lockdowns.
Keep your eye on
Your questions about coronavirus vaccines, answered. Quartz health reporter Katherine Foley will be joined by Panagis Galiatsatos, a pulmonologist at Johns Hopkins Bayview Medical Center, to field all your vaccine questions. Register now to join in. (March 3)
Johns Hopkins Africa Business Conference. The theme of this year's conference, organized by the student-led Africa Business Club, is "Rethinking Africa in the World beyond Covid-19." (March 5 & 6)
---
🎶  This brief was produced while listening to "Never Let Me Go (Spada remix)" by Tresor (DR Congo/SA).
---
Our best wishes for a productive and ideas-filled week ahead. Please send any news, comments, ideas, pitches, viral TikTok musicians, and variant-proof vaccines to africa@qz.com. You can follow us on Twitter at @qzafrica for updates throughout the day.
If you received this email from a friend or colleague, you can sign up here to receive the Quartz Africa Weekly Brief in your inbox every week. You can also follow Quartz Africa on Facebook.