Hi Quartz Africa readers!
Sales of African art make up only a small percentage of global art sales. But an interesting phenomena is taking place: the growth in purchases by collectors based on the continent.
While about two-thirds of the bidders in Sotheby's recent African contemporary art auction hailed from Europe and North America, the majority of the works were snapped up by African collectors, the auction house reports. It estimates that in the four years since it created its Modern & Contemporary African Art category, around 70% of sales have gone to African buyers.
This could be the start of a fascinating shift in the global African art market, with local collectors signaling which artists they value within their own markets for a change. It's also a sign of the increasingly important role of art markets and museums in different parts of the continent.
The pandemic helped by pushing sales to online-only, opening them up further to young, digitally savvy collectors. Indeed, a number of records were set at the most recent auction, including a new world record for a sculpture by the artist in its first appearance at auction. Atlas by Nigerian artist Ben Enwonwu, sold for £378,000 ($519,826).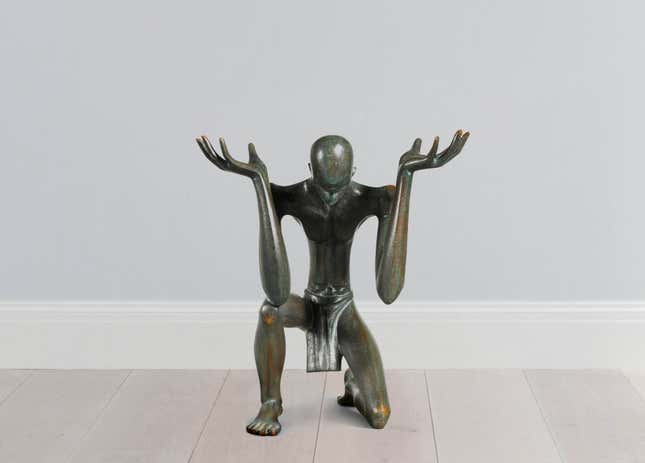 Six other records were broken by artists from Nigeria, Ethiopia, and Cameroon. One is now held by the late Senegalese artist Iba N'Diaye, who is acknowledged as one of the most influential painters of the 20th century. His role in founding the École de Dakar provided the focal point for an artistic movement in Senegal between the 1960s and 1980s.
"Given that the majority of collectors are African and based on the continent, the closing of physical galleries has not affected their buying," says Hannah O'Leary of Sotheby's. "2020 was our largest grossing year for our sales of contemporary African art. We expect 2021 sales to surpass that even despite the pandemic."—Ciku Kimeria
Five stories from Quartz Africa
A UK win inspires Africa's Uber drivers. A ruling in British courts that Uber must treat its drivers as workers, not self-employed contractors, has South African and Nigerian drivers threatening lawsuits of their own. It's a clear sign that the US-based gig worker model is falling short of labor standards in other parts of the world, Michelle Cheng writes, posing a challenge to Uber's global growth.
"Decolonization" of donor funding. In January, the global nonprofit PATH announced it had been chosen by the US President's Malaria Initiative to lead a $30 million malaria project in Africa. Seven other institutions were listed as partners in the initiative: none were from Africa. A recently published response letter by African health experts has reignited a conversation over the funding models used by global health institutions for the continent, Carlos Mureithi reports.
Tackling a terrific legacy. The recent nomination of Nigerian Afrobeat king Fela Kuti to the Rock & Roll Hall of Fame is a welcome recognition of his contribution to the world of music, writes Sanya Osha. But it also risks diluting the ideals and complexities of a musician whose work and life defied categorization.
South Africa revisits individual identity. Apartheid chiseled race and gendered othering into the lives of South Africans, encoding ways of treating people into its 13-digit national identity number, writes Ferial Haffajee. Now, in a bid to modernize the ID, the government is proposing a new approach that would accommodate non-binary gender identities.
The US proposes a new start. The country is seeking to reset its economic and commercial ties with African countries, writes Gregory Meeks, the chairman of the US House Foreign Affairs Committee. In an exclusive oped for Quartz Africa, Meeks lays out US priorities on the continent.
Focus on Black stories
Black-centered stories are finding fertile and profitable ground on screens across Asia, judging by the success in the region of blockbuster movies like Marvel's Black Panther and Disney-Pixar's Oscar-nominated Soul. Netflix's newest Japanese anime series, set to debut globally on April 29, hopes to ride this wave, writes Leslie Nguyen-Okwu. Based on a true story, Yasuke shines a spotlight on the remarkable rags-to-riches tale of Japan's first Black samurai, an African slave abducted from his home and brought to Kyoto to serve as the bodyguard of an Italian Jesuit priest.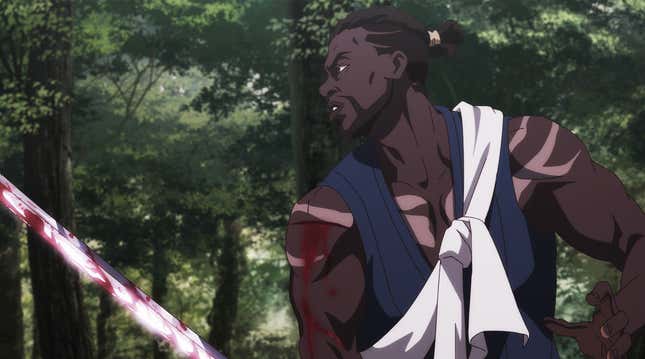 The world is watching more anime, a $24 billion industry with massive global appeal. Streaming giants HBO Max and Disney+ want a slice of that pie too. Just last year, Netflix invested hundreds of millions and dedicated an entire creative team to the genre.
A growing legion of Blerds, or Black nerds, are praising Yasuke's arrival. Anime suffers from a "real dearth of Blacks" and "the depictions of Blacks or of people made to resemble Blacks are drawn with exaggerated and imagined physical features of Blackness," says history professor Garrett Washington.
Dealmaker
Samurai Incubate, a Japan-based VC, has closed its oversubscribed second African fund after raising $18.4 million. It was launched in January 2020 and saw participation from 54 limited partners, including Toyota Tsusho. It targets the fintech, logistics, healthcare, e-commerce, energy, agri-tech, mobility, and entertainment industries in Kenya, South Africa, Nigeria, and the recently added Egypt.
Appetito, a Cairo-based grocery delivery startup, has raised $450,000 in seed funding to aid its expansion in Egypt and beyond. The funding round was raised by a group of Saudi Angel investors led by Ahmed Al Alola, an early-stage investor, LoftyInc's Afropreneurs Fund, and Jedar Capital.
Peach Payments, a South African fintech startup, has raised additional funding to build on its immense growth from 2020. This round was led by UW Ventures in partnership with Allan Gray—who also backed a previous investment—alongside Launch Africa Ventures. They're looking to scale operations in Kenya, Mauritius, and other earmarked markets on the continent.
Quartz Gems
The Biden administration is trying to decide if China is a rival or partner when it comes to climate change. This week, in the wake of a groundbreaking statement of cooperation on the climate crisis with China, US officials seemed to switch between the two positions.
Whether the two countries align or collide has major implications for the world's progress on tackling climate issues, the development of renewable energy sources, and the future of sustainable supply chains. Africa stands to be a major winner, or loser, as a result.
At Quartz, we believe in asking the important questions about our climate and reporting on the solutions. In honor of this week's Earth Day 2021, become a Quartz member for 50% off with code PLANET. Your membership supports our journalism and our essential climate coverage. Subscribe here.
Other things we liked
Idriss Déby's death leaves unanswered questions. Days after securing a sixth term, a clash with rebels left Chad's iron-fisted president dead on the battlefront, his generals reported. He leaves behind a complicated legacy bound up with contentious counterterrorism efforts, reports the New York Times.
Twitter's moves ignite a debate over censorship. Twitter announced a new office in Ghana last week, citing the country's status as a champion for democracy and a supporter of free speech. However, as Patrick Egwu writes in Rest of World, the company's presence in Africa is unlikely to stop the erosion of the values for which it advocates.
Is an African Super League realistic? An audacious pitch to create a European Super League dominated headlines last week, then crashed before it could take off. While FIFA president Gianni Infantino said he was averse to the ESL's creation, he is determined to lead a similar charge in Africa. Goal's Solace Chukwu questions its feasibility.
eSwatini pushes back. King Mswati III has ruled eSwatini as an absolute monarch for over three decades. Now his regime is faced with resistance from defiant and progressive sections of parliament who are speaking up against bills aimed to further strengthen his rule. In New Frame, Cebelihle Mbuyisa chronicles the significance of the small nation's face-off against its ruler.
South Africans see red over a green light for Amazon. Approval of a multiplex development in Cape Town anchored by the tech giant has run into resistance from environmentalists and the indigenous Khoi people. As Shoshana Kedem writes in African Business, a promise to be sustainable, generate jobs, and get local input might not be enough to justify occupying a sacred heritage site.
---
🎵 This brief was produced while listening to "Ware Wa'" by the Loi-Toki Tok Band.
---
Our best wishes for a productive and ideas-filled week ahead. Please send any news, comments, suggestions, ideas, Black anime suggestions, and African art critiques to africa@qz.com. You can follow us on Twitter at @qzafrica for updates throughout the day.
If you received this email from a friend or colleague, you can sign up here to receive the Quartz Africa Weekly Brief in your inbox every week. You can also follow Quartz Africa on Facebook.