Hi Quartz Africa readers!
When it comes to Africa's startup scene, fintech is the center of attention. For the past few years, the sector has been the most populated and most funded on the continent, with players raising almost $900 million over this period, according to Disrupt Africa, a website that tracks African startups.
Fintech startups are disrupting traditional financial services through innovative digital systems and infrastructure. They've done this by centering their activities on specialized areas such as payment, lending insurance, and investment. But now, they are trying to scale up by offering more diverse services.
Today, we have insight into how funding for African fintech startups has progressed through different lenses in the form of a new report by Disrupt Africa. It reaffirmed that fintech startups lead the pack in attracting investment; that fintech startups in Nigeria, South Africa, and Kenya are the largest recipients of funding; and that most fintech investment in Africa has gone to startups in payments and remittances.
Still, there's more to look out for, including in open banking, a new category that Disrupt Africa has featured for the first time.
A system that is expected to disrupt the banking industry, open banking allows control of consumer banking accounts through third-party applications. This space is new and has few players—Disrupt Africa is tracking six, including Nigeria's Pngme and South Africa's truID. But with 1.8% of all fintech funding recorded in Africa, it has already raised more money than some older spaces. Open banking "is one to watch over the next couple of years, especially in Africa's most developed fintech markets," the report says. —Carlos Mureithi, East Africa correspondent
---
Stories this week
Failures of an ambitious crypto startup. The founders of KuBitX gave Quartz Africa contributor Chikezie Omeje amazing access to describe how they tried, and failed, to build their own crypto operation. The result is an instructive read for anyone in the space, and for those interested in the obstacles African startups face in trying to scale, even when their products are in major demand.
Inequity in startup funding. Even as investor interest in the continent strengthens, most of the funding continues to go to African startups led by white people. Carlos Mureithi reports on how tech entrepreneurship is amplifying existing inequalities among Africans.
Uganda increases taxes on internet usage. Having had minimal success with a social media tax that came into effect in 2018, Uganda has now imposed a 12% tax on data bundles. Stephen Kafeero reports on the government's newest way to control speech.
Eswatini silences pro-democracy protesters. Africa's last monarchy has in the past weeks been rocked by pro-democracy demonstrations leaving scores dead and resulting in the loss of property and livelihoods. To silence protesters, Tawanda Karombo writes, the government turned to a modern method favored by Africa's authoritarian regimes: shutting down the internet.
Mauritius jumps on the trend for "smart cities." From Nigeria to Kenya to Senegal, there is no shortage of smart city projects with shiny, impressive prospectuses, grand utopian visions, but often little to show in terms of feasibility, practicality, and work on the ground. Amindeh Blaise Atabong explores whether Mauritius's MediaCity can avoid the pitfalls of its predecessors.
---
Charting Covid-19 vaccines in Africa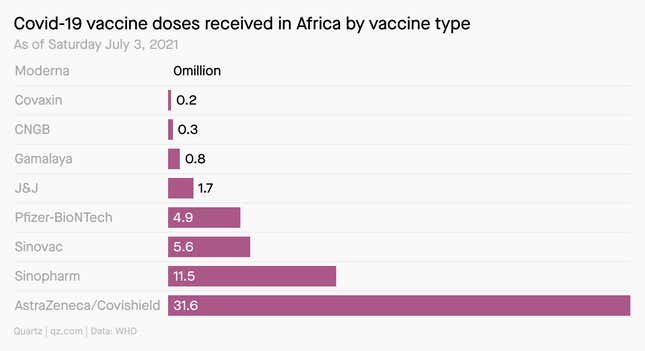 Around 87% of Covid-19 vaccines administered in Africa are not recognized by the European Medicines Agency, despite being approved by the World Health Organization. This has meant a majority of Africans and Indians can't travel to the EU under existing rules—even if they have received a vaccination identical to the one Europeans have received, but made in India.
---
Dealmaker
FairMoney, a neobank with operations in Nigeria and India, has raised $42 million in Series B funding. Tiger Global Management led the investment, with participation from existing investors DST Partners, Flourish Ventures, Newfund, and Speedinvest. With the fund, FairMoney aims to diversify offerings in its core markets, hire top talent, and accelerate customer acquisition.
MaxAB, the Egyptian B2B e-commerce platform, has raised $40 million in Series A funding to expand across the country and the MENA region. RMBV led the round, with participation from IFC, Flourish Ventures, Crystal Stream Capital, Rise Capital, Endeavour Catalyst, Beco Capital, and 4DX Ventures.
Yalla Xash, a Moroccan fintech startup that operates between North America and Africa, has raised $675,000 for further international expansion. The funding comes from the Maroc Numeric Fund II. Via Yalla Xash's app, Moroccans in Canada and the US can transfer money back home. The investment will aid its expansion beyond its North America-Morocco route.
---
Quartz Gems
As a follow-up to our coverage on white privilege in the African startup scene, it is important to discuss the issue of inclusivity in tech in general. Diversity goes beyond a company's employees. The industry's overwhelming homogeneity leads to hardware and applications that are deployed half-baked, many times beta-ed with too small a user group, and embedded with biases that can discriminate based on the race, gender, sexual orientation, physical ability, and socioeconomic status of the user. In this conversation with Quartz CEO Zach Seward, Annie Jean-Baptiste, Google's Head of Product Inclusion, tackles these issues head-on.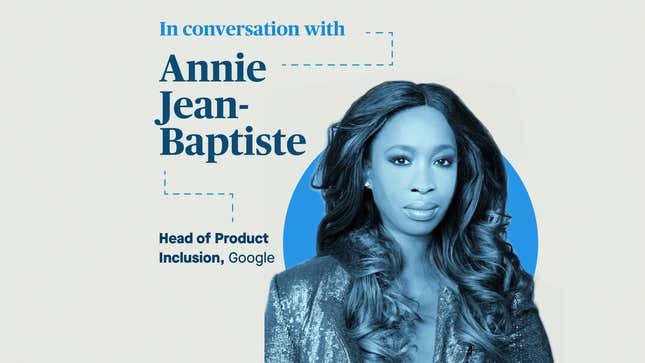 Become a Quartz member and subscribe to our emails to make sure that you don't miss events like these, and other stories on how businesses can do better, from our global newsroom.
---
A brief history of South Africa's vaccine mistakes
December 2020: A group of scientists draft a 10-point vaccine strategy, in an effort to persuade the South African government to better prepare for a second Covid-19 wave.
January 2021: Scientists publicly decry the continued absence of a vaccine strategy. Shortly thereafter, the government begins bilateral negotiations with the Serum Institute of India for AstraZeneca vaccines.
March 2021: The country vaccinates some healthcare workers in a Johnson & Johnson trial.
April 2021: The government declines the AstraZeneca vaccine, given its low efficacy against the beta variant driving cases, in a decision criticized by scientists and not supported by WHO. It also declines the Novavax vaccine for similar reasons.
May 2021: A slow rollout of Pfizer vaccines begins across limited sites.
June 2021: The US Food and Drug Administration advises that 2.2 million Johnson & Johnson vaccines made in the US and earmarked for South Africa were contaminated and needed to be destroyed. Despite the very long lead time to this decision, no apparent contingency arrangements were negotiated in the meantime.
South Africa's approach to its Covid-19 vaccine program has been characterized by a large number of missteps, its scientists argue. In aggregate, it has left the country behind many others on the continent, and essentially left millions unvaccinated as a savage third wave descends on the country.
---
Other things we liked
Rampant sexual abuse in Egypt's jails. In Cairo, young women are routinely sexually assaulted—groped, stripped, and viciously probed—after being arrested for petty crimes, according to a jarring and emotional story by Mona El-Naggar, Yousur Al-Hlou, and Aliza Aufrichtig in the New York Times. In Egypt's patriarchal society, officers, male and female, almost never face repercussions for these abuses.
Whatever happened to Zamrock? Heavily influenced by British bands, Zambia's rock genre dominated the 1970s before an economic crisis, conflicts in neighboring countries, and the AIDS epidemic stalled momentum. The Guardian's James Balmont trailed Witch frontman Jagari as he reminisced on Zamrock's glory days and its hopeful revival.
Podcasting goes mainstream in South Africa. Podcasts have gained prominence in the country's media landscape, transcending "niche" status, and exploding this year. For the Mail & Guardian, Sabelo Mkhabela describes how the platform is driving South African pop culture discussions and the questions around its viability as a business.
How KK found allies in the US. Kenneth Kaunda's vision for an Africa void of racism, colonialism, and disease took center stage after his death. However, as Andy DeRoche writes in Africa is a Country, underneath this movement was a complicated, controversial relationship with the US.
Following the money behind Kenya's match-fixing. Match-fixing is spreading in Kenyan football, enabled by the rise of online sports betting and lack of legislation. For New Frame, Bonface Osano traces its origins and economic implications, including on local sports betting firms.
---
ICYMI
Changing the narrative of Africa in media: Africa No Filter is hosting a webinar series on the future of media and its role in defining Africa's story. (July 13)
North Africa's Covid-19 recovery: African Business, in partnership with Hogan Lovells, is hosting a business leaders series focusing on the industries that will drive North Africa's post-pandemic growth. (July 15)
Learning the financial ropes: B Lab East Africa is running a financial literacy program for women-led businesses in Kenya. This one-day event will focus on business efficiency, impact-driven business models, and access to financial capital for scale. (July 16)
---
🎵 This brief was produced while listening to "Mauro Roda – Esse é o Foi" by Be Kuduro (Angola)
---
Our best wishes for a productive and ideas-filled week ahead. Please send any news, comments, suggestions, ideas, Zamrock tunes, and smart city plans to africa@qz.com. You can follow us on Twitter at @qzafrica for updates throughout the day.
If you received this email from a friend or colleague, you can sign up here to receive the Quartz Africa Weekly Brief in your inbox every week. You can also follow Quartz Africa on Facebook.