Hi Quartz Africa readers!
The coronavirus pandemic has been harsh for Africa's $50 billion tourism industry, with the fall-off in foreign visitors likely to knock out more than 6% of countries' GDP on average in 2021, according to the UN.
Last month, tourism officials and industry groups in South Africa launched a marketing campaign aimed at countering the blow to the country's reputation from its association with a namesake Covid-19 variant. And on June 24, officials in Egypt—the continent's number-two tourist destination, with more than 11 million annual visitors pre-pandemic—dropped the requirement of a negative Covid-19 test to enter the country for anyone who can show proof of vaccination (although that proof must come in the form of a QR code, which could be a chore to obtain given the lack of a universal vaccine passport app.)
It's not just Africa. A growing number of tourism-reliant countries, from the Bahamas and Belize to Georgia and Thailand, are waiving pre-departure testing and post-arrival quarantine requirements for travelers with proof of vaccination (although different rules may apply to different vaccines—Israel, for example, still requires a test for people who have taken the Chinese or Russian vaccines).
For travelers from the US and Europe, most of Africa's top tourist countries are largely open for business, albeit with quarantines and other measures in some cases, even for the vaccinated. Some, including Egypt and South Africa, remain on the UK's red list of countries that require quarantine upon return. A lot will be in flux over the next few months as different African countries emerge from their third wave and as the vaccine rollout on the continent hopefully picks up pace. For now though, we made a map to make it easier to navigate rules for visiting Africa's top tourist destinations.—Tim McDonnell, Cairo-based climate correspondent
---
Stories this week
A partnership begins for vaccine manufacturing in South Africa. Pfizer and BioNTech's announcement of a deal with the South African pharmaceutical company Biovac, to handle manufacturing for their Covid-19 vaccine for distribution in African is significant. But as Carlos Mureithi reports, public health activists have criticized the lack of knowledge transfer to local manufacturers.
African immigrants wield power abroad. African immigrants in the US have grown to be a formidable force by number, level of education, and contributions to their home countries, especially in the form of remittances. Yaw Okyere Thompson outlines the ways that they can harness their potential to influence US national and foreign policy.
Covid-19 pushes Africa to collaborate. Trends in digitization, innovation, and regional collaboration are increasing in the continent. Carlos Mureithi looks at a new report by the African Center for Economic Transformation, a think tank, and the need for countries to pursue greater economic integration to transform the continent.
Digital inclusion in East Africa. The digital divide between Africa and the west takes many shapes and forms, but is exacerbated by the dearth of African languages in various digital spaces. Maxine Betteridge-Moes reports on how a Kenyan tech policy expert and data scientists are using Kiswahili tech terms to push for digital rights.
How a Nigerian language crossed land and oceans. Threads of an African language found in Portuguese Creole stem from the Edo people of Nigeria. Uwagbale Edward-Ekpu explores what the journey of this defining language of the kingdom of Benin reveals about historic voyages, and the alliances and conquest which characterized the slave trade.
---
Mapping Twitter information requests
Five African governments made legal demands to Twitter to produce account information in the second half of last year, up from four in the previous half, the social networking service reports.
The report categorizes the demands as routine emergency and preservation requests. Carlos Mureithi delves into the numbers, which detail government information requests from 11 African countries and 96 globally since 2012.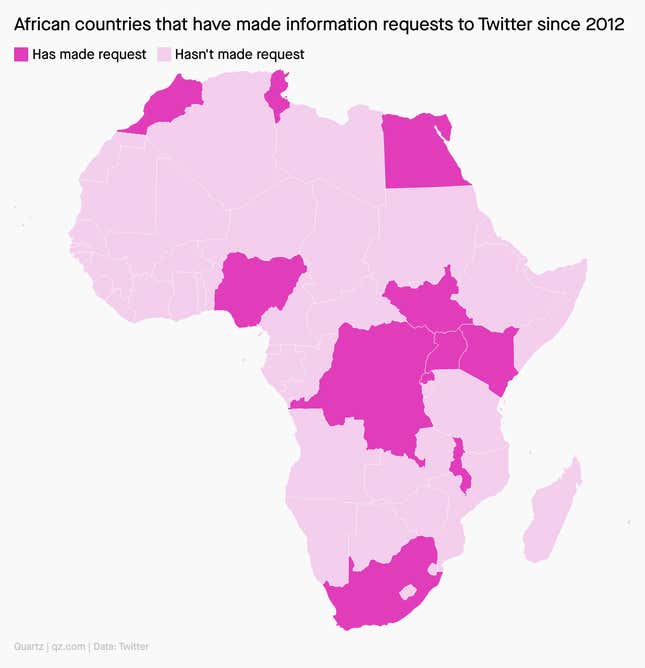 ---
Dealmaker
Chaka, a Nigerian fintech startup, has raised a $1.5 million pre-seed funding round to aid an Africa expansion as it aims to achieve borderless investments across the continent among others. The investment was led by Breyer Capital, with participation from 4DX Ventures, Golden Palm Investments, Future Africa, Seedstars, and Musha Ventures. It comes a month after Chaka broke new grounds with Nigeria's SEC.
Strove, a South African employee wellness platform, has closed a $277,000 seed funding round to aid its UK expansion. This investment comes after venture builder, The Delta, launched the initial product in January. It was led by Launch Africa, with participation from several angel investors. Strove is a mobile application that empowers organizations to inspire their employees to live healthy and active.
Jeel, the Egypt-based edutainment startup, has raised $1.2 million in seed funding. Kuwaiti and Jordanian angel investors provided the investment, which is aimed at accelerating its main initiative: growing JeelApp' (a children-focused mobile application), launching more features, and expanding its team.
---
Person of interest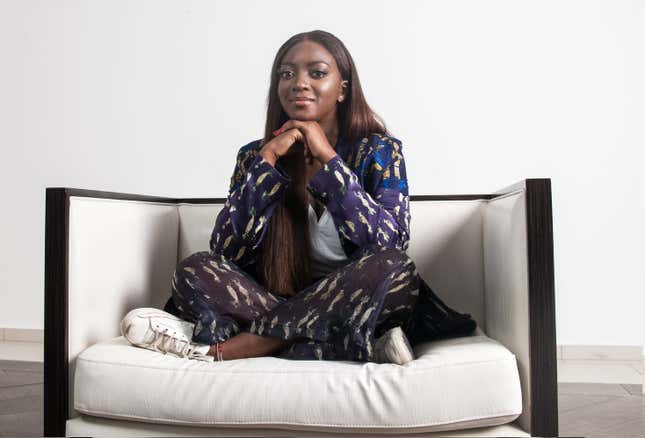 Ghanaian-British gallerist Adora Mba is making waves in the African art and curation scene. The founder of recently opened ADA Contemporary Art Gallery in Accra is passionate about showcasing the next generation of African artists.
"There's an incredible roster of female artists, contemporary artists, doing really cool stuff, and it needs to be seen," she says. "I really just wanted the world to see that African art is more than portraiture from male painters."
Mba recently curated a display of 32 artworks at the House of Fine Art (HOFA) Gallery in London, running through August, to showcase the range and power of young, up-and-coming female artists from Africa, or of African descent, in an effort to bring more of their work into the mainstream. Jackie Bischof reports on "Mother of Mankind," which features 16 artists.
---
Quartz Gems
The weight of inflation. The pandemic and resulting government rescues and stimuli have caused wild price swings in products around the world. As Amanda Shendruk and Samanth Subramanian explain in words and interactive graphics, even if those price changes were exactly the same across the world, the resulting inflation in different countries would be very different. Those differences can tell you quite a bit about national economies.
Become a Quartz member and subscribe to our emails to make sure that you don't miss stories like these.
---
Other things we liked
Libya battles to protect its endangered forests. As much as its citizens, nature has been feeling the heat of a decade of conflict and instability in Libya. For DW, Hendia Alashepy reports on the cost of war on Al-Jabal al-Akhdar, the country's greenest land, the ripple effect, and what interventions have been made.
Africa's elusive World Cup glory. While they've done relatively well in junior world tournaments, on the global stage where it matters the most, men's national teams from the continent falter. In New Frame, Njie Enow questions this anomaly.
A wounded South Africa struggles. While the chaos in South Africa was triggered by its former president's persecution, its current scale and intensity, Mohammed Jameel Abdullah writes in Africa is a Country, is enabled by untreated rots from colonialism, apartheid, economic inequality and an apparent neocolonial system of government.
Artist platforms give young Africans a voice. New literary journals run by young people are emerging in Africa. As Abdi Latif Dahir writes in The New York Times, the publications are helping to raise voices from the continent.
Kenya becomes a world leading geothermal powerhouse. Kenya used to get most of its electricity from hydro dams and oil-burning power stations. Then, in the 1980s, it opened the continent's first geothermal plant. Now, as Bloomberg reports, Kenya is keen to export its expertise on this zero-carbon energy source.
---
ICYMI
A better kind of business journalism. The fourth in Quartz's business journalism series dives into how to dig for stories in financial data and documents. Register here. (July 28)
Crafting better narratives. A seminar by Africa No Filter aims to reframe storytelling and center equity in stories about Africa. (July 29)
A natural gathering. The International Conference on African Studies, Environment and Conservation, seeks to bring together leading academic scientists, researchers and research scholars. (July 26 and 27)
---
🎵 This brief was produced while listening to "Yaba Buluku" (Spotify)  by Dj Tarico ft. Preck & Nelson Tivane  (South Africa).
---
Our best wishes for a productive and ideas-filled week ahead. Please send any news, comments, suggestions, ideas, Kiswahili tech terms, and World Cup trophies to africa@qz.com. You can follow us on Twitter at @qzafrica for updates throughout the day.
If you received this email from a friend or colleague, you can sign up here to receive the Quartz Africa Weekly Brief in your inbox every week. You can also follow Quartz Africa on Facebook.