Hi Quartz Africa readers!
I am part of a group of women angel investors called Dazzle who support women-owned and women-led tech startups in South Africa, so I often sit in on funding pitches. One of them stuck—it was a husband-and-wife team.  The wife was shy, and during the pitch she made the introductions and then fell silent. The husband dominated the call, eloquently presenting the business and answering most of the questions.
At the end of the pitch, we were all convinced that the wife was merely a front that allowed him to meet our gender investment criteria.  In the end we turned them down, but she wrote to me after and said she realized that she should have spoken more. Her excuse? She felt she was a terrible presenter and her husband was much better at it than she was, even though it was her business and her idea.
Confidence, or the lack of it, plays a major role in such situations. It's the reason why men apply for more jobs than women even when they are less qualified.  It's why women don't put their hands up for promotions. It's why imposter syndrome affects women more than it does men, and women of color in particular.  It's also why many women founders remain under the radar.
Staying in the shadows, simply doing the work, and not necessarily taking the credit for it, is a role that many women appear to prefer. We turn down opportunities to speak on global platforms because we are scared that we don't know enough about the subject. We turn down interviews on our work because we don't feel we have done enough. We turn down travel or networking opportunities because we don't have the time to spare. We are often our own worst enemies.
I once had a boss who used to arrive in the office to great fanfare every day. She would frequently and loudly share her successes and challenges with the team. She lived out loud in the office and like her or not, she was noticed and went far. And that's what I want more women to do—to live out loud, be brave, and as Nike says… just do it.
This year is my year of saying yes.  Not just to the dress, but to the webinar, the interview, the pitch, the conference, the meetings… because that's how we collectively change the narrative about women not being ready to start, grow, or lead businesses. We are. And we're coming. —Moky Makura, executive director of Africa No Filter and Quartz Africa 2021 Innovator
---
Quartz Africa Innovators 2021
You'll already have been introduced this week to our Quartz Africa Innovators list: a dynamic group of over two dozen women from 12 countries and 15 sectors. Now read about some of the areas these female-led initiatives are already making an impact in today.
As part of the innovators list, our reporters penned a series of essays—including the one excerpted above—to showcase some of the important and exciting work being done:
💸 What boosting local funding could mean for Africa's startup ambitions
🏗️ Who is building the tech infrastructure for African businesses?
🚚 Female entrepreneurs are tackling Africa's logistics problems
Your support helps Quartz Africa continue to highlight the strides being taken by female founders, and the challenges and obstacles standing in their way. Help us continue this work by becoming a member today. And because Quartz turned nine this week, we're giving our readers 50% off annual memberships! Sign up with code QZBIRTHDAY.
---
Stories this week
A startling loss of workers. In a survey of nearly 3,000 Nigerian businesses, the United Nations Development Program found that a fifth of full-time employees were let go in 2020 due to the coronavirus pandemic. The survey found that businesses likely chose to trim down on personnel as operation costs soared while revenue declined, Alexander Onukwue reports.
AfCFTA boosts transport and logistics. The prospect of easier intra-Africa trade under the African Continental Free Trade Area is making Africa's transport and logistics sectors more attractive to investors. Conrad Onyango writes about some of the recent deals and developments in the sector.
Aiming for the sky. Across the continent, plans are underway to build skyscrapers to rival the tallest ones already existing. Such projects attract their fair share of criticism for being white elephant projects, economically unsustainable, poorly planned, overambitious,  and sometimes doomed to fail. Seth Onyango outlines the newest developments in the area.
Africa's dive into a cashless future. A recent MTN-Flutterwave deal will see millions of unbanked people across the continent get mobile wallets. Seth Onyango reports on how this digital move and others including Safaricom's expansion to Ethiopia will draw millions of unbanked Africans into mainstream financial services.
Using fintech to sell solar lanterns. Agent banking has extended financial services to Nigeria's rural areas, serving the deposit and withdrawal needs of far-flung customers. Alexander Onukwue examines the case for using the same network to distribute solar home systems, based on the example of one Nigerian company.

---
Charting binge-watching projections for Africa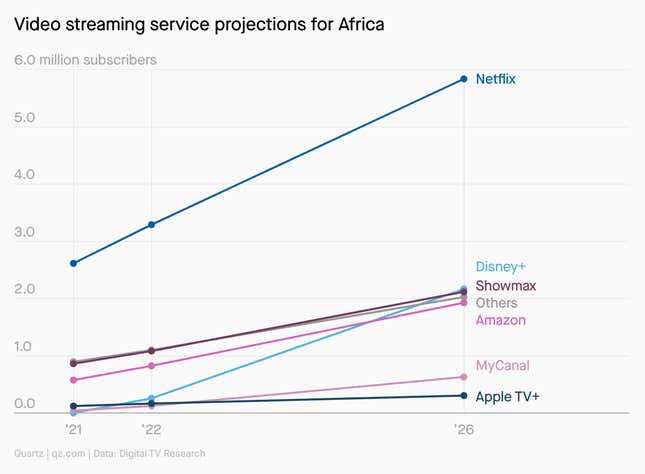 Netflix has launched a free plan for Android mobile phone users in Kenya with the aim of getting more subscribers in the east African market. In an announcement on its website, the streaming giant says it hopes the offer will entice people to eventually upgrade to a paid plan.
"If you've never watched Netflix before—and many people in Kenya haven't—this is a great way to experience our service," the company says.
As Carlos Mureithi writes, the move marks another significant move by Netflix to gain a wider audience and increase its market share in subscription video on demand on the continent.
Netflix already has the highest number of subscribers among platform providers in Africa. It's expected to retain the top spot through 2026, although its market share is projected to have reduced by then due to competition from domestic and foreign platforms.
---
Dealmaker
Zola Electric, a company that provides power solutions in Africa, has raised $90 million in a mix of debt and equity funding for product development and market expansion from TotalEnergies Ventures, Helios Investment Partners, Dutch development bank FMO, SunFunder, and a number of other investors.
Cartona, an Egyptian e-commerce startup, has raised $4.5 million in a pre-Series A round. It was led by Dubai-based venture capital firm Global Ventures, with the participation of Kepple Africa, T5 Capital, and angel investors. The company says the 30,000 merchants on its platform have processed over 400,000 orders worth $64 million.
Reelfruit, a Nigerian food processing company, raised $3 million in a Series A round to build a new factory that will see it produce 30 metric tons of dried fruits monthly. Alitheia IDF, a pan-African investment firm, led the round with a $2 million investment; other participants include Samata Capital and Flying Doctor Healthcare Investment Company.
---
Quartz Gems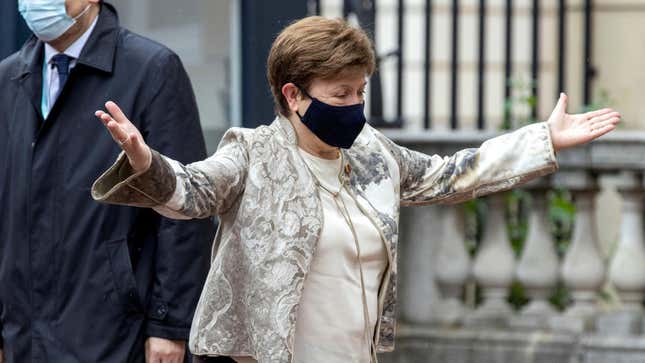 The World Bank Scandal is bad for globalization. Last week, investigators from an external law firm released a report showing World Bank officials pushed the team developing the influential Doing Business index to manipulate it in several cases. Under pressure from senior leaders including then-CEO Kristalina Georgieva, employees altered scores to boost China's and Saudi Arabia's rankings because it was deemed politically expedient to do so. They also were told to ignore developments in Azerbaijan that would have helped improve its score.
As a result of the findings, every piece of data produced by the World Bank will now be suspected of playing to one or more favored stakeholders. Here's why that's bad for globalization.
---
Other things we liked
An African leader for PEPFAR. US president Joe Biden plans to nominate John Nkengasong to lead his administration's $7 billion program on AIDS relief, reports Apoorva Mandavilli of the New York Times. The Cameroonian virologist, who has led the Africa CDC since 2016, will be the first African in the role.
The human impact of gig work. The platform work model is remodeling lifestyles, livelihoods, and working patterns. For Rest of World, Nomagugu Sibanda, a nanny and housekeeper on the home services app SmartMaid, tells Norma Young how digitization has reshaped her life.
Algeria's opaque administration. When the regime of Algerian president Abdelaziz Bouteflika announced he would seek a fifth term in 2019, despite appearing to be incapacitated by strokes, Algerians protested over who was really in charge. In a piece for Africa Is a Country, Michael de Vulpillieres explains why those protests, called "Hirak," will continue despite his recent death.
Chelsea's African stars. They are champions of Europe's biggest soccer league and lead the Premier League table, but Chelsea has a number of players who are eligible to represent African countries if they choose to. Ed Dove lists nine of them.
---
ICYMI
Building a career in business journalism. The last in our series of webinars focuses on career communities and the role of networks in the success of early-career reporters and editors. (Sept. 28)
Changing industries. The 2021 IoT Solutions World Congress will showcase solutions and technologies that are disrupting and transforming industry. (Oct. 5-7)
An opportunity to pursue connections. Google Conference Scholarships provide funding to attend selected conferences in tech and related fields. (Rolling deadlines)
---
🎵 This brief was produced while listening to "Femme d'affaires" by Marema (Senegal)
---
Our best wishes for a productive and ideas-filled week ahead. Please send any news, comments, suggestions, ideas, binge-worthy shows, and solar lanterns to africa@qz.com. You can follow us on Twitter at @qzafrica for updates throughout the day.
If you received this email from a friend or colleague, you can sign up here to receive the Quartz Africa Weekly Brief in your inbox every week. You can also follow Quartz Africa on Facebook.