Hi Quartz Africa readers!
On Jan. 11, Kenya suffered its third total power outage in four years, with the entire country plunged into a blackout for almost four hours after a transmission line broke. The disruption was caused by the collapse of towers along a high-voltage transmission line, according to Kenya Power. The electricity distributor did not say why the towers fell.
The outage caused huge financial losses and disrupted work, with those working from home—where there are typically no generators—most affected. Power was restored in all parts of the country except three locations in about four hours.
Blackouts are a common occurrence in Kenya and other African countries. The continent as a whole has the world's most expensive and least reliable power, and more than half of its population doesn't have access to electricity. Those trends worsened during the pandemic, as scarce government funds were pulled from badly needed power infrastructure maintenance to other priorities.
Africa's utilities are nearly all drowning in debt (pdf), and electricity supply issues may worsen if US and European governments restrict aid for new natural gas-fired power plants. The continent's potential for renewable energy can only be scaled if grids are upgraded. In the meantime, power cuts disproportionately affect the poor, dragging down the whole economy, and worsening local air pollution. In Nigeria, businesses and individuals spend almost $12 billion a year (pdf) fueling diesel generators.
The Kenyan blackout is interesting, in that it shows the huge impact that blackouts have, even in African countries that have made significant strides in renewables. Kenya is a leader in renewable energy, with 92.3% of electricity generated locally in 2020 from renewable sources (pdf)—hydro, geothermal, and wind power. This is three times the percentage of renewables in electricity generation globally. —Carlos Mureithi, Nairobi correspondent, and Tim McDonnell, Cairo-based climate change correspondent
---
Stories this week
The EU belatedly lifts a travel restriction. Carlos Mureithi writes that member states have agreed to lift their omicron-related ban on southern African countries.
Uganda phases out cheques to boost e-transactions. Tawanda Karombo reports on the country's central bank's move to boost electronic and mobile money payments.
Binance is sponsoring the Africa Cup of Nations (Afcon). It's the official crypto and blockchain sponsor for this year's tournament. Carlos Mureithi looks at why the world's largest crypto exchange has its eyes on the continent.
More money is at stake at Afcon. Twenty-four teams are battling it out in Cameroon for the prestige of winning the 33rd Africa Cup of Nations, but will they get other rewards? Alexander Onukwue explains how $16.8 million in prize money will be shared among the best eight teams in the tournament.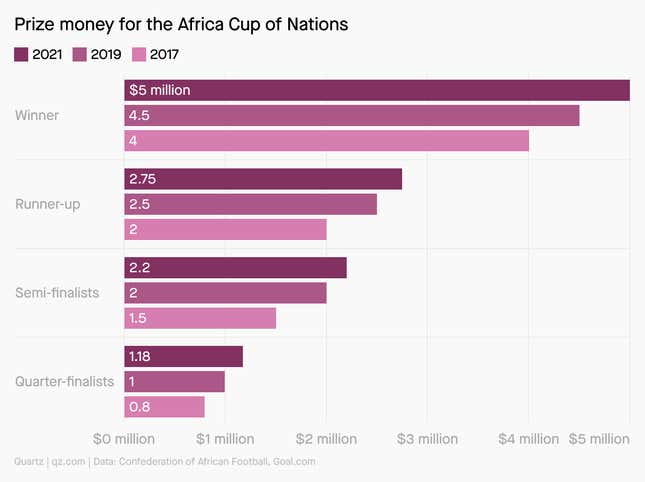 A New York fire hurt Gambians the most. A community in the Bronx borough of New York was thrown into mourning last weekend after a fire in a 19-story apartment building killed 17 people. Alexander Onukwue reports that many of the victims were Gambians who are still looking for closure after the terrible inferno.
---
Charting the cost of Nigeria's Twitter ban
Nigeria's government called off its ban on Twitter after the social media company agreed to some conditions, including registering as a local entity in Nigeria and paying taxes there. But the 222-day ban has had dire economic consequences. A report on the cost of internet shutdowns in 2021 estimates that Nigeria lost $1.45 billion as a result of the Twitter ban, making it the second worst-hit country by an internet shutdown last year. Nigeria's losses were three times more than those of Ethiopia, Sudan, and Uganda combined.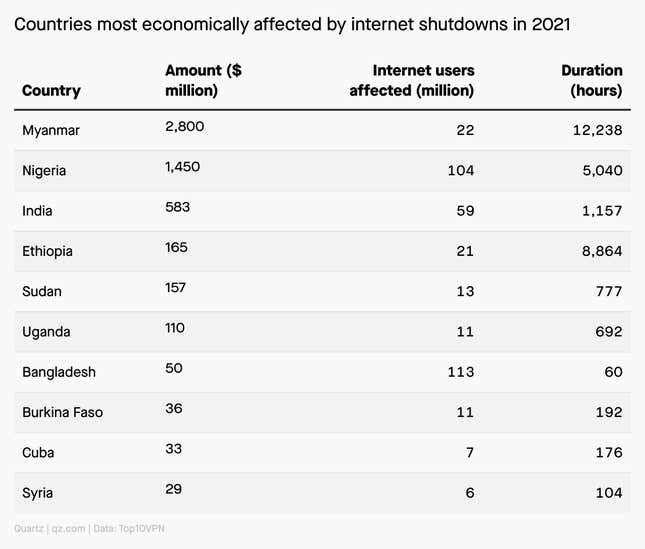 ---
Spotlight on a Quartz Africa 2021 Innovator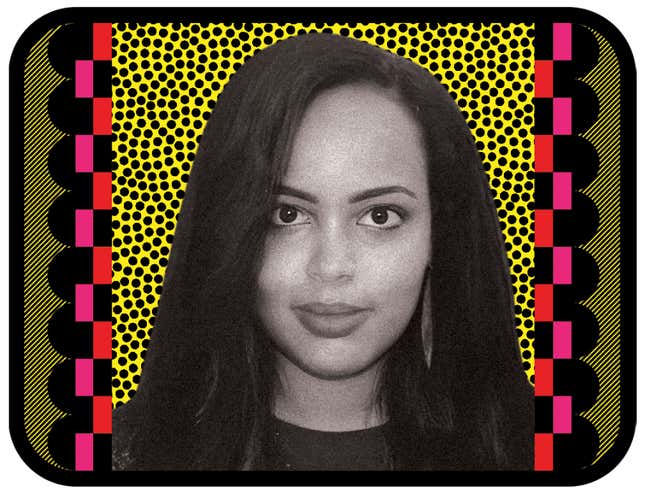 In Somalia, access to reliable electricity is usually a luxury for the wealthy who can afford to tap networks of polluting diesel generators.
As a young Somali diplomat posted to the UN headquarters in New York, Jasmine Samantar, now 28, came to see energy access as the linchpin to every other development goal. At first, she dabbled in microfinance for solar systems, but her clients, mostly small shop and restaurant owners, were asking for bespoke solar systems that could immediately boost their profits.
Raising capital for a women-led clean-energy startup in Somalia has been challenging, she says: "People think we're interns." But she managed to put together a team of 38 engineers and marketing staff to design, build, and sell solar-powered mobile cooking kiosks, medical device backpacks, home lighting kits, and other ready-to-use solar-powered hardware. Her products have reached more than 9,000 people across east Africa and her customers report an average of 70% more disposable income.
Check out Quartz Africa's Innovators 2021 list, which showcases the pioneering work being done by Samantar and other female African innovators.
---
Dealmaker
ANKA, an Ivorian e-commerce startup, raised $6.2 million in a pre-Series A funding round. The investment was led by Investisseurs & Partenaires, a French venture capital firm. VestedWorld, Enigmo, Groupe Prunay, Rising Tide Africa, and SAVIU Ventures also invested. The company has now raised $8.1 million since beginning operations in 2016.
Lipa Later, a Kenyan company that enables consumer credit, raised $12 million as it plans to offer its services to Tanzania, Ghana, and Nigeria. The investors in the round include Cauris Finance, Lateral Frontiers VC, GreenHouse Capital, SOSV, Sayani Investments, and Axian Financial Services. Lipa Later is part of a new crop of African startups in the buy-now-pay-later space; it plans to enter partnerships with more retailers across the continent.
Nigerian human resources startup SeamlessHR raised $10 million in a round led by African VC firm TLcom Capital, with the participation of Capria Ventures, Lateral Frontier Ventures, Enza Capital, and Ingressive Capital. The company offers its cloud-based HR and payroll solutions to companies such as PwC, Flutterwave, and TGI Group.
---
Quartz Gems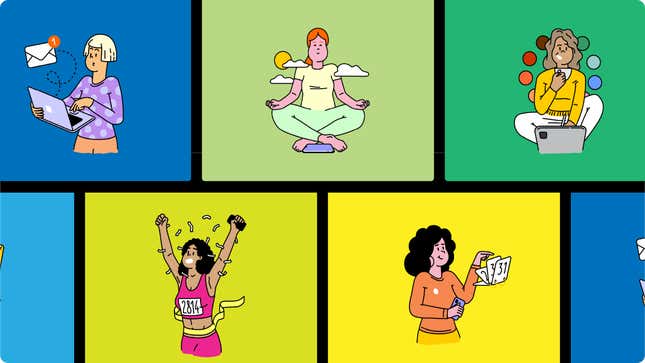 Whether or not it's objectively true, people simultaneously feel under pressure to produce and squeezed for time. Given how much the way you use your time impacts your relationships, your job, and the community at large, it's never been more important to develop a personal productivity philosophy.
Get more done in work and in life with a free five-day course from Quartz on healthy, sustainable ways to be productive.
---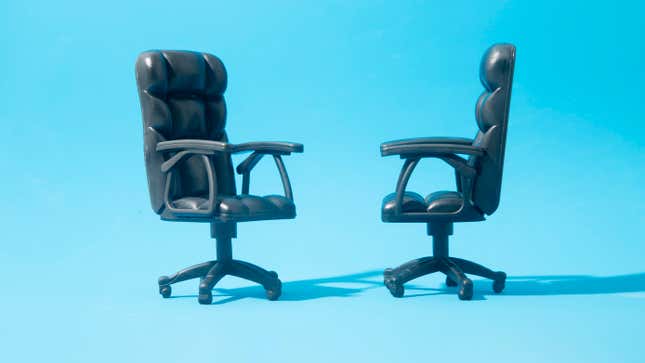 You know what's not great for productivity? An uncomfortable work chair.
Frank Lloyd Wright designed office furniture known as "the suicide chair." How did office chairs go from virtuously uncomfortable to ergonomic? Reporter Anne Quito explains in an episode from season 1 of the Quartz Obsession podcast.
🎧 Listen on: Apple Podcasts | Spotify | Google
---
Other things we liked
Revisiting novel African architecture. For the Guardian, Oliver Wainwright explores a form of architecture that Senegal designed after independence, filled with triangular forms, rocket-shaped obelisks, and rammed earth.
Connecting islands to the internet. Only about 20% of Tanzanians use the internet. For CNN, Tom Page writes about an initiative by World Mobile, a British company, to launch a hybrid network using balloons to provide internet coverage across the Tanzanian islands of Zanzibar and Pemba.
Zambia positions itself as a low-tax startup hub. For Rest of World, Abubakar Idris reports on efforts by about 40 African startups, including Flutterwave and Chipper Cash, to develop regulations that will favor easier startup operations in the country.
The Gambia's first mover in the Bronx. For the New York Times, Kimiko de Freytas-Tamura looks back at how the Twin Parks North West building in the Bronx became home to many Gambians, thanks to a certain diamond trader (and Islamic scholar by night) who first moved to the area in the 1970s.
---
ICYMI
Economic and political outlook. Invest Africa will hold an event to provide insight into the economic and political trends to watch in 2022 for Africa and the UAE. (Jan. 25)
A chance to study. The Commonwealth Split-Site Scholarships is offering funding for nationals of low- and middle-income countries. (Applications close Feb. 17)
---
🎵 This brief was produced while listening to "Zina" by Ouidad (Morocco).
---
Our best wishes for a productive and ideas-filled week ahead. Please send any news, comments, suggestions, ideas, solar panels, and mobile money to africa@qz.com. You can follow us on Twitter at @qzafrica for updates throughout the day.
If you received this email from a friend or colleague, you can sign up here to receive the Quartz Africa Weekly Brief in your inbox every week. You can also follow Quartz Africa on Facebook.