Hi Quartz Africa readers! [insertSponsor]
Somebody's watching me
In a stunningly short period of time, Facebook has become one of the most powerful media platforms in the world. It's not simply because users can easily share and spread information far and wide. It's also because a lot of its power lies in the knowledge it has about those users. That knowledge is significant when it comes to Africa. As TechCabal editor Bankole Oluwafemi, reminded us at Bloomberg's Africa media conference last November, Facebook and Google probably know more about Africa's youth than Africa's governments do.
It's easy to see how this could be true. We've written several times about the lack of readily available up-to-date basic consumer and government data.
Here's the thing, some African governments are showing signs they also believe the internet's giants know more than they do. Like with internet shutdowns, the governments say their concern is national security.
Last year, during the furor around Nigeria's ill-fated anti-social media bill, a senior official at the communications regulator privately voiced frustration that local intelligence agencies couldn't find out what Boko Haram terrorists and others were discussing on messaging apps like WhatsApp (which is owned by Facebook). For this person, the hurdle a wasn't legal or ethical one, but a lack of technical capability.
In Kenya, where political tensions have been building slowly in the run-up to August's national elections, a story broke this week that the communications regulator has reached out to mobile network operators to be able to gain access to users' private information if needed. The regulator pushed back against the claim it would access citizens private user information, but did confirm it is trying to use a "device monitoring system", to block counterfeit phones from being used on mobile phone networks.
But just as we've seen with internet shutdowns, that started as brief emergency measures, this is a slippery slope. It's worth noting the same Kenyan regulator has said it won't be shutting down the internet during the election period. Well, unless there's an emergency. This isn't reassuring.
To be clear when it comes to privacy, African governments poking and prying in the affairs of private citizens on social media would be doing no worse than some of their Western counterparts—but that's no excuse. Data privacy advocates and civil society groups raising awareness are vital but we must all stay vigilant and support a better legal framework for data protection.
Yinka Adegoke, Quartz Africa editor
Stories from this week
Egypt's real estate boom has turned from economic safe haven to rubble. For years, Egypt's middle classes snapped up new real estate developments around Cairo's suburbs and sold them on after only a month or two at a healthy profit. But Jahd Khalil finds now the after-shocks of recent political turmoil have finally caught up with the market.
Ikea is collaborating with African designers. Ikea, the giant Swedish furniture retailer has recruited some of Africa's best designers to create a uniquely African line. The company says that it hopes to tap into, learn from and spread the creative pulse spreading across the continent.
Google's new coding champion is a 17-year old Cameroonian without internet. Nji Collins Gbah is the first African and one of 34 winners of the annual global Google Code-in competition. But the 17-year-old's hometown in Cameroon has been cut off from the internet since mid-January.
Nigeria says it's discovered oil in Boko Haram's heartland. Last December, Nigeria said it discovered crude oil in the northeast area which has been ravaged by Boko Haram terrorists for the last decade. But as Eromo Egbejule writes, history shows oil has been more of as a curse than cure for Nigerians desperate for economic progress.
Kenya finally recognizes an 80-year old community. Even though their ancestors were brought by British colonialists from Mozambique to work in the sisal and sugar plantations in the 1930s, Kenya never recognized members of the Makonde community as citizens. Joshua Masinde reports on their 80-year quest for citizenship.
The leaky gallery threatening Africa's largest art collection. The Johannesburg Art Gallery temporarily closed this month after heavy rain damaged its roof. Despite the efforts to keep the institution alive and vibrant, the museum has suffered under neglect and crime, writes Lynsey Chutel.
CHART OF THE WEEK
The African immigrant population in the US is the fastest growing. The 1980 Refugee Act allowed more Africans to flee their conflict-ridden countries and resettle in the United States. And as new data from the US Census Bureau shows, the African immigrant population has nearly doubled every decade since—now totally almost 5% of the US immigrant population.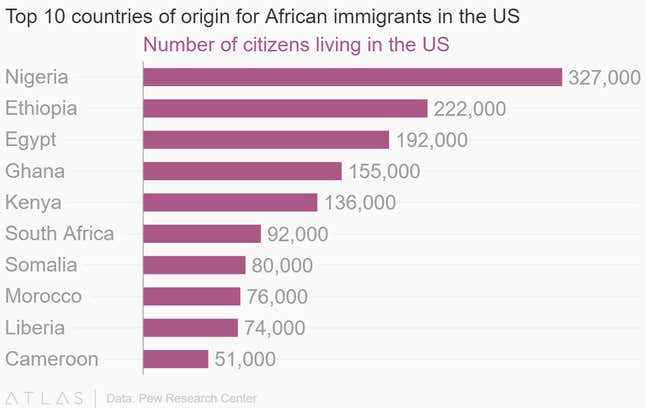 Other Things We Liked
A restaurant in Ghana uses WhatsApp to keep 6,000 customers coming back. Through a range of tactics including getting waiters to obtain phone numbers, sending personalized massages and "training" customers to reply to chat messages, Burger & Relish, a Ghanaian restaurant has turned its WhatsApp messaging app to its most important customer service support tool, writes Emmanuel Quartey in Flint.
African novelists and the immigrant experience. From Ngũgĩ wa Thiong'o to Chimamanda Ngozi Adichie, great African literature has come in waves over the years. But as Fiammetta Rocco writes in The Economist's 1843 magazine, globalization, education, easier travel and the rise of literary prizes have helped a new crop of diaspora writers documenting the immigrant experience.
Ice cream wars in Liberia. In the 1970s, a "Liberianization" policy ensured some industries were protected from foreign competition. The battle over the application of that law is now being manifested in the fight between the Liberian-owned Nice Cream and Shark's Ice Cream, owned by a Lebanese businessman, reports Ashoka Mukpo for NPR.
Using data to do better oil deals in Africa. Poor management of abundant resources has created the "paradox of plenty," stunting growth and worsening democratic institutions. To address this, more African countries are learning the financial skills needed to analyze project costs and profits so multinational corporations don't take advantage of them, writes Apolitical.
Keep an eye on
Africa Energy Indaba (Feb. 21-22). More than 600 delegates will attend the ninth Africa Energy Indaba conference and exhibition in Johannesburg, South Africa. The high-profile energy event will bring together investors and concerned citizens to seek solutions to Africa's energy future.
Our best wishes for a productive and thought-filled week ahead. Please send any news, comments, Cairo real estate deals and African-inspired Ikea furniture to africa@qz.com. You can follow us on Twitter at @qzafrica for updates throughout the day.
If you received this email from a friend or colleague you can sign up here to receive the Quartz Africa Weekly Brief in your inbox every week.