Hi Olympic fans!
There's almost too much Olympic news this week, so let's twizzle right into it.
---
Here's what you need to know
---
You can dance if you want to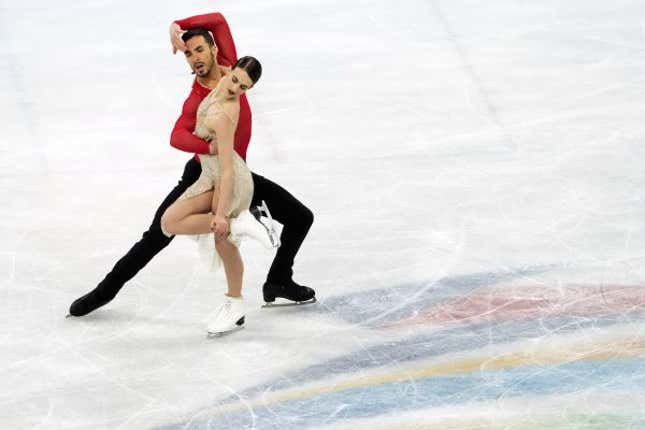 Ice dancing and figure skating may appear similar—pretty costumes, lots of drama, a general sense that it must surely be murder on the ankles—but there are key differences that keep these sports separate. In general, ice dancing draws from ballroom dancing, with the emphasis on how the competitors express their bodies on ice, whereas figure skating is perceived as more acrobatic.
👯‍♂️ Unlike figure skaters, ice dancers only compete in pairs, not as individuals.
🌀 In figure skating, jumps—Lutz! Axels! Salchow!—are required, but they're not allowed in ice dancing. Twizzles are a big deal, however, while sitting on your partner's head is forbidden.
⚖️ Ice dancing pairs are more in harmony with each other, as athletes are more similar in height and are expected to stay closer together in their routine.The figure skating pair is less balanced: the man is often taller than his partner, which helps when it comes to tossing her in the air.
🎶Judging is more focused on how figure skaters connect their footwork between the different elements, whereas ice dancers are judged more on the precision of their footwork and musicality.
---
Dancing's lucky break in 2024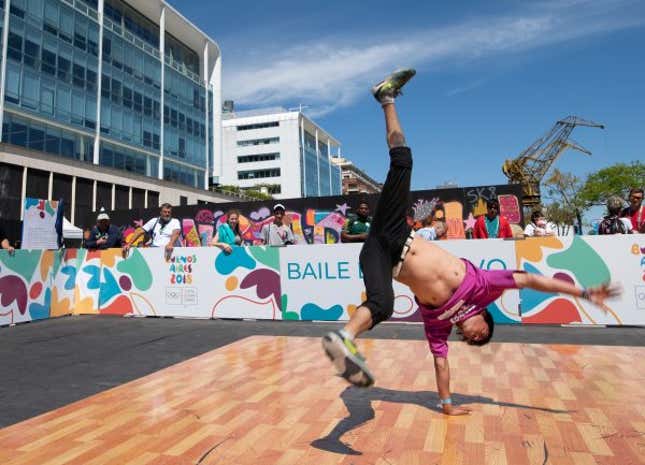 Given the similarities to ice dancing (minus the skates), you might wonder why ballroom dancing isn't part of the Summer Games. While the World DanceSport Federation and its predecessor had been arguing for ballroom's inclusion for decades, their efforts ultimately paved the way for a different type of dance: breakdancing.
The highly acrobatic and improvisational sport that originated in the Bronx hip-hop scene in the 1970s will be part of the Olympics line-up for the first time at the Paris Games in 2024. For many, the recognition is long overdue. Male gymnasts have been performing breakdancing moves like airflares for years, and the complexity and skill of today's breakdancing routines rival anything you might see on the mat (seriously, how do these dancers do it?).
The sport—simply called breaking at the Games—made its Olympic debut at the 2018 Youth Olympics in Buenos Aires (pictured above). While breaking is often a team affair, in Paris, 16 men and 16 women will compete as individuals in head-to-head battles. A panel of judges will evaluate their performance, with scoring similar to figure skating. Despite being the birthplace of the sport, the US by no means has a lock on the first Olympic medals. Athletes from France and South Korea in particular will be ones to watch.
Breakdancing's inclusiveness and youth appeal were big selling points for the IOC. The sport has been extremely diverse and welcoming since its beginnings, helping to break down racial barriers among its practitioners, and that same spirit continues today.
---
Now that we've lightened the mood…
Would you care to give us your opinions about Need to Know: Beijing Olympics? Whether it left you ice cold or warmed your heart, tell us what you think!
---
❄️ We're skating towards the end, but you'll see us once more in your inbox. Worried about life without Quartz? Try the Daily Brief for the most important and interesting news from the global economy. Sign up instantly by hitting the button below.
---
Get in touch with us at needtoknow@qz.com and live your best Quartz life by downloading our iOS app and becoming a member. Today's email was brought to you by Michelle Cheng, Priyanka Vora, Courtney Vinopal, Liz Webber, Morgan Haefner, and Susan Howson.