Hi Olympic fans!
The 2022 Beijing Olympics are over. But China's highly crafted message—that the event was a sports spectacular void of political controversy—may be filtering online narratives about the country long after the finale.
---
Here's what you need to know
---
Medal (and viewer) counts
As the 2022 Winter Olympics drew to a close, athletes counted their medals while TV networks and advertisers counted their viewers. Fears over smaller TV audiences are proving to be unfounded, with streaming a clear winner.
While NBC viewership for the Beijing Games was down around 40% from the last Winter Olympics in South Korea, nearly 60% more minutes were spent watching the Olympics through streaming services.
In terms of actual medals, here's how five of the countries with the most gold medals stacked up: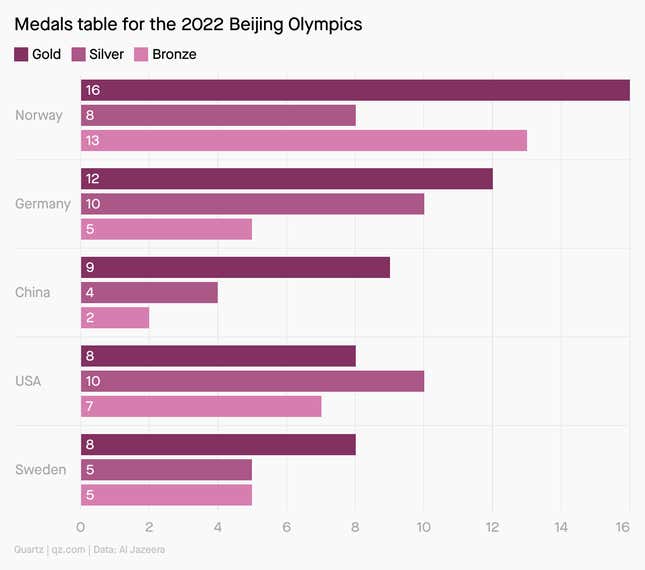 ---
The winter of discontent
What lasting legacy will this Olympics leave for China? For one, its nascent winter sports industry is emerging a winner.
Just a decade ago, few in China were familiar with snow sports as leisure activities. But since Beijing's successful Olympics bid in 2015, the number of ski resorts grew by more than 40% to roughly 800, while the number of ice rinks tripled. By 2020, China's winter sports industry was worth 600 billion yuan ($94.9 million).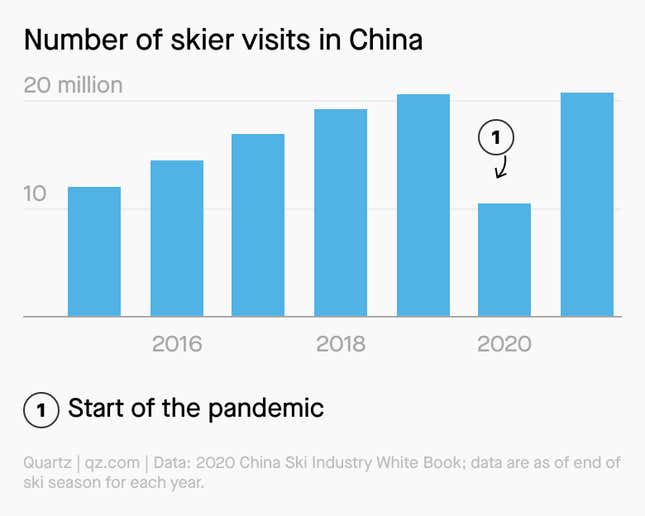 Infrastructure is only part of the equation. Athletes are key to nurturing a culture around snow and ice, with the biggest marketing tool being, of course, Eileen Gu, the US-born freestyle skier who competes for China.
Gu, who broke Chinese social media when she won one of her golds, is not just a tough act to follow, she's an impossible one for many. Chinese parents worry that the bar has been set too high.
---
🥇 Unsung hero
What the IOC really should consider is making a podium big enough to fit a Zamboni. The ice resurfacing machine made its first appearance at the Winter Games in Squaw Valley, California in 1960. Six machines smoothed surfaces, including the Olympics' first 400-meter speed skating track made from artificial ice.
Fast forward to the 2018 Games In Pyeongchang, and 37 Zamboni drivers—hailing from the US, Canada, South Korea, and Japan—would have been the 22nd-largest "team," if Zamboni were a country.
Our latest Weekly Obsession takes a look at the smooth, sheer wonder that is the Zamboni.
Want to get one fascinating deep dive per week? Hit the button below to try out the Obsession for yourself.
---
🥈Unsung hero
Much like the buzzing vuvuzelas heard at the 2010 soccer World Cup, the Winter Games have their own noise tradition: the echoey clanking of cowbells.
Cowbell ringing is a Winter Olympics fan tradition, and a lot has to do with the weather. With temperatures around freezing (at least for now), most fans are in mittens or gloves. As you can imagine, clapping sounds are difficult to make. But vigorously shaking a cowbell? Not so hard.
While there were just a few spectators in the stands and on the slopes to watch the athletes compete this time around—organizers restricted the sale of tickets for the events and instead invited groups of spectators to be present on-site—they've still had a fever with just one cure.
---
But the true unsung hero… is you
That's why we want to know what you thought about Need to Know: Beijing Olympics! Did we win gold, or did we lose our way in the blizzard? Tell us what you think.
---
❄️We won't see another Olympics until 2024, but that doesn't mean we can't still be together. Try the Daily Brief for the most important and interesting news from the global economy. Sign up instantly by hitting the button below.
Get in touch with us at needtoknow@qz.com and live your best Quartz life by downloading our iOS app and becoming a member. Today's email was brought to you by Priyanka Vora, Hasit Shah, Morgan Haefner, and Susan Howson.