THE BIG IDEA
By Eshe Nelson
[img src="https://cms.qz.com/wp-content/uploads/2019/04/AP_18355097291283.jpg?quality=80&strip=all" href="https://qz.com/on/past-the-peak/"]
The IMF expects 70% of the world to experience an economic slowdown this year, the most extensive synchronized slowdown since 2011. This is just one of many warning signs that the global economic recovery is in a precarious spot: US-China trade tensions, economic turmoil from Argentina to Turkey, weakness in Germany's auto sector, and higher interest rates have all contributed to an uncertain economic outlook.
We've structured our newsroom this year around the key questions and ideas shaping our future—and the mystery of what's next for the global economy is at the top of my mind and the center of my reporting. More than a decade after the financial crisis, new cracks are starting to show, and I'll be looking at all the ways the countries and their policymakers will need to adjust. How can a global economy that's past its peak avoid crashing into a recession? Can a deceleration be managed sustainably and without worsening inequality? How will unknowns such as the outcome of Brexit and the 2020 US election factor in? Follow along with me.
---
HANG OUT WITH US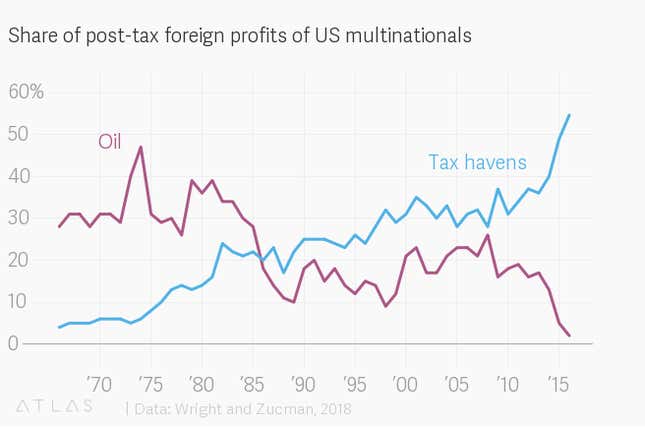 [img src="" href="https://qz.com/become-a-member/"]
'Tis the season for taxes. Sam Grobart will take members (and loyal readers of this email) through everything you need to know about the not-so-hidden world of tax havens in our conference call on Friday. Plane ticket to Bermuda not included.
Tune in at 11 a.m. ET via this link or call 1-888-240-2560 (meeting code 722-994-440).
---
EDITORS' PICK
Each year, some items see their influence grow within festival fashion, and this season the fashion search engine Lyst predicts that one of those will be the denim, crotch-hugging 'janties.' – Marc Bain, "Janties and the other fashion trends you'll see this festival season"
---
SOMETHING WE LEARNED FROM OUR READERS
Our research shows that over 70% of people expect business to lead on societal change rather than waiting for governments to regulate. LGIM is doing the right thing here and I expect its customers will reward it. – Adrian W., "Trillion-dollar investor says hitting climate goals will cost less than 'we had feared'"
---
OUR PICKS FROM AROUND THE WORLD
In the midst of Chicago's trendy food scene, deputy obsession editor Whet Moser stays loyal to Lula Cafe, which celebrates its 20th anniversary this year. "As a farm-to-table neighborhood restaurant it's been quietly foundational and innovative in the shadow of world famous establishments; it's the first place I learned what a great, multi-course, wine-paired meal could be. And I'd still just as soon go there as anywhere else in the city (especially for the three-course, $45 Monday farm dinner). It recently added a small bar as well, so you can also pop in at City Lit around the corner, pick up a book, and read it with one of their equally creative cocktails."
---
ONE MORE THING
🏆 Esports players want you to take them seriously. We explored compLexity, the esports franchise that enjoys total access to the Dallas Cowboys' training facility.
Have a great week.
[img src="" href="https://qz.com/work/1509134/esports-players-are-burning-out-in-their-20s-because-of-stress/"]