Festival fashion is a genre unto itself, with its own laws about how people should dress.
The idea is that the big multi-day music events where it turns up—Coachella, which begins on April 12 this year, being the most notable—are mini-universes, complete with their own visual identity, and they deserve their own wardrobe. The festival look is loosely inspired by pop culture's original rock festival, Woodstock—but tweezed, toned, and filtered for Instagram. Think hippie-esque flower crowns paired with lots of midriff-baring tops, gauzy dresses, and cutoff denim shorts.
Each year, some items see their influence grow within festival fashion, and this season the fashion search engine Lyst predicts that one of those will be the denim, crotch-hugging "janties" that recently riled up many people online.
Here's the back story: A few weeks ago, a pair of brief-style denim shorts designed by rising talent Glenn Martens for the Paris-based label Y/Project, got their turn on the internet's call-out circuit after retailer Ssense posted a shot of them on Instagram. Some labeled the shorter-than-short shorts "janties"—jean panties. A few writers joked that they would probably be a hit at Coachella this year, and they're probably not wrong.
Lyst today released a trend report on 2019 festival fashion, using its vast trove of data to predict the trends that would have the most influence this season. It notes a "surge in traffic and a 2250% increase in page views since mid-March" for janties. "Shoppers from all over the world are actively searching for Janties right now, so don't be surprised if you see this wacky trend take over Coachella," the report says.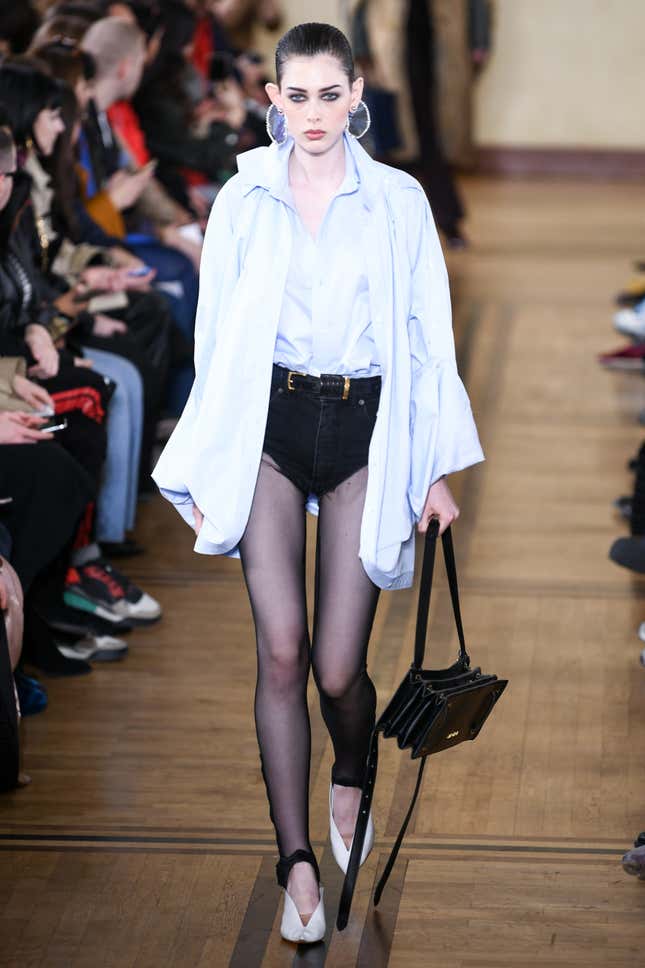 It's worth noting that this astronomical growth in page views is likely based off a very small initial number of people looking for janties before they went viral, making it easier for the increase to look large. Still, Lyst says its data is based on the searching, browsing, and buying behavior of more than 5 million online shoppers each month. The company analyzed "various spikes in search over the past three months" and also considers "research for emerging micro trends and ongoing shifts in the culture of fashion and consumerism over the last 3 years."
The shorts weren't the only trend to stand out. Lyst also predicts lots of sporty, "ugly" sandals, continuing fashion's obsession with items that upend notions of good taste, and the continued rise of cycling shorts.
Shiny sequined pieces are finding an audience too, among women and men. Searches for sequined bikinis were up notably, while shimmery men's jackets are seeing a bump as well.
Not least of all are plenty of neon and tie dye. The latter is having a moment in fashion's spotlight—Lyst says since the start of January, searches for tie dye have risen 88%—and it fits perfectly with festival fashion's hippie leanings.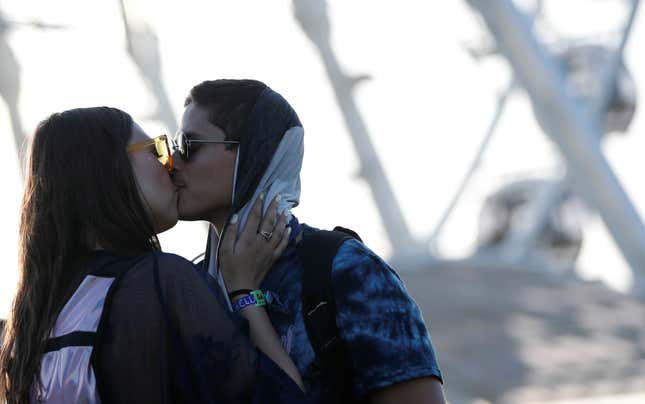 Looking for more in-depth coverage of the fashion industry? Sign up for a free trial of Quartz membership, and read our premium field guide on how fashion and luxury are getting redesigned.