One thing you can say about fashion trends in 2018: There were a lot of them.
Remember the tiny sunglasses? That one Prada shirt? The transparent bags (and luggage)? The cowboys?
Trends these days bubble up and dissipate so fast it can be hard to keep track, and harder still to say what really made a mark. A variety of sources have put out data-based lists of what they saw as the top fashion trends of the year, but that leaves the question of which source is best.
Do you go with what trended on Google, based on the fashion-related search terms in the US that saw the greatest year-over-year increases? Or what stood out on fashion search-engine Lyst, which analyzed more than 100 million searches on its platform? What about the searches made by Pinterest's more than 250 million global users that kept growing for more than six months? Or should you look at what online retailers actually stocked, as analyzed by Edited, a retail technology firm that tracks hundreds of thousands of items?
We decided to look at all of them, picking the trends that appeared on multiple lists, or saw such a sizable increase on one list that they deserved to be noted. Here are the top fashion trends of 2018, according to Google, Lyst, Pinterest, and Edited:
1990s/2000s fashion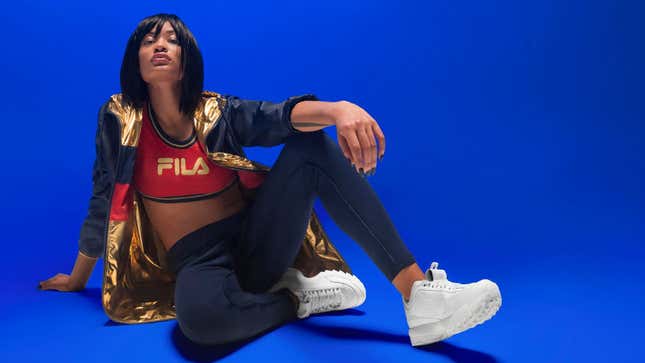 The undisputed top trend was the ongoing resurgence of styles last popular in the 1990s and 2000s. In accessories, Lyst noted, it appeared in the form of gold hoop earrings, scrunchies, and the sudden surge of Dior's Saddle bag, which had its heyday in the 2000s. Footwear was all about chunky sneakers with roots in that period, such as Fila's Disruptor II and Skecher's D'Lites, while Dr. Martens boots rode a neo-grunge wave.
In denim it showed up in the shift toward high-waisted, wider-legged cuts for women, and in men looking for light-wash jeans on Pinterest. ("The '90s called," Pinterest declared. "They said, 'you're welcome.'")
The look put old styles in a new context to create something fresh, if not original. As William Faulkner wrote—he was talking about fashion, right?—"The past is never dead. It's not even past."
Pre-Raphaelite Prairie
Lyst highlighted dresses with "gothic sensibilities or prairie girl details" as a big 2018 this year, with a 406% year on year increase in combined searches for "modest," "high neck," and "puff sleeves." (This last trend hit London runways in 2016, courtesy of JW Anderson, Burberry, and Erdem, evoking the mid-16th-century British court.)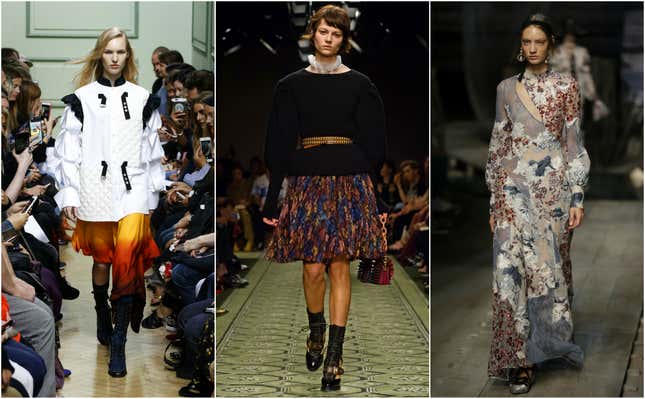 The trend's current incarnation is best encapsulated by the high-necked, ankle-length prairie dresses in designer Batsheva Hay's two-year-old, eponymous dress line, which are modestly cut and cover wearers' elbows and knees. The dresses dominated this year's New York Fashion Week, and those who rocked it were given the moniker "U.P.G." (urban pioneer girl) by the New York Times.
The trend makes sense considering the global shift towards more covered-up looks. This year, global fashion weeks seemed to leave sexier looks in the dressing room, and those designers that didn't (YSL, for instance, sent models down the runway in feather pasties and sheer dresses) were called "old-fashioned" and "tone deaf" by the fashion press. The Guardian pointed out that even fashion week in Milan, usually "the home of molto sexy dressing," was unexpectedly modest in 2018 as well. Interestingly, the demand for more conservative clothing has given Muslim fashion an opportunity to thrive, and some analysts estimate that sector could be worth more than $350 billion in two years.
Dad fashion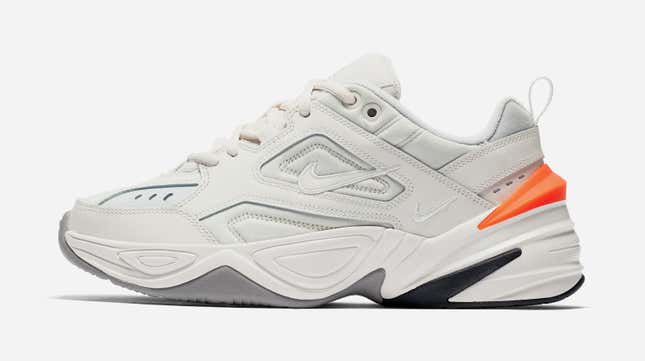 There was definite overlap between the 1990s/2000s-redux and another big 2018 trend: fashion's desire to appropriate the stereotypical dad's wardrobe.
Edited even included "chunky dad shoes" as part of 1990s fashion. Shoes like Nike's popular M2K Tekno—an update of the Air Monarch, a quintessential dad sneaker launched in 2002—and Balenciaga's hulking Triple S could fit both categories.
There are distinct elements to the dad category too, though. Underlying its leanings toward slightly oversized fits and unsaturated colors is the taste for ugly (sorry dads) that has appeared in fashion in the last few years—see the aforementioned Triple S. Lyst pointed out that "slouchy cardigans, fleeces and 'ugly' shirts combined saw a 439% increase in views."
Bike shorts
The rise of spandex bike shorts—the skin-tight, groin-hugging bottoms once reserved for avid cyclists—is one of the most difficult to trends to trace. But as with many things, Kim Kardashian West seems to have been involved. The reality TV star was spotted stepping out in spandex shorts paired with a blazer and stilettos in the summer of 2017. Her husband, the rapper Kanye West, later released a pair of bike shorts as a part of Yeezy Season 6, his fashion line. In September 2017, bike shorts were given high fashion makeover at Paris fashion week.
With that kind of buildup, it's no big surprise that Pinterest saw a 1,323% spike in searches for bike shorts, with Lyst clocking a 78% increase. While Edited didn't include them in its 2018 roundup, its 2019 lookahead highlighted cycling shorts as a growing trend, adding that fast fashion e-tailers such as BooHoo and Pretty Little Thing have already invested in them for the new year.
Underlying the bike shorts wave is the luxury world's whole-hearted embrace of athleisure. Lyst saw a 62% increase in items labeled as "sportswear" this year, and said shoppers were spending more on the category. Athleisure has of course been a force in fashion for over half a decade, with stretchy workout clothes doubling as everyday wear in many Western nations. The expectation of comfy, stretchy clothes has even spread beyond the category, with denim makers added more stretch to their jeans.
Now, as designers embrace the sportswear aesthetic, "Sports Luxe" has emerged as a powerful category of elevated athletic gear, spearheaded by designers such as Virgil Abloh, who dressed Serena Williams in a Louis Vuitton/Nike tutu at the US Open, and debuted a line of sports-inspired ball gowns at Paris fashion week.
Natural bags
This trend began bubbling up last summer with the meteoric rise of Cult Gaia's "Ark" bag, a structured, half moon, cage purse. It was a summer 2017 influencer staple and became an official "it" bag after both Beyoncé and Rihanna were spotted with it.
The bird-cage inspired clutch gained further notoriety after Cult Gaia sued Steve Madden for $15 million, claiming that the latter's BShipper natural bag imitated the Ark. Madden had previously sued Gaia, claiming that it couldn't seek legal protection for its bag "since the design "slavishly copies" vintage Japanese picnic bags from the '40s," the Fashion Law reported.
The bag fell out of favor during the winter months, but it opened doors for a wider array of natural bags to arrive in the spring and summer of 2018, buoyed by a larger trend towards sustainable and eco-friendly fashion. Edited noted that 119 mass market retailers introduced natural bags—including bamboo baskets, handwoven totes, and straw bags—to be sold in the spring.
Sustainable fashion
A growing awareness that cheap, disposable fashion is causing an environmental emergency has led to more interest in eco-friendly style over the last few years. In 2018, that interest reached a new high. Pinterest noted that searches for sustainable women's fashion rose 34% this year, while Lyst documented a 47% jump in fashion searches using keywords and phrases related to sustainability, such as "organic cotton" and "vegan leather."
Brands are helping to drive this surge. More are making sustainability a priority in their marketing and operations. Labels such as Adidas, Levi's, and Stella McCartney have been using more sustainable materials and processes to make their clothes, and letting customers know about it. At the UN's recent international climate summit, dozens of leading labels pledged to work together to reduce their climate impact.
Sling bags
Though "sling bags" only appeared on Pinterest's list of top trends for men, it said searches for them grew a hefty 1,184% in 2018.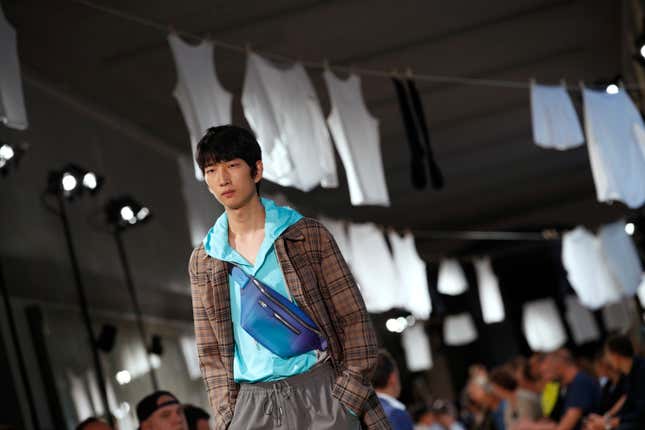 So what's a sling bag? It's basically a fanny pack (or, depending on where you live, a "bum bag" or "waist bag"), but it's not worn around the waist. The Wall Street Journal (paywall) was on top of this trend, explaining that one fashion buyer it interviewed, "like other well-appointed men sporting fanny packs today, doesn't wear it around his waist, but slipped over his shoulder and under his arm with the pack itself against his chest, the way a pageant contestant sports a sash."
Fanny packs may be mankind's oldest accessory, but this year these bags were everywhere. Luxury labels such as Hermès and Dior showed them on their runways. Sports brands including Fila and Adidas sold versions. In the US, though fanny packs account for just 1% of fashion-accessories sales, they made up nearly 25% of the category's growth this year, according to research firm NPD Group.
Animal print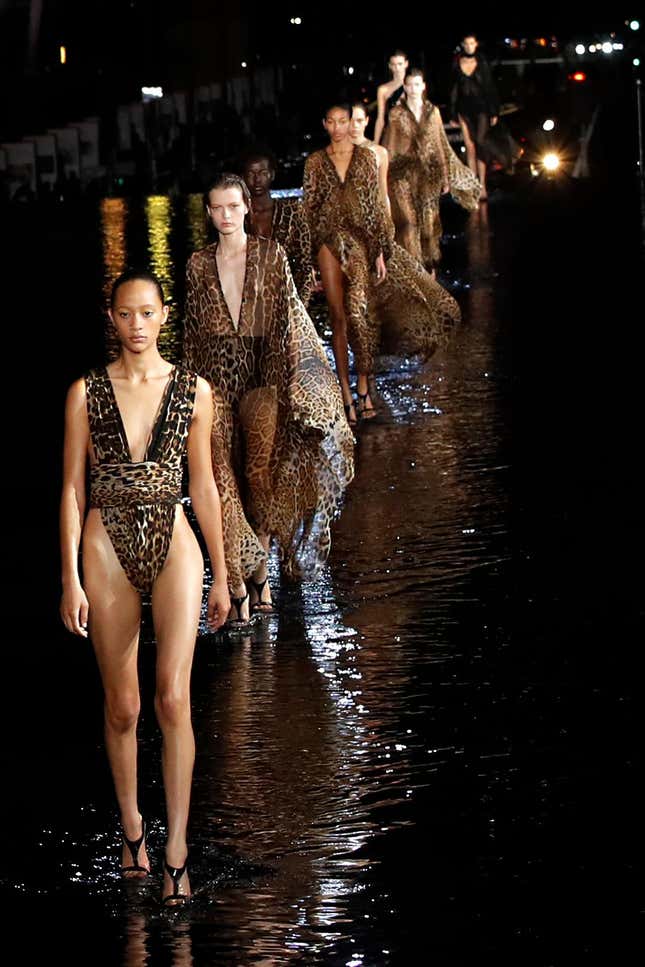 A natural byproduct of the 1990s-dressing revival, animal print returned with a vengeance this past year. At global fashion weeks, snake, zebra, cow, and leopard prints were abundant both on and off the runway: YSL's Anthony Vaccarello and Christian Siriano built an entire collection on a few skin prints, and Gucci smattered them throughout. 
Leopard and snake showed a particular surge. In the UK, online retailers stocked up on leopard print tops, according to Edited, while in the US, leopard-printed footwear made up 32% of the entire market it tracks.  
On Pinterest, snakeskin prints beat searches for leopard, and increased 642%. This is probably why: