As fashion month comes to a close, plenty of distinct trends were spotted on both the streets and the runway. There's no doubt that in the next year we'll be seeing animal print (lots of it), bucket hats (some), and chunky, ugly dad sneakers (probably until the end of time).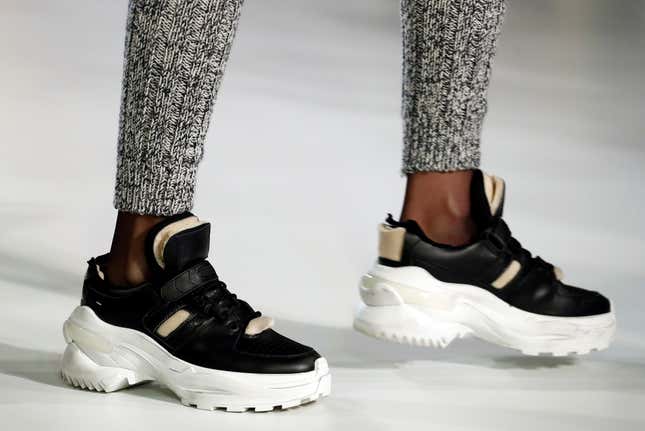 One thing that doesn't seem to be trending? Sexy dressing.
Alongside florals, it seems that sexy clothing—with its belly-button necklines and sausage-casing mini dresses—has no clear place in the hallowed halls of fashion.
There was a time, namely during the sexual revolution of the 1960s and '70s, when high fashion relished its nakedness. More cleavage and more leg were not only à la mode, they were also revolutionary: The less you wore the bigger your middle finger to the establishment was.
But sexy looks different in 2018. Case in point is the lukewarm reception to Yves Saint Laurent's recent Paris show, where creative director Anthony Vaccarello reaffirmed his commitment to luxe, NSFW fashion, sending models sloshing down a water-covered runway against the backdrop of the Eiffel Tower. They wore tiny shorts and sheer dresses, and in a nod to the YSL of the sexual revolution, feather pasties, which Vanessa Friedman called "old-fashioned" (paywall) in the New York Times while admitting that the whole show felt regressive, especially when placed against the backdrop of the Brett Kavanaugh hearing and Bill Cosby sentencing. Meanwhile, WWD's Bridget Foley bravoed Vaccarello's adherence to sexiness, but noted "several looks that exposed the breasts felt tone-deaf (paywall), especially at this moment of heightened attention to respecting models."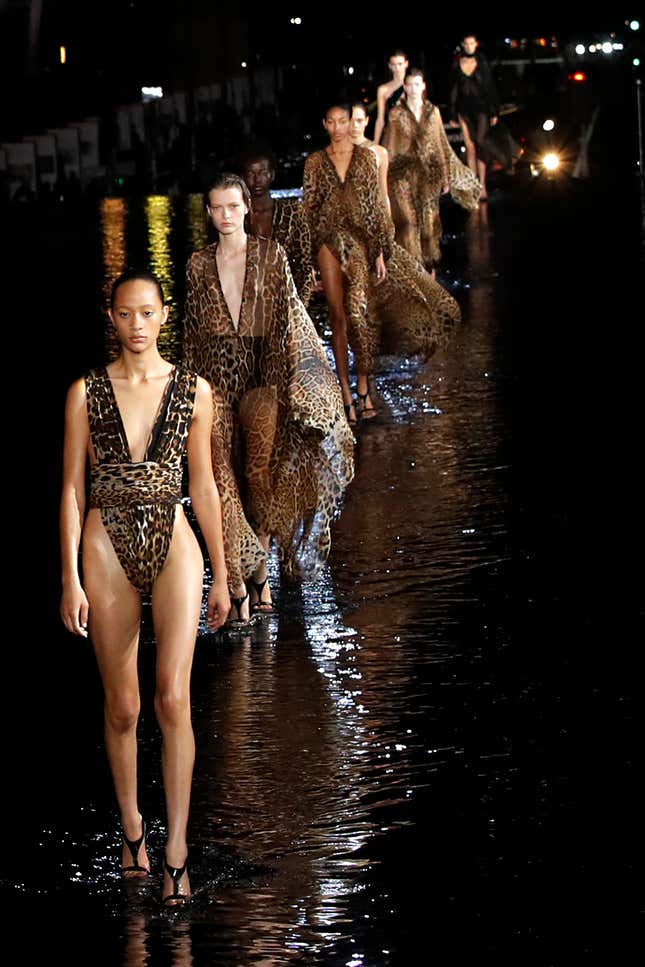 The contrast may not have been so stark had it not been for the rest of Paris's heavy hitters debuting collections that were decidedly unsexy. Maria Grazia Chiuri, Dior's first female artistic director, presented a limber, dancewear-inspired line hailed as a "move toward unrestrained feminism" by the Guardian. Featuring ankle-grazing dresses with long sleeves, Chiuri ditched Dior's signature corsetry, favoring flexible, comfortable fabrics like jersey instead.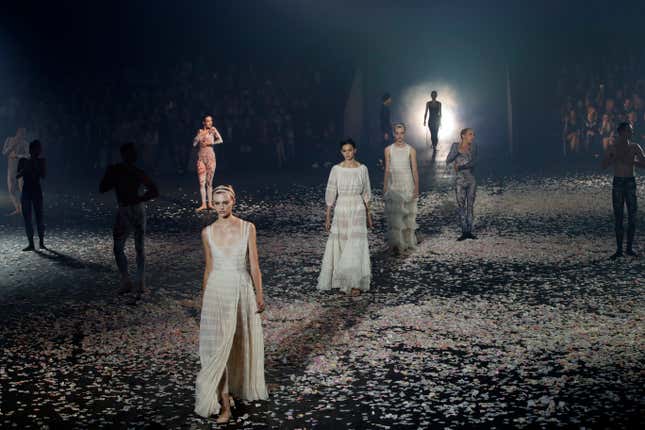 Then there was luxury powerhouse Gucci, which served up another exploding-antiques-store-collection under Alessandro Michele, who was clearly too busy drowning models in 500-plus spring/summer 2019 items to bother with the sex appeal of bare skin. And as Jess Cartner-Morley writes in the Guardian, fashion week in Milan, "the home of molto sexy dressing," was unexpectedly covered up this year as well.
Even where sex should be selling—namely in lingerie and swimwear—it isn't. At New York's fashion week, swimwear brand Chromat's new line reinvented the cover-up, rather than the itsy-bitsy bikini. And in its fashion week debut, Rihanna's Fenty X Savage line placed itself squarely in opposition to the sex-fueled runway of a Victoria's Secret fashion show with an interpretive dance routine that spotlighted models of every size and color.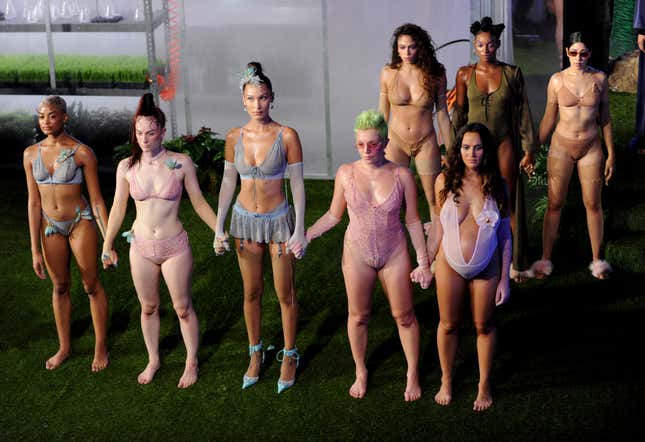 Sexiness is dissipating outside of high fashion, too. On a macro scale, clothes are becoming less confining. In the pants world, for instance, skinny jeans are being replaced by a looser, high-waisted silhouette. Heels are becoming shorter or disappearing altogether in favor of ugly-comfy sneakers. Also on the streets: high-necked, ankle-length prairie dresses, courtesy of the fashion's latest icon, the "urban pioneer girl."
While unsexy, covered-up fashion has been a growing trend over the past few years, there's a feeling that it's not fashion-specific, but part of a larger movement that's aligning clearly with the #MeToo moment. In any case, if in-your-face sexiness isn't selling, maybe it's a sign that the definition of sexy is changing into something that is more nuanced overall.