Good morning, delegates!
For many, this is more or less the halfway point of the festival. If you've hit every soirée thus far, take it easy so you can rally later in the week. "Social jet lag" is a thing, and it's not good.
For those who like it "partly sunny and humid," good news: That's what we're in for today, with a high of 29°C (84°F).
What's going on today
Stan Smith (the person) speaks. The two-time Grand Slam tennis champion—whose success as a white leather sneaker precedes him—will talk with fashion designer Alexander Wang and Adidas creative director Paul Gaudio.
Where the CMOs are. The Economist is running a daily discussion with marketing chiefs every morning at 10:30am at the Cannes Lions Beach Club. On tap today are Diageo, HP, and Johnson & Johnson.
And where they'll be later. Wrapping up the day at the Girls' Lounge, CMOs from Deloitte Digital, Bank of America, HP, Oath, Marriott, and more will discuss diversity's effect on the bottom line—ie, how to sell it in the boardroom. The lounge space is intimate and this 5pm panel has 10 people on it, so arrive early and get yourself a seat (and if they're still serving it, lavender lemonade).
And, perhaps, much later. If Stevie Nicks, Phoenix, Future, or The Weeknd haven't satiated your midweek concert cravings, Solange shares the bill at Spotify Beach tonight with Sampha, whose voice and keys you may recognize from songs by Kanye, Drake, and Frank Ocean. Both Sampha's and Solange's most recent albums are mellow and meditative, should you be seeking a more contemplative place than the Gutter Bar to close out the day.
Existential session of the day: "Everybody Lies: An Insight about Insights"
What people are talking about
Brands don't have to be perfect. Eric Oldrin, Facebook's Emerging Platforms creative lead, noted that a cracked smartphone screen can be a beautiful imperfection—like ripped jeans—citing Japanese teens' self-expression through busted phones. Oldrin was on a panel at Facebook's beach pavilion about marketing and wabi-sabi (the aesthetics of imperfection). Artist Alexa Meade, who has been painting on people and taking photos of them for Instagram at the pavilion, noted that she usually prefers normal-looking people to professional models—the subjects' imperfections make her work more compelling.
Full calendar transparency. During a Girls' Lounge panel, Visa's Lara Balazs made the case for a single "open calendar," showing both her personal and professional commitments to her team. The benefits, she said, are twofold: First, it tells them when not to bug her. "They're like, 'OK, she's at the dermatologist right now,'" Balazs said. Second, it sends the message that it's OK for them to have commitments outside of work too.
What does your brand sound like? By 2021, nearly 2 billion people will have used a digital assistant, according to one forecast. Around the same time, 50% of all search queries are predicted to be via voice. On a panel about "Brands, Bots, and AI," Ben Royce, Google's agency data lead, said that this is "the pinnacle of what we've been working for… what is your brand's personality, in a literal sense?" When customers converse with companies, marketers need to think deeply about how their brands will talk back—giving copywriters a lot of power in the process.
Love that dress. At the swish dinner at the Hotel Du Cap, MediaLink COO Wenda Harris Millard and her counterpart at Bloomberg Media, Jacki Kelley, showed up wearing identical tiered floral frocks by No. 21. Millard told us she bought hers this week on the Croisette, where it spoke to her from a window. Those whose titles don't start with "chief" are equally tempted by the high street of Rue d'Antibes, where one of our associates picked up a high-necked spotted sundress at Cos, which we saw on another delegate the same day. When in Cannes!
More awards. The latest Grand Prix awards included DAVID for Burger King (in the Direct category); Dentsu Y&R for Recruit Lifestyle (in Mobile); Clemenger BBDO's "Meet Graham," RBK Communication for the Bank of Aland, and Droga5's campaign for Mailchimp (all Cyber); DigitasLBI for Whirlpool (Creative Data); and IM Swedish Partner/Akestam Holst/Great Works (Innovation).
Yacht report 2017
I'm on a boat. By now, many Cannes participants have kicked off their shoes and sipped a sparkling beverage aboard one of the 30-odd chartered yachts docked in the Jetée Albert Edouard. The biggest, like last year, is the 63-meter 11.11, owned by British property mogul Nick Candy. It was leased by Blippar in 2016, but is flying the Candy Capital flag this time around. The neighboring Titan, a 60-meter beast chartered by mParticle, comes a close second.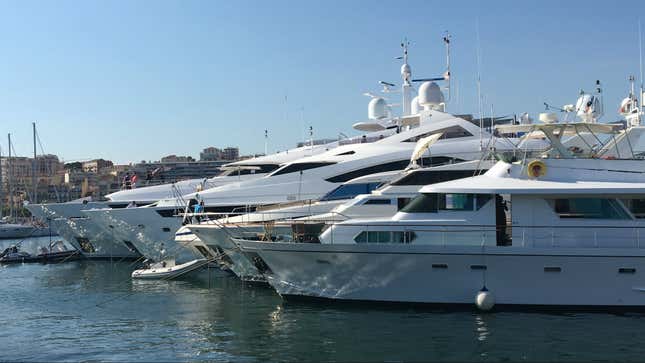 Over drinks aboard one boat, an exec shuddered at the "dinky cabanas" where the company once slummed it in years past. And this may sound too on the nose, but walking down the jetty we heard a caterer's walkie-talkie crackle to life: "Tell the team that we need more rosé."
Seen and heard
"I'm not as interested in seeing the big egos as I am the young hustlers who are scrapping for attention and dollars."—Joanna Coles, chief content officer of Hearst, perched on the edge of a yacht's empty jacuzzi.
A streaming playlist heavy on George Michael, Blood Orange, and Leonard Cohen makes you a "sensual, relaxed, and easygoing person," according to a live dissection of burlesque star Dita Von Teese's listening habits on stage by Spotify's Adam Bly.
"You should do something that scares you every day, and [my employer] scares the s*** out of me."—A recent recruit to the consulting profession.
Publishers Clearing House held a "Back to the 90s!" party on its yacht last night.
Away from the Palais
It's not too early to start thinking about the weekend. After Kelly Slater's talk at Facebook Beach, we asked World Surf League VP of marketing Chris Culbertson to recommend beginner surf breaks to tack on a few days after the festival. Culbertson pulled up a map, and zoomed into the zone near Biarritz. "There's a little town called Hossegor," he said. "It'd be pretty small but still fun. Any storms in the north Atlantic put a swell right in there."
Chart interlude
Is that all? We now spend around 100 minutes of each day on our phone, according to Zenith. That's still about an hour less than time spent watching TV, but at the current pace this gap won't last for much longer.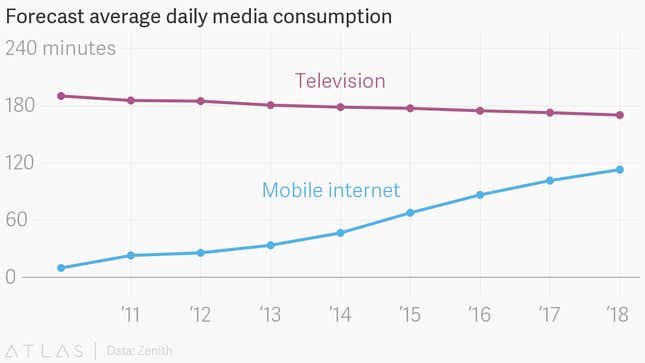 Hello from Quartz
If you're enjoying this email, you may also like our Africa Weekly Brief, featuring the most important and interesting news from around the continent. Click here to subscribe for free.
News from around the world
Republicans retained a fiercely contested seat in the US Congress. Karen Handel won the House seat vacated by US health secretary Tom Price. Democrats, sensing voter anger against Donald Trump, had hoped for an upset win in the GOP-leaning district in Atlanta's suburbs. The two parties combined spent a record $57 million on the contest.
Toshiba picked a preferred bidder for its prized memory-chip unit. It chose a consortium of Japanese, US, and South Korean firms instead of Broadcom or other suitors. Offering $19 billion, the consortium is led by the Japanese government, which is keen to keep the unit under domestic control.
Uber is finally letting its drivers accept tips. To reduce driver turnover and dissatisfaction, the ride-hailing giant began offering an in-app tipping feature in several US cities. The rest of the country will have it by the end of July, and other parts of the world in the near future. CEO Travis Kalanick, who long opposed a tipping option, is currently on leave.
Matters of debate
The "cool tech girl" is a dangerous myth. Casual sexism and toxic bro-culture have created a trope that needs to die.
Brazil may elect its own version of Donald Trump. Jair Bolsonaro is running on a racist, misogynist, and xenophobic platform that is gaining steam with each new controversy.
Index funds aren't as passive as you think. The proposed exclusion of dual-class companies (paywall) and recent inclusion of Chinese shares show that "passive" funds make active choices (paywall).
Surprising discoveries
An ancient Islamic city was discovered under an Ethiopian town. Researchers have found evidence of a giant trading post, including jewelry and massive building stones.
No one knows Nigeria's true population. Africa's most populous country hasn't had a census since 2006, and even that was probably exaggerated.
Old dads tend to have geeky sons. A survey of 8,000 boys found that older fatherhood was linked with higher IQs and social aloofness.
Our best wishes for an inspiring day at the festival. Please send news and tips to us at jason@qz.com and jenni@qz.com. This newsletter was made possible by coffees at the Dentsu Aegis Beach House, Mars bars at the Facebook Beach, and prosecco-peach popsicles in the Edelman suite (in that order).