Hi Quartz readers,
It's crunch time at COP26. With just two days left, negotiators remain at odds on a number of key issues, including the all-important delivery of climate adaptation cash from rich countries. Here's what we're watching:
By the digits
1,045: Global companies with science-based decarbonization targets, as of Nov. 10
15%: Share of the global car market covered by signatories to the Glasgow Accord on Zero Emissions Vehicles
73%: Countries with inadequate net zero target design, according to Climate Action Tracker
3,149: Words in the first draft of the COP26 agreement (pdf)
3: Number of times the phrase "net zero" appears in the early document (pdf)
2%: Fraction of annual global greenhouse gas emissions attributed to the fashion industry
---
The hardest decisions saved for the eleventh hour 
Tensions are high in Glasgow. Clusters of country delegates rush between meeting rooms and huddle in hallways. There aren't enough bathrooms or chairs. Everyone is woozy from too much "weak coffee and bad food," as former US president Barack Obama said this week. Once 5pm rolls around, people mob happy hours hosted by each delegation's national pavilion.
The end is in sight, but if COP26 will be a "success" remains anyone's guess. On Nov. 10, the UK government organizers released the first draft (pdf) of the COP26 agreement summarizing governments' plans to tackle climate change.
Among the document's 84 lines, one stands out: The agreement "calls upon Parties to accelerate the phasing-out of coal and subsidies for fossil fuels." It's the first time fossil fuels have been called out by any COP outcome document since the summits began in 1995. Expect Saudi Arabia, Russia, and other major fossil fuel producers to protest.
Any line of the agreement could be axed before negotiations wrap up late Friday night (or over the weekend). Ambitious proposals—such as slashing global emissions 45% by 2030 or accelerating aggressive climate targets—are on thin ice, while negotiators are deadlocked over rules governing a global carbon market. Representatives in developing countries lament that very little progress has been made on funding climate adaptation and "loss and damage."
Juan Monterrey, lead negotiator for Panama, says delegations remain entrenched in pre-COP positions, moving at a glacial pace toward compromise, if at all. "I want to shout, 'Haven't you heard?'" he says over a rushed dinner of fish and chips on the evening of Nov. 9. "Time's up, and the world is watching."
---
Quotable
"The lines of argument you hear from some delegates, people always find a way to outdo the last unreasonable thing they said. It's kind of fun to watch, but sad for the planet." —Juan Monterrey, lead negotiator for Panama 
---
Egypt's big climate ambitions
The host country of every COP summit gets to set the agenda and is responsible for orchestrating a quality outcome. Next year, at COP27, that task will fall to Egypt, a country that has recently emerged from chronic blackouts to being a net energy exporter thanks to a boom in natural gas production.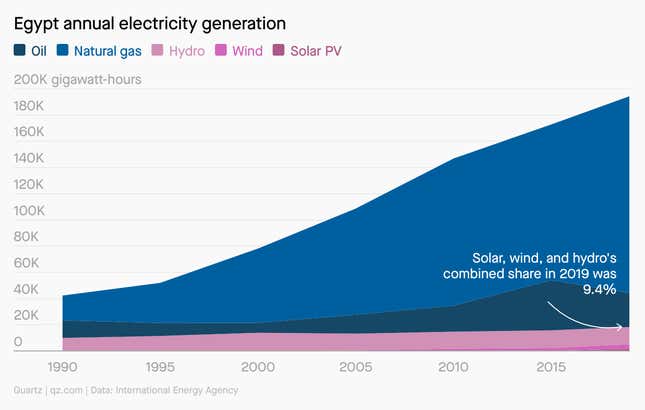 Egyptian diplomats say COP27 will be a chance to speak up for African countries on the need for more climate funding from rich countries, and to attract more international private finance to the country's nascent clean energy sector. But the summit will also put Egypt's growing reliance on fossil fuels under a microscope. Can Egypt fuel economic growth for its rapidly growing population without sacrificing its climate credibility? Either way, the beaches of Sharm el-Sheikh—the Red Sea resort town that will host the summit—will be a welcome change from the cold rain of Glasgow.
---
What will be the fuels of the future? A rapid shift away from fossil fuels is necessary to avert catastrophic climate change, but solar and wind can't do the job alone. We explored the cutting-edge clean energy technologies that may actually be within reach in a recent edition of Quartz's member-exclusive weekly Forecast email. Not yet a member? Take 40% off with the code COP26.
---
Glasgow's credibility gap
Has the flurry of new pledges and announcements in Glasgow put the world on track to preventing catastrophic global warming? Perhaps not. If nations at COP26 fully implement all their announced targets (optimistic scenario, below), the world will still warm by 1.8ºC, finds an analysis of COP26 promises released by Climate Action Tracker. Even more concerning, under existing government policies and action, the world is actually set to warm by 2.7ºC.

👀 what's next
💸 Any more money? Time is running out for any new climate finance commitments, especially for the costs of "loss and damage," impacts that are too severe to adapt to. Without more cash in the bag, it will be hard to call the summit a success, many developing country officials and activists say.
🌆 Cities take center stage. Tomorrow will be cities day at COP26, in recognition of the crucial role they play in combating and adapting to climate change. Earlier in the week, global mayors announced a new fund dedicated to climate migration solutions. Expect more announcements throughout the day.
⌛ When is time up? Alok Sharma, the UK official presiding over the summit, has promised to wrap things up by the late evening of Nov. 12. But given the number of issues that remain unresolved (and if past COPs are any guide), the gossip in Glasgow is that talks will stretch into the weekend.
---
One 👧 thing
On gender day, a 3.5 m (11.5 feet) tall puppet named "Little Amal" visited the conference center. Created by the puppeteers behind the play War Horse, Amal is a Syrian child refugee that traveled 8,000 km (4,970 miles) across Europe, stopping at 65 locations along the way, drawing attention to the plight of young refugees. The puppet's journey ended in Manchester last week; it is now in Glasgow highlighting the role of climate change in displacement.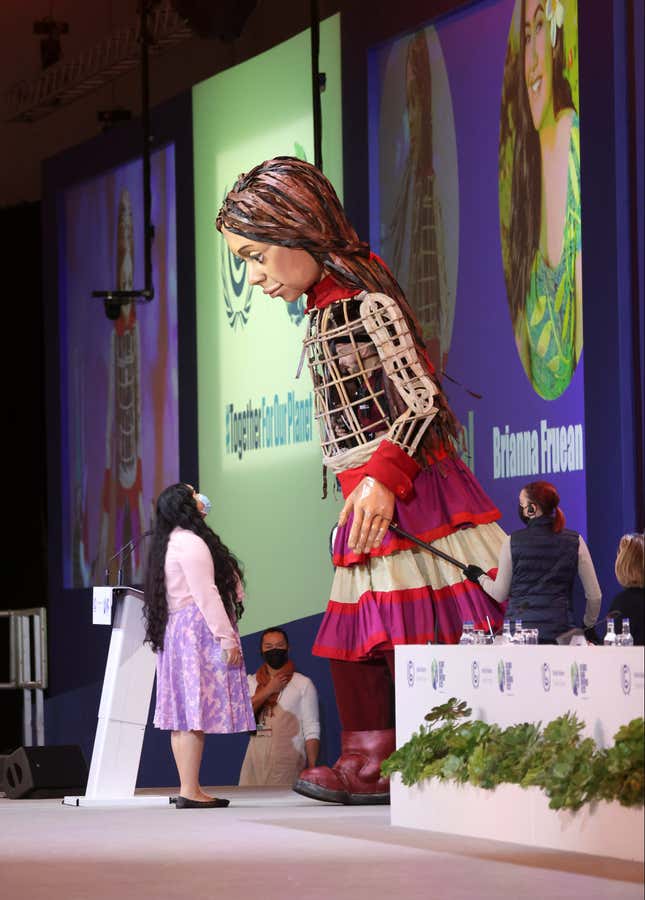 ---
Keep learning
---
Our best wishes for a net-zero day. Get in touch with us at needtoknow@qz.com and live your best Quartz life by downloading our iOS app and becoming a member. Today's email was brought to you by Tim McDonnell, Amanda Shendruk, Michael Coren, and Liz Webber.