Hello Quartz readers,
You have a lot of questions about vaccines. So many, in fact, that we're dedicating an entire virtual event to the topic. On March 3 at 11am US Eastern time, Quartz health reporter (and Need to Know MVP) Katherine Foley will be joined by Panagis Galiatsatos, a pulmonologist at Johns Hopkins Bayview Medical Center, to field all your vaccine questions… or at least as many as we have time for. Register now to join in.
Got a question you want answered? Send it our way in advance.
Okay, let's get started.
---
Are we there yet?
The most successful vaccination effort to date eliminated the pathogen it protected us from. In 1980, the World Health Organization declared that smallpox was officially eradicated. That disease, also caused by a virus, killed one-third of the people it infected, and left others blind or with disfiguring scars.
It didn't happen overnight. Edward Jenner concocted the smallpox vaccine, the first against a pathogen, with incredibly questionable study methods in 1796. It was the first vaccine against an infectious disease, but it would take almost 200 years to vaccinate enough people to stop the spread of the disease entirely. More recently, the polio vaccine has nearly eradicated that virus.
Though these vaccinations are success stories, they're partly a product of circumstance. In many jurisdictions, schools require children to receive the polio vaccine (among others), which serves as something of a checkpoint that entire generations have to pass through. And though Jenner's smallpox vaccine came before modern medicine (and manufacturing), it was easier to quarantine incoming ships or sick patients, so the virus spread more slowly.
With SARS-CoV-2, "we've set ourselves a bigger challenge than we had in the past," says Amy Bix, a medical historian at the University of Iowa. For one thing, the virus targets people of all ages, and adults don't have universal vaccination requirements like students. For another, globalization gives SARS-CoV-2 the opportunity to jump around the globe in a matter of hours instead of days or weeks.
Countries that never got the pandemic under control—like the US, the UK, and Brazil—are finally seeing some relief as vaccines trickle out into the waiting arms of the public. But it's not enough to go back to normal. Scientists are still investigating how well available vaccines protect against new variants, and how well they prevent transmission. Despite the speed with which these vaccines were developed, roadblocks and uncertainties—and the precautions they necessitate—are leading to disillusionment with vaccines in general.
But in all of modern medicine, vaccines have always served as tools; they've never been a complete fix. And by focusing only on their uncertainties, we lose sight of how powerful they actually are. Slowly but surely, fewer people will get sick, and fewer will be hospitalized. Severe cases will be reduced to mild. And eventually, we will reach a new normal where restaurants, travel, and parties will once again be safe. —Katherine Foley
---
Five things we learned this week
Cape Town is testing a vaccine to protect against new variants. It targets Covid-19's spike protein, plus another protein known as a nucleocapsid.
Who can mandate vaccines? Employers. Many UK companies want to make vaccination required for new and existing staffers.
Uber wants to fix public transit. As the company unwinds moonshot bets like flying taxis, it's now focused on public-private partnerships.
New York is embarking on a six-month cultural experiment. The goal: Revive the performing arts scene with 1,000 live performances.
Uniqlo is the world's most valuable clothing company. Its command of Asian markets helped Uniqlo's parent unseat the owner of Zara.
---
Pro tips
"Africa has experience in suddenly having to vaccinate large numbers of adults. The world should be asking for pointers." —François Venter, a researcher at the University of the Witwatersrand and a former Covid-19 advisor to the South African government
Africa is one of the most experienced regions in the world in dealing with disease outbreaks, and has successfully carried out several urgent large-scale vaccinations in crowded urban centers and remote rural communities. For Quartz Africa, Uwagbale Edward-Ekpu looked at how that track record will be a major asset when it comes to Covid-19 vaccine deployment.
And to keep even better tabs on the continent, sign up for our Africa Weekly Brief.
---
Feeling Chile
If you look at the data on vaccine rollouts across Latin America, there's one clear outlier: Chile. The country has vaccinated roughly 12% of its population, putting it just behind the US and well ahead of all its neighbors.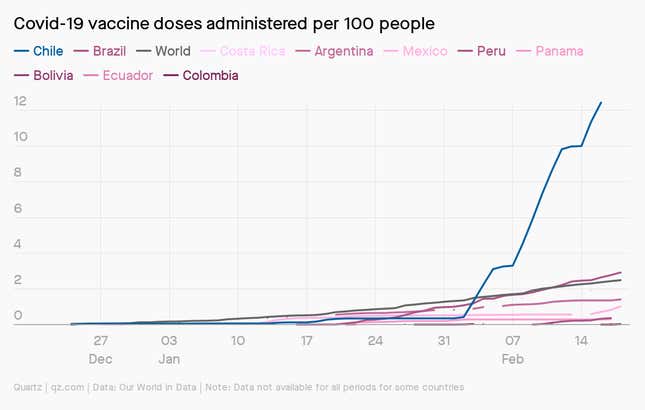 Chile started out with a few advantages: It doesn't have a massive population or a vast landmass, and it's a relatively wealthy nation. But Chile also made a few key decisions that put it in a position to outperform other countries with comparable population sizes, geographies, and economic standing. Now it has the eighth best vaccination rate in the world, among countries with populations above 100,000. Nicolás Rivero dug into the question: What did Chile get right?
---
Listen up
Do any of these earworms sound familiar?
If so, it might be because each song had a moment on TikTok last year. The short-form video app—2020's most downloaded—is now considered a major player in music, with the power to reinvent the path to stardom and upend industry dynamics. In this week's field guide, we looked at how artists navigate TikTok's complex financial structure and formula for popularity. Get into the groove by trying a Quartz membership for seven days free.
(And before you email us like "Listen Quartz, 'Dreams' has been a hit for decades!" please note: After a TikTok video including the song went viral in October, "Dreams" reentered the Billboard Hot 100 chart for the first time since its 1977 release. Rumours, the seminal album that includes the song, returned to the Top 40 for the first time since 2013. 🎶)
---
Wearing the right hats
Back in 2012, Hurricane Sandy knocked out power in Quartz's New York headquarters, forcing the first of what we now know would become multiple experiments in all-remote work. In a prescient guide to a productive virtual office, we offered one memorable tip for keeping roommates and family members at bay: Wear a special hat or other agreed-upon item of clothing as a flag that you're "in the office" and not to be disturbed.
Just over eight years later, we revisited that idea for pandemic purposes. Here are some other sartorial ways to tell yourself and those around you that the workday is officially in (or out of) session:
🧣  To avoid the stare of her desktop, one source for our guide to a happier home drapes a scarf over it at the end of each day.
💄  Quartz audience director Phoebe Gavin says the workday is officially done when she washes off her makeup.
👒  Indistractable author Nir Eyal and his wife use a "do not disturb" hat or headband to signal to their kids when they're in deep focus.
🍴  Marie Kondo begins and ends her workday with a tuning fork and a rose quartz crystal.
👟  Quartz product designer Noah Emrich has one tip and one tip only: Separate your house slippers from your desk slippers.
---
Essential reading
---
Our best wishes for a healthy day. Get in touch with us at needtoknow@qz.com, and live your best Quartz life by downloading our iOS app and becoming a member. Today's newsletter was brought to you by Katherine Foley, Uwagbale Edward-Ekpu, Nicolás Rivero, Stacey Anderson, and Kira Bindrim.