Hello Quartz readers,
Last year, Covax, the facility set up by the World Health Organization and several nonprofits to deliver Covid-19 vaccines to developing countries, aimed to secure and distribute 2 billion doses by the end of 2021. By mid-May, though, Covax had shipped out just 68 million doses—a result of various vaccine nationalisms, plus skyrocketing demand.
On May 18, Covax received a further blow. The Serum Institute of India (SII), the world's largest vaccine manufacturer, announced that India's severe second wave meant SII wouldn't be exporting any vaccines until the end of the year. The institute had been on the hook for 200 million doses to Covax with an option for 900 million more; its announcement left the vaccine drive—and, by extension, dozens of countries—in the lurch. Covax's 2 billion doses were designed to account for 30% of all doses required by 92 lower-income countries.
A spokesperson says Covax "remains hopeful that deliveries could resume, in reduced quantity, in the third quarter." But this is in doubt. India's rate of vaccination has slowed drastically, in large part because of a supply crunch from SII. The country has yet to vaccinate over a billion people, which is likely to take at least the rest of 2021.
The spokesperson also said Covax's chief priority now is to raise the funds it needs. But the facility has already raised more than $6.6 billion of its $8.3 billion target. Finding money, it turns out, is easier than finding vaccines to buy with it.
Covax is currently sending out Pfizer vaccines (although at a glacial pace), and it does have other agreements: for 500 million doses of Moderna, up to 200 million doses of Johnson & Johnson, and 350 million doses of Novavax. But as yet, none of these have reached distribution; the Novavax vaccine, in fact, has yet to secure all its regulatory approvals.
Even these committed doses might fall subject to export curbs, as happened with the SII vaccines. A new variant may emerge, or a new policy may warrant additional vaccinations, prompting governments to divert doses to their own populations. And companies will keep being solicited by wealthy countries to buy doses at full price—another excuse to go slow on Covax promises.
There is, as of now, no alternative to Covax; it is the only facility designed expressly to address Covid-19 vaccine inequity. So unless Covax receives many hundreds of millions of doses to distribute over the course of this year, a likely scenario emerges of the world in mid-2022: vaccination drives sputtering or crawling across the developing world, even as entire populations in the West have received their regimens of shots. New variants mutate into being in incompletely vaccinated countries. New flares of disease result in repeated local, or even national, lockdowns. The global economy falters. The pandemic, patchily but persistently, extends into the foreseeable future. —Samanth Subramanian 
---
Quotable
"Despite the standard Chinese model of upfront sweeteners—in this case, donated vaccines—bulk acquisition to meet national needs requires vaccines to be purchased, even if on favorable terms. The financial capacity to do so, not to mention the logistical capacity actually to use all vaccines available, remains beyond many African countries." —University of London professor Stephen Chan, an expert in China-Africa relations 
A number of Chinese pharma companies have developed Covid-19 vaccines for domestic distribution, as well as for sale and export. But data show that China's involvement in Africa's vaccine programs, through donations and sales, has been the slowest among all regions where its vaccines are in use. According to one vaccine tracker, China has donated 18.5 million doses worldwide, with 5.85 million going to Africa—less than half of what has been donated to the Asia Pacific region (but more than what has been given to Latin American countries.)
Chan says this is in part because China still needs vaccines for its own use, and can't keep pace with global demand. But African countries also aren't able to purchase and distribute the vaccines as quickly as China might have hoped. China has sold 683 million vaccine doses worldwide, but Africa has purchased just 33 million.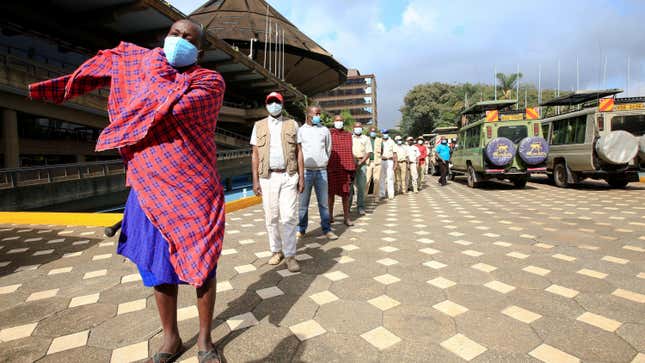 ---
Three dinner-table convos
📉  The jury is out on India's economy. As recently as six months ago, economists had high hopes for India: Anticipating a post-pandemic recovery, at least four ratings agencies were forecasting double-digit GDP growth for the financial year ending March 2022. Now, those same agencies have all trimmed their growth forecasts, as a brutal second wave sends the death toll above 300,00 and leaves countless Indians unemployed—some perhaps forever.
🍩  In the US, vaccine perks are all the rage. New Jersey is buying a beer for anyone who can prove they received a Covid-19 vaccine. Maryland is offering state employees $100. Lancaster, California, is raffling off college scholarships. Ohio is giving away five $1 million prizes. And companies are offering employees (and customers) everything from paid time off and gift cards to donuts, burgers, and french fries. Will any of this work? Yes, definitely. But incentives aren't the only way to change someone's mind.
💉  Here's some evidence the free donuts are working. America is leading all major countries in Covid-19 vaccinations. While the US is rarely a leader on public health (see: life expectancy, chronic disease, maternal mortality), the country has now fully vaccinated half its population, making it the first large nation to do so. Only Israel, whose population is just over 9 million, Seychelles (100,000), and San Marino (33,000) can claim a higher percentage.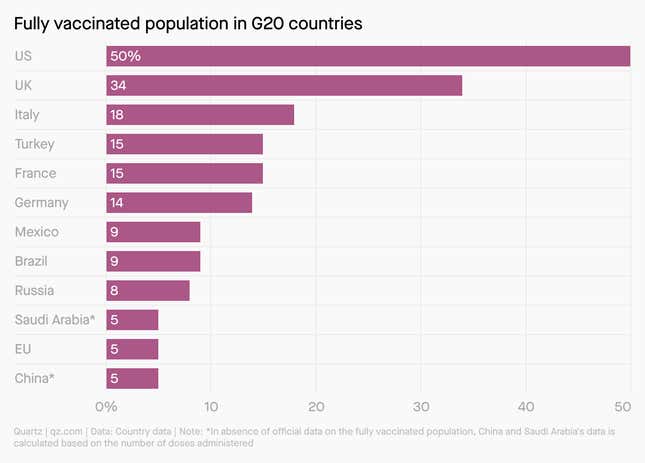 ---
What's driving Uber
Starting this week, Uber will provide free rides to anyone in the US going to and from Covid-19 vaccination sites. The ride-hailing company is also providing 20,000 free vaccine-appointment rides to the elderly in certain cities in Japan, and in a partnership with UNESCO will offer 1 million free rides to teachers around the world.
Anyone without reliable transportation stands to benefit from Uber's moves, but as Michelle Cheng reports, the company has a lot to gain as well:
It needs to recover old customers. Riders who have avoided Uber trips during the pandemic could be coaxed back into the habit with a freebie.
It needs to add new customers. Once new users download the Uber app, they're more likely to utilize it in the future.
It needs usage to climb. Between the fourth quarter of 2019 and the second quarter of 2020, Uber lost half its customers. The company is still about 130 million users off its peak.
Free rides are good PR. Uber is seen as the less socially-responsible ride-hailing company compared to its rival Lyft, and continues to face criticism from labor advocates and policymakers.
---
Opportunity interlude
How does a good business reporter think? On June 2 from 12pm-1pm Eastern, we'll tackle that very question during the latest seminar in our series on business journalism's fundamentals. Speakers including LA Times business editor Nour Malas, Washington Post reporter Tracy Jan, and KQED Radio producer Blanca Torres will discuss how they built a foundation for a successful career in the industry, plus the skills all business journalists should have.
---
Shopping cartography
As vaccinations are administered across the US, Americans are increasing their purchases of items considered, well, essential to being in close proximity to other humans again. Which of the following hasn't seen an increase in US sales in recent months?
🧳  Luggage
⏰  Alarm clocks
☔ Condoms
✋  Hand sanitizer
💅  Nail polish
🌺  Perfume
👃  Deodorant
🦷  Teeth whitener
🤵  Tuxedos
---
Essential reading
---
Our best wishes for a healthy day. Get in touch with us at needtoknow@qz.com, and live your best Quartz life by downloading our iOS app and becoming a member. Today's newsletter was brought to you by Samanth Subramanian, Uwagbale Edward-Ekpu, Prathamesh Mulye, Isabelle Brocas, Annalisa Merelli, Michelle Cheng, and Kira Bindrim.