Hi Quartz readers,
US companies have spent the past several years moving manufacturing out of China, often to nearby Vietnam. Only now, some of the same companies are moving factories back to China after a punishing wave of Covid-19 shuttered factories across Vietnam.
"I talked to one CEO who shared with me that he had six years of supply chain work they undid in six days," said Roger Rawlins, CEO of footwear and accessory company Designer Brands, in a Sept. 14 management conference. "And when you think about the amount of effort everyone was putting into getting out of China, and now one of the places where you can get goods is China—it really is crazy."
Vietnam had largely managed to avoid coronavirus outbreaks until June, when the highly transmissible Delta variant helped spark a nationwide surge in cases. In response, the government shut down factories and allowed them to reopen only under strict conditions, in which workers have to live in quarantined dormitories. Those restrictions have sharply reduced the county's manufacturing output, and are now eating eat into brands' bottom lines. Adidas, for instance, said Vietnamese production delays will cost the company $600 million in lost sales this year.
Some businesses have responded by reversing their move to Vietnam as quickly as possible. Charles Roberson, CEO of protective clothing manufacturer Lakeland Industries, said on a Sept. 9 earnings call that the company hired new executives to help it "shift production capacity from Vietnam to China in a matter of weeks."
Others have taken a more cautious approach by expanding across the region. "We actually have diversified quite a bit out of Vietnam," said Jeremy Hoff, CEO of Hooker Furniture, on a Sept. 9 earnings call. "We're in Thailand. We're in different areas. We're even—candidly, we've even gone back to China a little bit when necessary."
Executives aren't eager to return to China. Many companies overcame significant logistical hurdles to shift manufacturing to Vietnam, and inventory from China is still impacted by US tariffs. For most, staging a return is simply the least bad option. Explains Harvard management professor Willy Shih: "The key question is if you want reliable manufacturing, China is often the best place for it." —Nicolás Rivero
---
Shots 4 kids
Earlier this week, Pfizer and BioNTech said their Covid-19 vaccine is safe and effective for children between five and 11. Pfizer will now submit its trial results to the FDA for authorization—but inoculating America's 48 million children will be even harder than vaccinating its adults.
Parents tend to be more vaccine-resistant than the general population, especially when it comes to their kids, and the charged political climate has made that hesitation stronger. A survey from the nonprofit Kaiser Family Foundation found that only 26% of parents say they will vaccinate their children right away.

---
Talking points
💉  To avoid another Delta, hold off on boosters. As long as low-vaccination countries can spread the virus, new variants will keep emerging. (Also, most Americans don't yet need booster shots.)
🏃  The US is updating its travel restrictions. Come November, non-citizens only need to show proof of vaccination and a recent negative Covid test.
🤒  We're starting to understand long Covid. A new study pinpoint a problematic antibody that lingers after an infection has cleared.
🇮🇳  India is restarting vaccine exports. The country's "vaccine friendship" initiative will resume after a six-month hiatus due to a domestic shortage.
✈️  Delta Air Lines' vaccine mandate worked. Twenty percent of unvaxxed employees got their shots after Delta announced a surcharge on their health plans.
📱  Covid spurred a digital cash revolution. Citizens of developing countries can receive financial support without complex bureaucracy or unnecessary exposure to the virus.
💸  US inflation slowed way down in August. The most recent figures bolster the case that price increases are transitory and not likely to accelerate uncontrollably.
🤔  India's vaccinations "soared" on Narendra Modi's birthday. The 25 million doses the government says it administered are more than three times the daily average. What a coincidence!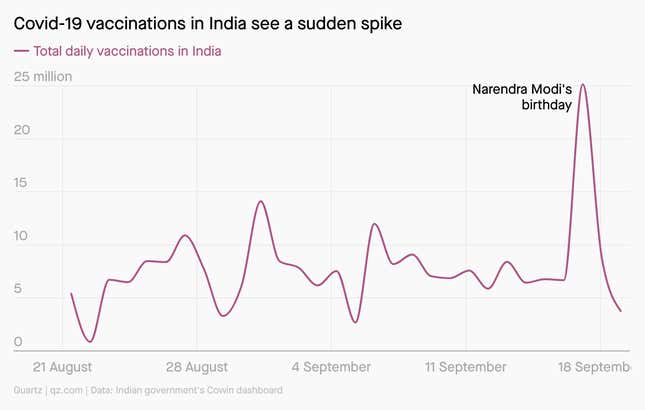 ---
Commercial appeal
Pfizer is about to start advertising a new product in the US: the Covid-19 vaccine. Heard of it?
It's difficult to think of any other time a drug's advertising coincided with such a large public campaign to promote it, but all that noise could actually complicate things for Pfizer. The company is likely eyeing one of two direct-to-consumer ad types:
A help-seeking ad. This type of advertisement advances awareness and focuses on expanding the market. It can't specifically mention a product (though a Pfizer logo is OK), and it doesn't need to list side effects.
A product claim ad. These ads promote a prescription drug by name, but have to list risks and side effects. A product claim spot can also sell something by highlighting how it's superior to a competitor. For Pfizer, this type of advertisement could be a minefield.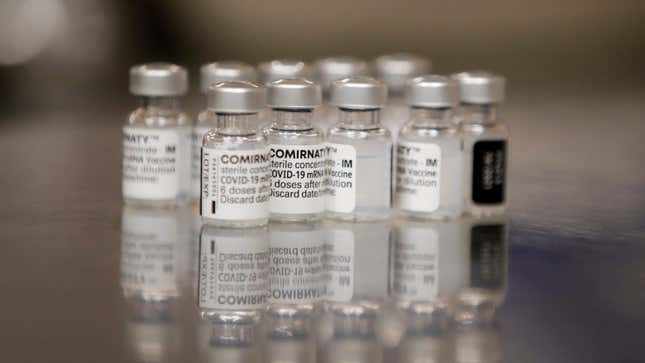 ---
Mind the gap
"Disclosing that you left for burnout is not required. You can just say that you took personal leave or that you were not working due to conditions related to the pandemic. You can keep it general." —Executive coach Melody Wilding 
The good news is that the pandemic is pushing employers to be less judgmental about time off between gigs. The bad news is that recruiters, hiring managers, and the software they use are still somewhat skeptical of resume gaps. That doesn't mean leaving a job to prioritize your well-being will doom your career. It just means you need to know how to talk about it.
✦ Want more intel on the Great Resignation? The next Forecast email for Quartz members tells us where things are headed. Get it directly in your inbox by trying membership today—take 40% off with the code QZEMAIL40.
---
Elsewhere on Quartz
---
Our best wishes for a healthy day. Get in touch with us at needtoknow@qz.com, and live your best Quartz life by downloading our iOS app and becoming a member. Today's newsletter was brought to you by Nicolás Rivero, Annalisa Merelli, Sarah Todd, and Kira Bindrim.