Hi Quartz readers,
After months of acute shortages, a raging second wave, an opaque system of placing vaccine orders, and technical glitches, India finally seems to be on track to at least partially inoculate its adult population by December.
The country has now administered over a billion doses of Covid-19 vaccines, only the second nation in the world to do so. Almost 700 million Indians have received their first dose, and about 291 million have gotten both. India's revised vaccination strategy, which increased the time between Covishield shots from four weeks to 12, was a big factor in boosting those numbers. (Covishield, the Indian brand of the AstraZeneca vaccine, accounts for more than 90% of these shots.)
Overall, India has administered 15% of the total doses of Covid-19 vaccines in the world.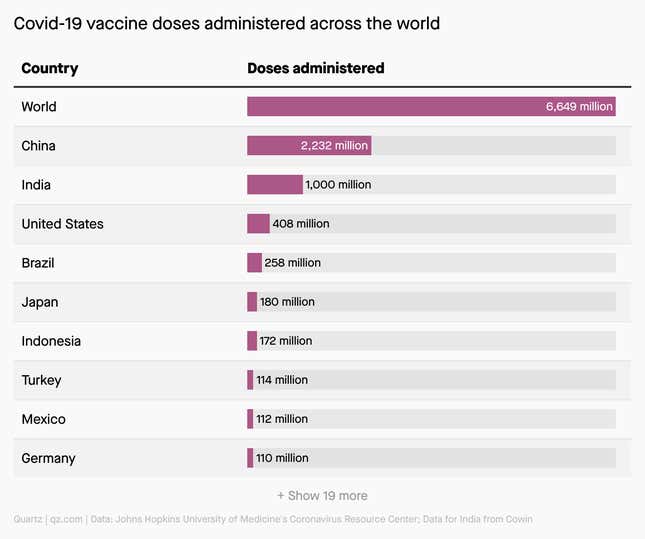 But the country still has a ways to go before it will reach stronger levels of immunity: One billion shots have been administered, but they cover just over 20% of Indians.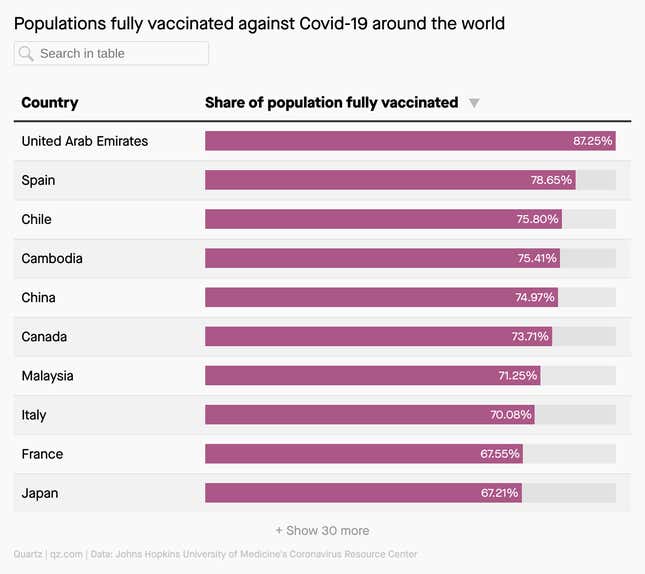 Although India is among the countries where citizens have to pay for vaccines at private hospitals—doses are now free at government centers—that disconnect hasn't stopped pro-government and government-run social media accounts from thanking prime minister Narendra Modi for "free vaccines." That's par for the course: Of the billion administered doses, India claims a whopping 25 million were recorded on Sept. 17, Modi's birthday. —Manavi Kapur 
---
Talking points
🦠  Scientists are watching a new delta mutation. It's unclear if AY.4.2 is more virulent or dangerous than the original, but cases have been found in 33 countries.
🤔  Why you're not hearing about Covid in Africa. Due to limited healthcare resources, fewer than 15% of cases in African countries are correctly reported.
🎉  India's festive season is spurring spending. A recent survey showed that consumers were less pessimistic about household spending, though still anxious about the economy.
🏠  Why US home prices are still so high. Lumber is cheaper, but home builders are struggling with prices for everything else, including kitchen sinks.
⚕️  Better pay could stop a nurse exodus. Over 1 million nurses are expected to leave the workforce by 2026; surveys show most would stay for more money.
😞  Grief illiteracy comes at a cost. Living in a grief-illiterate society means we often ignore the logistical, social, and even economic repercussions of loss.
🐶  An elderly pug is the mascot for burned-out masses. Meet Noodle, whose frequent aversion to getting out of bed has become a litmus test for daily productivity.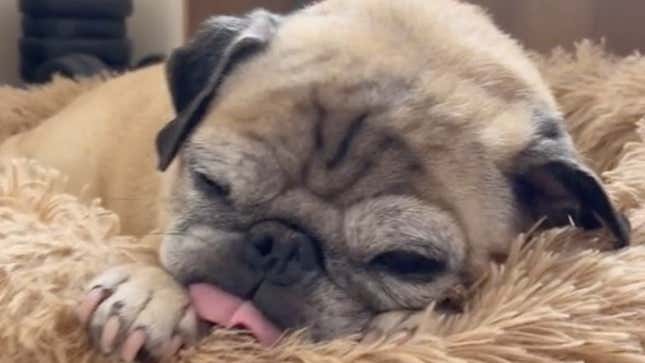 ---
The Amazon race
In 2014, Amazon delivered approximately 0.2% of all US packages. Today, the company controls 20% of the delivery market, and in September Amazon unseated FedEx as the third largest US package courier. The e-commerce giant is now trailing just behind UPS, the only private business that still delivers more parcels.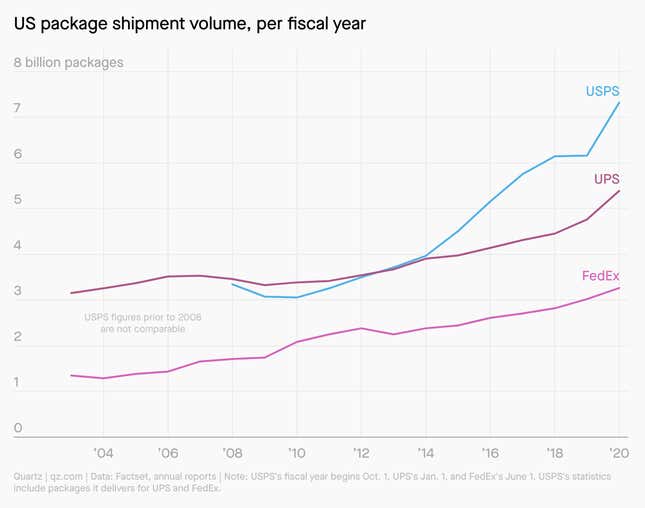 With that power comes great responsibility… I mean airline ambitions. Amazon Air launched in 2015, and the pandemic prompted Amazon to double down on it. The company went on a plane-buying spree last summer, and is expected to spend $80 billion this year on logistics and infrastructure, including cargo airlines and its own airport presence.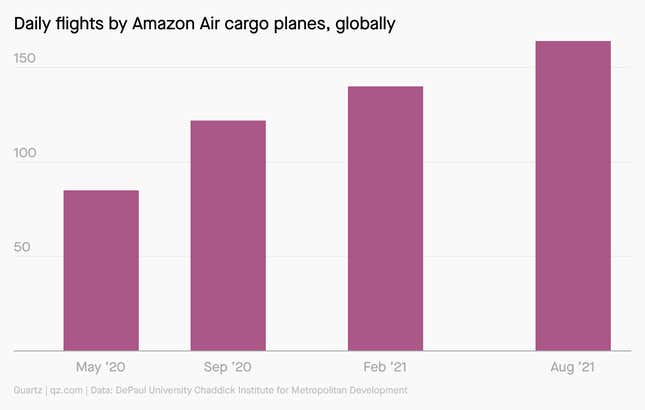 Amazon's air investments aren't just an effort to move goods faster before Christmas: Analysts believe they're a step toward competing directly with incumbent couriers as a global delivery service.
---
✦ We can't all order our own planes. If you're struggling to holiday shop amid a supply chain crisis, worry not: We covered this very topic in our most recent How To for Quartz members. Check it out here. And if you're not a Quartz member, try it for free today.
---
Food for thought
"It would allow for the reinvestment of billions of much-needed funds into policies and programs that have already been proven to work to produce health and safety." —Scott Hechinger, a public defender and law enforcement reform advocate 
Starting Oct. 29, New York City municipal employees must be vaccinated. Anyone who isn't will be put on unpaid leave, and among them might be 16,500 New York City Police Department employees—roughly 30% of the agency. If the mandate and a $500 bonus aren't enough to convince employees, the NYPD could lose almost a third of its workforce.
Although that scenario is hypothetical—workers tend to comply with employer vaccine mandates—it also offers an opportunity to imagine what a significant reduction of personnel might look like in the US's largest police department.
---
Talking turkey
Gearing up for Thanksgiving? The price of a turkey in the US has climbed 68% over the past two years, from 81 cents a pound in January 2019 to $1.36 in September 2021. That means a 16-lb. bird will cost $21.76 for this year's festivities, versus $12.96 two years ago.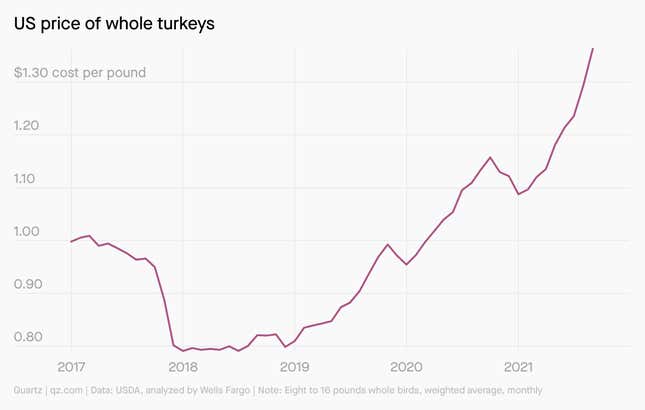 Part of the price increase stems from labor shortages at turkey producers. But the production of turkey has also been on a steady decline for awhile; then the pandemic boosted demand, particularly as more families turned to home-cooked meals. The price spikes are likely to push turkey growers to increase production, which could result in lower prices—just not right away.
---
Elsewhere on Quartz
---
Our best wishes for a healthy day. Get in touch with us at needtoknow@qz.com, and live your best Quartz life by downloading our iOS app and becoming a member. Today's newsletter was brought to you by Manavi Kapur, Nicolas Rivero, Michelle Cheng, Annalisa Merelli, and Kira Bindrim.