Hi Quartz readers,
Startups promising to usher in the age of air taxis and cargo drones started popping up at the end of the 2000s. For most of their existence, they were underfunded and relegated to niche applications like delivering blood in rural Rwanda or publicity stunts like the Taco Bell-backed "tacocopter." The pandemic changed all that overnight.
This year, startups building autonomous drones to carry passengers and packages have raised at least $3.8 billion, up from $1.1 billion in 2020. That compares to just $438 million in venture capital funding for the entire decade between 2009 and 2019, according to Pitchbook data.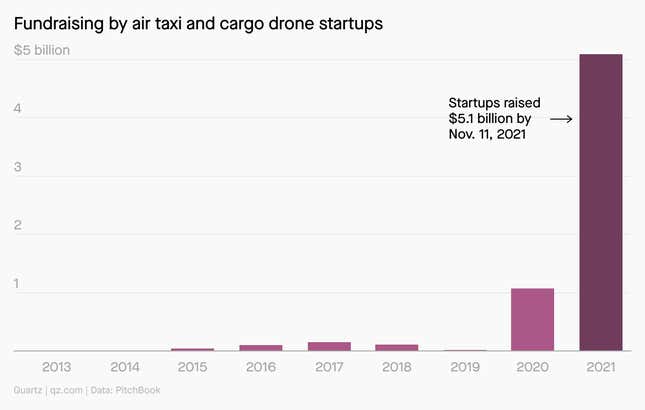 Two short-term trends are at play. First, factory shutdowns, port closures, and whipsawing consumer demand scrambled supply chains, revealing serious vulnerabilities in the way businesses move goods through the global economy. With ports jammed, rail yards in disarray, and trucking facing a shortage of personnel and equipment, the idea of using long-range cargo drones to transport boxes no longer seemed so far-fetched.
Second, governments cut stimulus checks and lowered interest rates to jumpstart their economies. Flush with cheap cash, investors pumped record-breaking amounts of funding into startups in both 2020 and 2021. And after seeing Tesla's breakout success, investors have gotten excited about electric vehicles and autonomous driving.
Air-cargo technology still has a ways to go. Electric engines aren't yet powerful enough to fly heavy loads over large distances, and AI systems aren't reliable enough to pilot human passengers or valuable cargo on their own. Freight outfits like DHL are still in the testing stages, and of the 129 companies developing air taxis and cargo drones, only 13 are actually selling final products.
But the recent wave of funding could bring a viable product to market within five years, predicts Matt Trotter at Silicon Valley Bank. "Companies that had a very hard time raising a Series A five to seven years ago are now raising billions of dollars in capital," he says. Thanks, covid. —Nicolás Rivero
---
Talking points
💰  AstraZeneca is ready to profit. The company is now seeking "modest profitability" on its covid-19 vaccines, a shift from providing vaccines at cost.
⛽  Don't blame Biden for high gas prices. Oil is a global commodity, and the world is still experiencing the after-effects of an event that reshaped the market.
💉  Yes, you should get a vaccine if pregnant. Pregnant people are three times more likely to be hospitalized with covid-19, and 1.7 times more likely to die from the virus.
🕰️  What comes after work from anywhere? Work from any-when. Companies pioneering "asynchronous work" say they'll never go back to being always-on.
📈  Who still thinks inflation is transitory? In November, the word "transitory" has been mentioned more than 200 times on earnings calls, conferences, and shareholder meetings.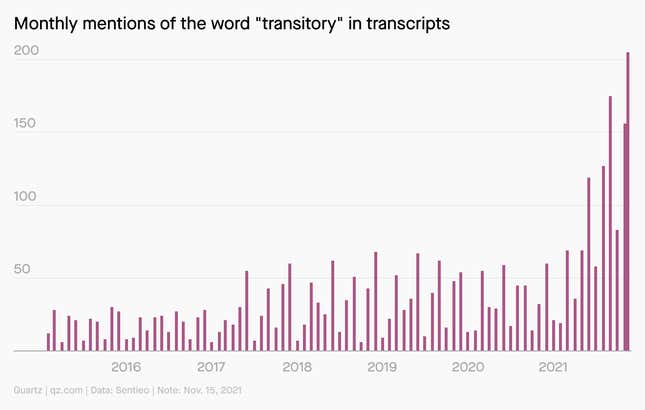 ---
✦ What's not transitory? The value of Quartz. This week we're toasting three years of Quartz Membership by giving away special prizes and surprises. Join for 50% off with the code MEMBERSWEEK21.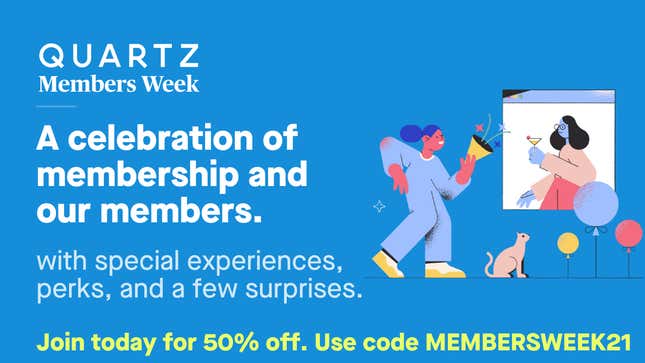 ---
Dueling diseases
"Covid-19 is delivering a clear message: Fighting the diabetes epidemic in Africa is in many ways as critical as the battle against the current pandemic." —Matshidiso Moeti, WHO regional director for Africa
Covid-19 death rates are notably higher in patients with diabetes: One recent analysis of data from 13 countries found that diabetes patients with covid-19 had a 10.2% fatality rate, compared with 2.5% for covid patients overall. That's problematic for a continent facing increasing diabetes cases and a shortfall of covid-19 vaccines.
---
Room with a deja vu
As Europe becomes covid-19's next epicenter, Austria is averaging nearly 11,000 new infections per day. On Nov. 14, its government ordered a nationwide lockdown for unvaccinated residents, who can only leave their homes for essential tasks like buying food. The lockdown affects 2 million people, or a little over 20% of Austria's population.
Covid-19 cases started surging in October in several western European countries, with the most severe increases in Germany and Netherlands.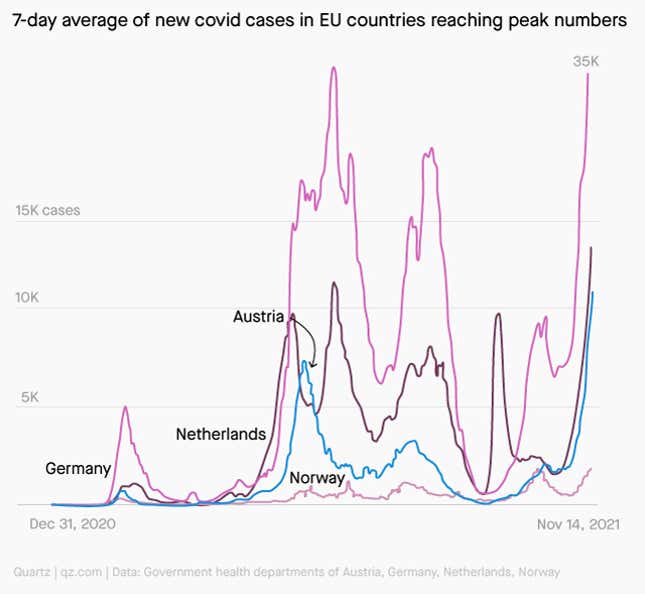 The spikes are alarming, considering more than half the population of these countries is fully vaccinated. Both Austria and Germany have vaccinated 69% of their populations, while the Netherlands has hit 70%, and Norway 75%.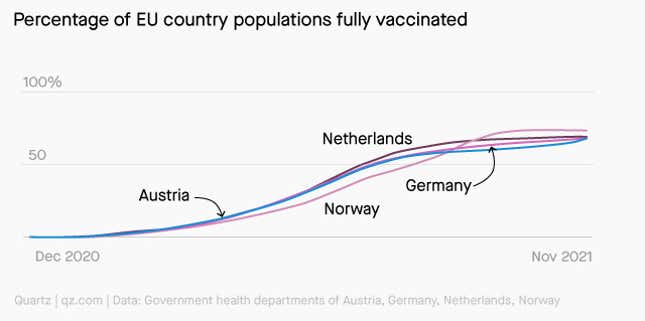 ---
Oops
Pandemic lockdowns put a major dent in the movie theater business, forcing US film studios to innovate their way out of a revenue disaster. Some, including Disney and Warner Bros., did this by offering films online at the same time as movies were released in theaters—the "hybrid release model."
But while it may have stemmed losses, there's a knock-on effect of releasing pristine copies of major films on the internet in lockstep with theatrical releases: They become attractive targets for pirates, especially in China.
---
Elsewhere on Quartz
---
Our best wishes for a healthy day. Get in touch with us at needtoknow@qz.com, and live your best Quartz life by downloading our iOS app and becoming a member. Today's newsletter was brought to you by Nicolás Rivero, Clarisa Diaz, Carlos Mureithi, Adario Strange, and Kira Bindrim.