Good morning, Quartz readers!
Here's what you need to know
Hong Kong police arrested 15 pro-democracy figures. Among those charged with organizing and participating in last year's anti-government protests were 81-year-old barrister Martin Lee, who helped draft the Basic Law, and publishing tycoon Jimmy Lai. The move makes more arrests likely, activists warned.
Covid-19 cases surpassed 2.3 million globally. About 160,000 people worldwide have now died from the disease, with the US death toll easily the highest, having crossed 40,000 Sunday. Meanwhile China reported just 16 new cases, and South Korea half that.
China flexed its muscle in the South China Sea. Beijing approved two new administrative districts in the waterway—governing the Paracel and Spratly islands—despite competing territorial claims from other nations.
Airlines are succumbing to the coronavirus. South African Airways laid off its entire 4,700-person staff and may disappear for good after it failed to secure a government bailout. United Airlines is offloading 22 planes from its 800-strong fleet to conserve cash.
India rolled out new red tape for Chinese investments. All future deals involving China need New Delhi's approval, in what the government says is an effort to "curb the opportunistic takeover" of distressed Indian firms.
---
What to watch for this week
---
Charting India's online grocery surge 
Hundreds of online grocery shops have been founded in India in the past five years. Most have failed to survive. But the coronavirus outbreak, and a nationwide lockdown, have given the current players a unique opportunity (✦ a Quartz member exclusive), as suggested by the growth in daily active users for their apps.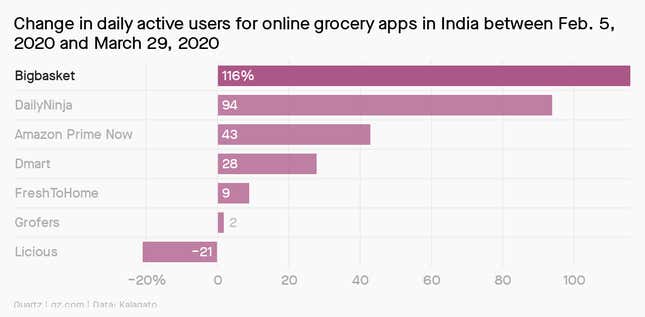 The challenge now will be to sustain the positive momentum and ensure customers keep ordering online once things reopen.
+ more for Quartz members: 
How do you nail a remote job interview? Make sure you get the little things right, like elevating your camera to eye level. And find a way to establish a personal connection with the interviewer early on.
What is Covid-19 teaching us about long-term thinking? Eric Ries, author of The Lean Startup, shares his thoughts.
Want to become a member? Get 40% off a 1-year subscription.
---
Quartz Daily Obsession
Just one more episode. Binge-watching hasn't just shaped our relationship with television, it has dramatically changed the entertainment industry. Press pause, it's the Quartz Daily Obsession.
---
Surprising discoveries
Climate change exposed a lost Viking mountain pass in Norway. Receding ice has revealed hundreds of artifacts dating back to the fourth century.
Lions are lounging through lockdown. Unperturbed by tourists, big cats in South Africa's Kruger National Park are dozing off on once busy roads.
An Argentine health official televised a lesson in safe virtual sex. Wash your hands, and "disinfect keyboards, telephones, sex toys, and whatever else you might be using."
Soda's fizz is under siege. Coronavirus has deflated the CO2 supply chain, causing headaches for brewers, soft drink manufacturers, and meatpackers.
You can stock your Animal Crossing island with classic art. The Getty Museum created an open-source collection of masterpieces specifically for the popular life simulation game.
Our best wishes for a productive day. Please send any news, comments, lost Viking mittens, and sleepy cat pictures to hi@qz.com. Get the most out of Quartz by downloading our app on iOS or Android and becoming a member. Today's Daily Brief was brought to you by Steve Mollman and Nicolás Rivero.