Good morning, Quartz readers!

---
Here's what you need to know
The US treasury secretary said the country will hit its debt ceiling this week. Janet Yellen anticipated taking "extraordinary" measures to keep the US from defaulting on its debts while waiting for Congress to raise the debt ceiling.

A tax of up to 5% on the world's ultra rich could lift 2 billion people out of poverty. The annual Oxfam report released at the start of the World Economic Forum (see more below) put a spotlight on inequality.
Twitter won a ruling barring some laid off employees from joining a class action lawsuit. If they have accepted severance deals, they will have to go through private arbitration.
Someone won the $1.35 billion Mega Millions jackpot. The winning ticket was sold at a petrol station in Maine near the border with New Hampshire.
Protesters in Peru planned a major demonstration. The protest would defy a state of emergency introduced to Lima and other regions following post-election violence.
Italy's most wanted man has been arrested in Sicily. Mafia boss Matteo Messina Denaro, who is responsible for the 1992 murders of prosecutors Giovanni Falcone and Paolo Borsellino, has spent three decades on the run.
What to watch for
The 2023 meeting of the World Economic Forum gets underway today, under a fresh coat of snow in the Swiss Alps. This year's theme: Cooperation in a Fragmented World. That might sound boring, but with literally hundreds of panels on the formal agenda, and an equally heavy itinerary of breakfasts and cocktail receptions at the corporate outposts lining the promenade through Davos, there's a lot to hold the interest of the more than 2,650 registered attendees.
Do not expect many solutions to come out of sessions on managing debt, inflation, climate change, and the rise of artificial intelligence. The annual Davos gathering gets grief about that, but that's not why it exists. The reason WEF chairman Klaus Schwab is able to lure big names in business, policy, and academia to this quaint, expensive village three hours from Zurich is that they're all engaging in discussions, sourcing ideas, and nurturing relationships. If that happens over a glass of champagne or at a lunch featuring will.i.am, so be it.
Quartz has (snow) boots on the ground all week. Follow our Davos dispatches from Quartz executive editor Heather Landy and global news editor Samanth Subramanian by signing up for our Need to Know: Davos newsletter.
---
Dolce & Gabbana is seeking forgiveness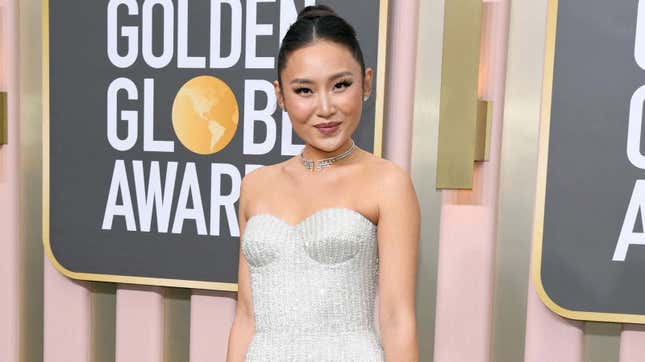 Chinese consumers canceled Dolce & Gabbana in 2018 after a marketing campaign gone wrong, and the Italian fashion house has yet to be forgiven. That hasn't stopped the brand from trying to mend its tattered reputation.
Recently, the brand dressed Chinese American actor Li Jun Li, a star in Damien Chazelle's Babylon, for the 80th Golden Globe Awards, and contributed to the wardrobe for Netflix's Bling Empire, a show about rich Asian Americans.

But it's going to take more than a red carpet look to get back in China's good books, and attempts to rehabilitate its image from overseas is not likely to translate to China. That said, another recent D&G campaign acknowledging the upcoming Lunar New Year might be more on the right track. Given the brand's track record of PR missteps and redemption, persistence could pay off.
---
Who will help Uganda build its railway?
After an eight-year delay, Uganda called off talks with China to build a 273-kilometer (170-mile) railway from its border with Kenya to its capital in Kampala.
A lack of $2.3 billion for the project was a huge sticking point. China was seemingly hesitant to provide the financing, given previous debt defaults by African countries like Zambia and Ghana. But the east African nation hopes it will find a new friend from the north.

✦ Love stories like these? Help keep content like this free and accessible to all by getting a Quartz membership. We're offering 50% off!
---
Quartz's most popular
👀 Here are the countries and companies dominating Davos
🚀 World Bank projects impressive growth for Senegal in 2023

🦅 SpaceX will flex its monopoly muscle with a Falcon Heavy launch
🍎 Tim Cook takes a pay cut to link more of his earnings to Apple's stock performance
🥸 A fall in India's consumer prices in December is hiding essential risks
🏀 Adidas sued a luxury brand for using stripes and lost
Surprising discoveries
The record for most books typed backward is 81. An Italian accountant has translated works like the Epic of Gilgamesh and the C​​ode of Hammurabi into koogydelbbog.

A Nigerian artist made being old cool. Malik Afegbua is using AI to defy age stereotypes on fashion runways.
Physicists at CERN aren't publishing many papers. No one can agree on how to list scientists from Russian and Belarusian institutes.

This Valentine's Day, give a 40 million-year-old bloom. Even better: make sure it's perfectly preserved in amber.

A tiny data error sent copper prices into free fall. It pays to not mix up your 2s and 9s.

---
Our best wishes for a productive day. Send any news, comments, wen skoob, and preserved petunias to hi@qz.com. Reader support makes Quartz available to all—become a member. Today's Daily Brief was brought to you by Heather Landy, Tiffany Ap, Sofia Lotto Persio, Julia Malleck, and Morgan Haefner.