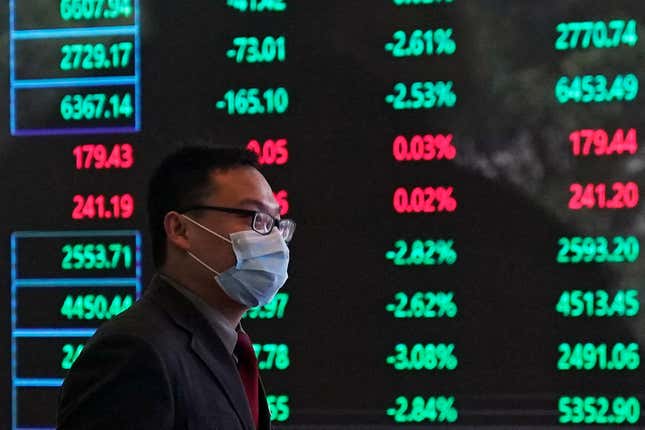 Good morning, Quartz readers!
---
Here's what you need to know
China's new property stimulus boosted international stock markets. Chinese indexes led the rally after mortgage requirements were eased in cities such as Beijing and Shanghai, and troubled developers like Country Garden caught a break.
Should you buy McDonald's and Caterpillar stock right now?
The leaders of Russia and Turkey met to talk about the Black Sea grain deal. Recep Tayyip Erdoğan was hopeful an agreement would be reached to protect global food supplies, but Vladimir Putin wasn't on board.
Iran is slowing its uranium enrichment. The UN's nuclear watchdog made the observation in a report, but it also flagged new difficulties in monitoring Iran's program.
Japan tossed seafood exporters an emergency net. A $141 million fund aims to help them weather China's ban on Japanese seafood, which came after treated radioactive wastewater from the Fukushima nuclear power plant was released into the ocean.
---
Counting on contrails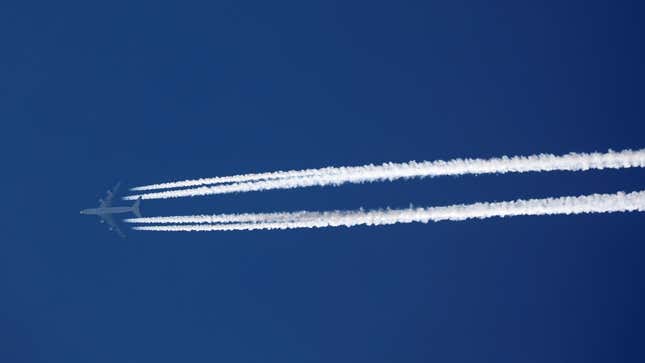 Scientists have this cool trick to reduce humans' contribution to global warming—all we need to do is fly airplanes in the right places.
In what might be the world's cheapest way to fight climate change, Bill Gates' Breakthrough Energy and Google are working with American Airlines to redirect contrails, or condensation trails, that form artificial clouds around particles in the planes' exhaust.
The clouds trap heat in the Earth's atmosphere, so avoiding flights where long-lasting contrails can form could help slow the world's warming. It's low-hanging fruit—the equivalent of removing carbon from the atmosphere at a cost of $10 per ton or less. But as Quartz's Tim Fernholz explains, it's not foolproof. Even minor redirections in routes can burn up more fuel. Read the full report.
---
The US would rather regulate backpacks than guns
In the UK, China, Russia, India, Australia, and Europe, the foremost cause of death among children and teens is accidental injuries, mostly from auto crashes. In the US, it's firearms.

Gunfire incidents on school grounds have surged in the past three years. But rather than target guns, the US—mainly via public school districts, as a proxy for meaningful legislative action—is going after the vessels they might be carried in: bookbags.

With officials touting clear and bulletproof backpacks as a potential defense against shootings, many students and activists see such efforts as security theater—a pat-on-the-back policy that doesn't actually make schools safer. Read Quartz's analysis of the issue.
---
Global supply chains can't shake Xinjiang cotton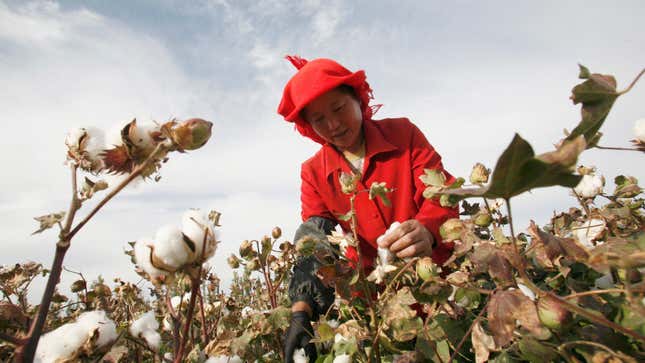 At the end of 2021, the US barred goods made with forced labor in the Xinjiang Uyghur Autonomous Region of the People's Republic of China.

The on-paper ban hasn't been so straightforward to implement on the ground, though, especially for cotton and apparel made from it. Xinjiang cotton is so entrenched in global supply chains that keeping it out is proving nearly impossible. Quartz reporter Ananya Bhattacharya explains why, while also highlighting the role a little-known company named Oritain plays in identifying the tainted fabric.
---
Quartz's most popular
💊 A weight-loss drug company is close to becoming Europe's biggest market cap stock
👀 Muhammad Yunus, the father of microfinance, is facing a prison sentence
🤔 4 questions to ask in a job interview to make sure the new position is a fit
💎 Lab-grown diamonds may not be forever—but their rise is driving down prices
🌡️ Rising temperatures are pushing India towards the deadly "wet bulb" threshold
🥵 What is the wet bulb, anyways? Well, it's the heat and the humidity 
---
Surprising discoveries
Hong Kong is building public housing on a golf course used by business elites. In a hole-in-one for the government, 12,000 apartments will be going up.
Beer goggles aren't a thing. But beer courage is.
Metal spheres from a meteor that landed in the ocean in 2014 aren't from our solar system. Whether the alloys are alien technology or naturally occurring substances isn't known.
Invasive species are really, really expensive. The global economic cost of having critters where we don't want them reached $423 billion in 2019 and is quadrupling every decade.
The world may have a new costliest coin. The $23 million gold and diamond disk honors Queen Elizabeth II (it's not legal tender).
---
Our best wishes for a productive day. Send any news, comments, wine goggles, and alien technology to talk@qz.com. Reader support makes Quartz available to all—become a member. Today's Daily Brief was brought to you by Morgan Haefner.