Good morning, Quartz readers!
Correction: An item in yesterday's Daily Brief said GrubHub's shares rose 60% on the back of news of Uber's interest in acquiring the company. They rose 30%.
Here's what you need to know
Israel's new government gets sworn in. Prime minister Benjamin Netanyahu yesterday won over enough lawmakers to form a coalition government, ending almost 18 months of political deadlock after three inconclusive elections.
The EU votes on freezing development funds to Eritrea. A suit was filed yesterday by Eritrean activists against the bloc, alleging that €80 million ($87 million) in aid was paying for roads built with force labor.
Australia lost almost 600,000 jobs in April. However, the official unemployment rate only rose by one percentage point to 6.2% because many unemployed people have left the labor force entirely and are no longer seeking a job.
The UN Security Council discusses Myanmar. Following an ambush last month on a UN-marked vehicle that injured a Myanmar government health worker and killed a WHO employee, the closed-door meeting will address the escalating violence in the country's Rakhine state, and the impact of the pandemic.
US whistleblower scientist Rick Bright testifies. The ousted director of a key federal agency tasked with developing a coronavirus vaccine will tell Congress that the Trump administration was unprepared for the pandemic and that the country faces its "darkest winter in modern history." Meanwhile, Wisconsin's supreme court overturned an extension of the state's stay-home orders.
The US Huawei ban will last another year. President Donald Trump extended his executive order barring US businesses from using telecommunications equipment made by companies, like Huawei, that are designated a national security threat.
---
Earning a second look
Recent earnings reports are telling us a lot about how companies are adapting—or not—to a changing economic landscape.
📱 Smartphone gamers trying to beat the quarantine blues helped push Tencent's revenue up 26%.
🚢 The CEO of Maersk—the world's biggest shipping company—told investors that he expects to see demand fall by up to 25% this quarter.
🎮 Sony's operating profit plummeted 57%, but the PlayStation 5 is still due for a 2020 holiday release.
💊 JD.com, which reports tomorrow, was rated a "buy" by Mizuho Securities thanks to the potential for online pharmacy sales.
Charting (and judging) our neighbors 
The coronavirus might prevent Americans from socializing with their neighbors, but it can't stop them from throwing shade. The Kaiser Family Foundation recently surveyed more than 1,000 adults living in the US about their experiences with coronavirus and social-distancing, and they were not pleased with their neighbors' efforts.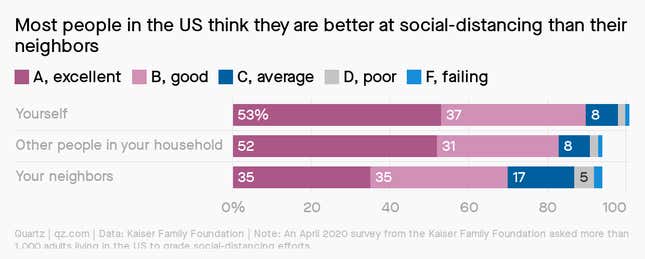 The vast majority—84%—said their lives had been disrupted by the coronavirus outbreak. Still, 80% felt that social-distancing and shelter-in-place guidelines were worthwhile to prevent further spread of the virus. If only everyone were as excellent at it as they are (only 11% of people graded themselves poorly).
---
Quartz members, let's play a quick game     
True or false: Zoom is the only conferencing system that exists.
OK, that one was easy. There are plenty of virtual tools out there that serve a variety of needs, and if this is going to be our new reality for awhile, we might as well get it right. Quartz's Amrita Khalid and Anne Quito consulted experts to help match system to function, as part of our field guide on virtual conferencing (✦ both are Quartz member exclusives). Let's see how you do.
What conference system do experts recommend for the following?
Impromptu virtual chats
When you just can't let go of using a whiteboard
If you're looking for the "department store of communication software"
If you're obsessed with tracking your fitness metrics
When you're in the mood to watch a benefit concert (more on these below)
If you want to take your trivia team to the next level
Answers: 1. Google Meet, 2. Microsoft Teams, 3. Skype, 4. Trainerize, 5. Twitch, 6. Jackbox Games 
✦ Get access to these articles and a lot more when you become a Quartz member (try a seven-day free trial). ✦
---
We're obsessed with benefit concerts
Are they for the greater good, or just good PR? Benefit concerts have generated some of the best live performances of all time, a slew of enduringly cringey songs, and—maybe—some money for charity. Critics point out that their massive overheads siphon away cash that could have gone directly to the cause, but, as evidenced by last month's "One World: Together at Home" concert series, the benefit show is here to stay. Don't wait—give your attention to the Quartz Daily Obsession NOW.
---
You asked about 
Will VPNs impact Covid-19 tracking? – K
We asked Quartz tech reporter Amrita Khalid to do some digging on whether someone using a virtual private network for work or personal privacy reasons might cause a rift in the contact-tracing continuum.
"It's unlikely," she said. "VPNs encrypt your ISP address, but won't prevent many apps from picking up your location with GPS. The same goes for if your contact-tracing app is Bluetooth-based. Bluetooth technology is not impacted by VPNs, since it deals with building local networking connections rather than internet traffic," noted Heikki Nousiainen, CTO at cloud services company Aiven, in an email to Quartz.
✉️ Do you have a burning question about how coronavirus is changing the world?
---
Surprising discoveries
Librarians are helping the WHO index reams of Covid-19 information. The volunteers review and sort a daily deluge of material, then figure out how and to whom to distribute it.
"Zoom fatigue" is not new to the deaf community. The intense concentration needed to parse what's being said over choppy audio and time delays is a sliver of what they undergo daily.
An algorithm found hundreds of creepware apps on the Android store. The apps, which are designed to  stalk, harass, defraud, or threaten, have since been removed by Google.
Researchers created an inflatable, backpack-sized e-scooter. An electric pump can fill the vehicle with air in under a minute.
Dogs have moody teenage years, too. Canines between five and eight months have more fraught relationships with their parents and are less responsive to carers.
---
Our best wishes for a productive day. Please send any news, comments, inflatable scooters, and moody dogs to hi@qz.com. Get the most out of Quartz by downloading our app on iOS or Android and becoming a member. Today's Daily Brief was written by Mary Hui and edited by Isabella Steger.