Good morning, Quartz readers!
Here's what you need to know
Japan lifted the last of its state of emergency. Prime minister Shinzo Abe credited "the power of the Japanese model" in getting the coronavirus epidemic under control, and said the government is working on a new stimulus package worth 100 trillion yen ($930 billion).
India resumed domestic flights. Passengers face long lines, delays, cancellations, and all-around chaos as some flights remain restricted and communication is scarce. At airports, safety measures that include checking passengers' temperatures are becoming commonplace.
South Koreans don face masks to travel. Starting this week, masks will be mandatory on public transit, in taxis, and on all flights. From June, owners of bars, clubs, gyms, karaoke rooms, and other "high-risk" facilities will need to register customers with smartphone QR codes.
The World Health Organization paused its hydroxychloroquine trial. The WHO said it would temporarily suspend the trial pending a data safety review. On Friday, a paper published in The Lancet found increased risk of heart problems and death in Covid-19 patients who used chloroquine and hydroxychloroquine.
Wuhan tested nine million people for coronavirus in 10 days. The city had set out to test all of its 11 million residents within 10 days, following the emergence of fresh cases this month. Officials said the tests thus far have identified three dozen asymptomatic cases.
Uber is expected to make an announcement in Hong Kong. There is speculation that the company may move its Asia-Pacific headquarters to Hong Kong from Singapore, if it can get government approval.
---
Get vest-ed
In the midst of a pandemic, companies have to work even harder to keep employees feeling connected. One option? Kimberlee Josephson, an assistant professor at Lebanon Valley College, suggests sending swag. Workers need tangible reminders that they're part of an organization, she says, not just a task. Here are some tips when deciding what to send:
Get personal. Consider self-care items or swag appropriate for home-office life.
Get familiar. Look into gifts for the partners or children of employees.
Get physical. Check out fitness gear or water bottles, which promote health and well-being.
Get functional. Portable chargers and power banks are always useful. (Please, no flash drives).
Get real. Toilet paper rolls, sanitizer bottles, and face masks with a company logo may sound comical, but these items are helpful right now. Plus, they'll make great mementos.
---
Charting Covid-19's impact on emissions 
Coronavirus shutdowns sent greenhouse gas emissions off a cliff. But according to the first peer-reviewed analysis of the pandemic's impact on carbon-dioxide emissions, the most-polluting sector saw the smallest percent decline.
Electric power plants are responsible for almost half of global CO2 emissions. At the peak of the global coronavirus shutdown—pinpointed by researchers as April 7—plant emissions were down only 7.4% compared to 2018 averages, from about 44.6 million metric tons per day to about 41.3 million.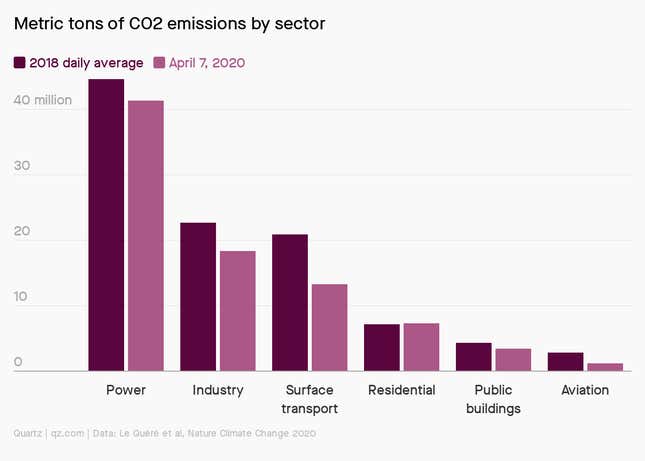 The biggest percentage drop, no surprise, came from the aviation industry, with a 60% decline, or 1.7 million metric tons. The biggest raw drop in emissions came from surface transportation, which fell by 36%, or 7.5 million metric tons. That figure includes personal vehicles as well as trucks and domestic and international shipping. Unfortunately, those are exactly the emissions that are likely to rebound after lockdown orders are lifted.
---
Pop [culture] quiz
Which of the following is not a show on Netflix?
🚀 The Mandalorian
☕ The Morning Show
💀 Dr. Death
⚖️ Chrissy's Court
Answer: All of the above*. For a long time, Netflix wasn't worried about its streaming rivals—most competitors were either too small or too US-centric. But that's changing. Already competing with Amazon for eyeballs, Netflix is now being hit with a new wave of global streaming services (Quartz member exclusive ✦), built and backed by massive media companies with equally massive infrastructures.
Will the streaming giant find its way through a minefield of competition…again? Quartz members can read more in this week's field guide on what's next for Netflix ✦. (Not a Quartz member? Binge it by signing up for a seven-day free trial.)
*The Mandalorian airs on Disney+, The Morning Show on Apple TV+, Dr. Death on Peacock, and Chrissy's Court on Quibi.
---
Surprising discoveries
A Tokyo pub sprays customers with a "mist of disinfectant." A hostess on a monitor also asks new arrivals to wash their hands and take their temperature with a thermometer.
Denmark is reuniting cross-border couples. To take advantage of loosening border restrictions, partners need to prove that they've been in a relationship for at least six months.
A pair of Japanese melons sold for 120,000 yen ($1,114). That's just a fraction of the premium produce's record-breaking $46,000 price tag at last year's auction.
Scientists discovered a donut-shaped galaxy. The rare galaxy, described as a "cosmic ring of fire," is 11 billion light-years from our solar system.
A fake Russian choir has real fans. Dustyesky, an Australian group that refers to itself as "the leading genuine fake Russian choir," performs traditional folk songs in four-part harmonies.
---
Our best wishes for a productive day. Please send any news, comments, branded toilet paper rolls, and discount melons to hi@qz.com. Get the most out of Quartz by downloading our app on iOS or Android and becoming a member. Today's Daily Brief was brought to you by Kira Bindrim.