Good morning, Quartz readers!
Here's what you need to know
US coronavirus deaths approach the 100,000 mark… The latest tally of fatalities in the US stood at just under 99,000. On Monday, Brazil surpassed the US in the daily coronavirus death toll for the first time, registering over 807 deaths. The White House has forward restrictions on travel from Brazil to the US; they will go into effect today.
…while new infection numbers raise concerns. Singapore disclosed 383 new cases of Covid-19, mostly among temporary foreign workers, while Russia noted a record one-day rise in fatalities, and close to 9,000 new cases. India and the Philippines also reported their largest single-day jumps. The World Health Organization warned yesterday of a second peak that could coincide with the normal flu season.
Hydroxychloroquine is dropped from a major trial. The drug was suspended from a WHO-led trial on experimental coronavirus treatments pending a safety review. This follows a paper, published in The Lancet Friday, which found increased risk of heart problems and death in Covid-19 patients who used chloroquine and hydroxychloroquine.
Renault and Nissan scrapped their merger plans. The struggling automakers will instead focus on overhauling their alliance, which includes Mitsubishi, and recovering from the global pandemic. The companies will hold a joint news conference tomorrow to outline their new partnership philosophy, and announce individual cost-cutting measures (paywall) later this week.
The fashion industry is slowing down. In another sign of changes in high-end fashion prompted by the pandemic, two major luxury fashion houses, Gucci and Saint Laurent, said they would ditch the standard industry calendar, which requires designers to put on runway shows and present new collections every season. Gucci's creative director said the shutdown is "a great gift that our planet gave us."
Tensions over Hong Kong's independence continue. A proposed set of national security laws would grant Beijing more power over Hong Kong's affairs, which activists fear would ultimately curtail democracy and criminalize dissent. The island's chief executive, Carrie Lam, said in response that "there is no need for us to worry."
---
Get vest-ed
In the midst of a pandemic, companies have to work even harder to keep employees feeling connected. One option? Kimberlee Josephson, an assistant professor at Lebanon Valley College, suggests sending swag. Workers need tangible reminders that they're part of an organization, she says, not just a task. Here are some tips when deciding what to send:
Get personal. Consider self-care items or swag appropriate for home-office life.
Get familiar. Look into gifts for the partners or children of employees.
Get physical. Check out fitness gear or water bottles, which promote health and well-being.
Get functional. Portable chargers and power banks are always useful. (Please, no flash drives).
Get real. Toilet paper rolls, sanitizer bottles, and face masks with a company logo may sound comical, but these items are helpful right now. Plus, they'll make great mementos.
---
Charting Covid-19's impact on emissions 
Coronavirus shutdowns sent greenhouse gas emissions off a cliff. But according to the first peer-reviewed analysis of the pandemic's impact on carbon-dioxide emissions, the most-polluting sector saw the smallest percent decline.
Electric power plants are responsible for almost half of global CO2 emissions. At the peak of the global coronavirus shutdown—pinpointed by researchers as April 7—plant emissions were down only 7.4% compared to 2018 averages, from about 44.6 million metric tons per day to about 41.3 million.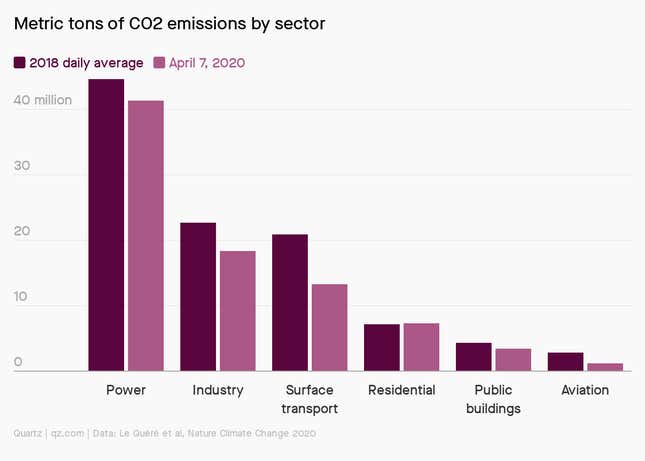 The biggest percentage drop, no surprise, came from the aviation industry, with a 60% decline, or 1.7 million metric tons. The biggest raw drop in emissions came from surface transportation, which fell by 36%, or 7.5 million metric tons. That figure includes personal vehicles as well as trucks and domestic and international shipping. Unfortunately, those are exactly the emissions that are likely to rebound after lockdown orders are lifted.
---
Pop [culture] quiz
Which of the following is not a show on Netflix?
🚀 The Mandalorian
☕ The Morning Show
💀 Dr. Death
⚖️ Chrissy's Court
Answer: All of the above.* For a long time, Netflix wasn't worried about its streaming rivals—most competitors were either too small or too US-centric. But that's changing. Already competing with Amazon for eyeballs, Netflix is now being hit with a new wave of global streaming services (Quartz member exclusive ✦), built and backed by massive media companies with equally massive infrastructures.
Will the streaming giant find its way through a minefield of competition…again? Quartz members can read more in this week's field guide on what's next for Netflix ✦. (Not a Quartz member? Binge it by signing up for a seven-day free trial.)
*The Mandalorian airs on Disney+, The Morning Show on Apple TV+, Dr. Death is planned for Peacock, and Chrissy's Court features on Quibi.
---
Surprising discoveries
A "Blob" has invaded the fjords of British Columbia. That's the name given to a marine heatwave, stretching from Alaska to California, which is heating up the glacier-fed waters at a rapid clip.
Pixar has its first gay lead character. The studio's short film Out charts the story of a young man named Greg who's afraid to tell his parents about his sexuality.
Google has a new tool to kick your bad tab habits. The feature, now in beta, helps you organize your tabs into groups.
Aston Martin is recreating James Bond's car. A special run of the Bond DB5, as seen in the 1964 film Goldfinger, is being hand-built at the carmaker's plant in the UK.
Scientists discovered a donut-shaped galaxy. The rare galaxy, described as a "cosmic ring of fire," is 11 billion light-years from our solar system.
---
Our best wishes for a productive day. Please send any news, comments, browser tabs, and spy cars to hi@qz.com. Get the most out of Quartz by downloading our app on iOS or Android and becoming a member. Today's Daily Brief was brought to you by Annabelle Timsit and Jackie Bischof.