Good morning, Quartz readers!
Here's what you need to know
China projected calm in its standoff with India. Chinese foreign ministry spokesman Zhao Lijian said "diplomatic and military communication channels between China and India on the border issue are open," and that the situation is stable and would soon be resolved.
Yum China will sell Beyond Meat burgers. The plant-based burgers will hit the menus of certain KFC, Pizza Hut, and Taco Bell locations for three days starting tomorrow, as Beyond Meat seeks to break into the Chinese market.
Spain recorded zero coronavirus deaths yesterday. It was the country's first day without a Covid-19 death since early March. New cases fell to just 71. Fernando Simón, who leads the country's pandemic response, said the numbers follow a larger trend and are "very, very encouraging."
Remdesivir faltered in clinical trials. The Covid-19 treatment, which is already in use, showed no significant improvement over the standard of care in a large group of moderately ill patients. Drugmaker Gilead Sciences saw its stock fall on the news.
Universal Studios Japan announced its comeback. The theme park, which has been closed for three months, will reopen June 8 to annual ticket holders from Osaka Prefecture. The park will gradually expand capacity, opening to all visitors from the Kinki region by June 19.
---
Protests across the globe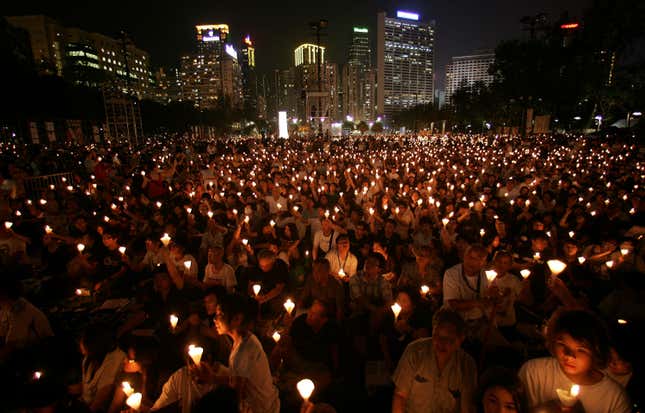 Hong Kong police officially banned the Tiananmen memorial vigil. The memorial, pictured above in 2009, will not take place for the first time in its 21-year history. Authorities cited Covid-19 concerns as the reason, and organizers urged private vigils and moments of silence.
Meanwhile, China threatened to retaliate against the US for "interfering" in Hong Kong, which it sees as a direct threat to its interests. "Any words or actions by the US that harm China's interests will meet with China's firm counterattack," said Zhao Lijian, according to Reuters.
China has been quick to criticize the US of hypocrisy during the latter country's own protests, many of which have led to violent clashes with police across the nation, after a Minneapolis police officer killed an unarmed man named George Floyd. Yesterday, US president Donald Trump called state governors "weak" and urged them to use military force to quell the increasingly destructive demonstrations. Many US cities, including New York, have enacted a curfew.
---
Quiz: Which verticals got the most startup funding in Africa in 2019?
Choose the top three:
health tech
entertainment
e-commerce
offgrid tech
marketing tech
enterprise tech
fintech
connectivity
shared economy
retail
✦ Members, feel free to give yourself a leg up by reading all about it, as part of our field guide on Africa after Covid-19. ✦
Otherwise, find the results—and why they matter—in handy chart form at the end of this email.
---
You asked about vaccines
If we are able to develop a vaccine, will vaccinated people who later get exposed to the virus still be able to pass it on to other, not-vaccinated people?
Great question, Petra! While viruses can survive on skin or other surfaces for a short time, they can't replicate outside of cells. The process of replicating is what causes infections, and what allows the virus to spread from person to person.
When someone has recovered from an illness or gotten a vaccine, they have antibodies against the virus. If they encounter it again, their bodies have a built-in defense system—and without a home, the virus dies off. When enough people can't host the virus, the whole community is protected against it; it's what immunologists call "herd immunity."
All of this is to say that a person who has been vaccinated shouldn't be able to transmit the virus to someone who hasn't been vaccinated, because they can't host a virus long enough to replicate. That said, if a vaccinated person has a virus on their hands and touches another person without washing them, they could pass it on. Good personal hygiene is always a great defense against infection.
✉️ Do you have a burning question about how coronavirus is changing the world?
---
Surprising discoveries
You might go back to a movie theater soon… With the right precautions, it's less risky than you think.
…and be served by a robot waiter. That is, if you're dining in the Netherlands and will allow the machines' cute, matching scarves to distract you from their cold, mechanical eyes.
The sun might be waking up from a long nap. It just emitted its biggest solar flare since 2017, which might signal a return to a more active phase that could mess with electrical grids.
Our interstellar visitor may have been a hydrogen iceberg. A new theory could explain 'Oumuamua's strange proportions and its odd acceleration without relying on aliens.
A hacker blared "Chocolate Rain" over the Chicago police department's scanner. The once-viral song is a form of protest against police brutality.
---
Charting how African verticals are funded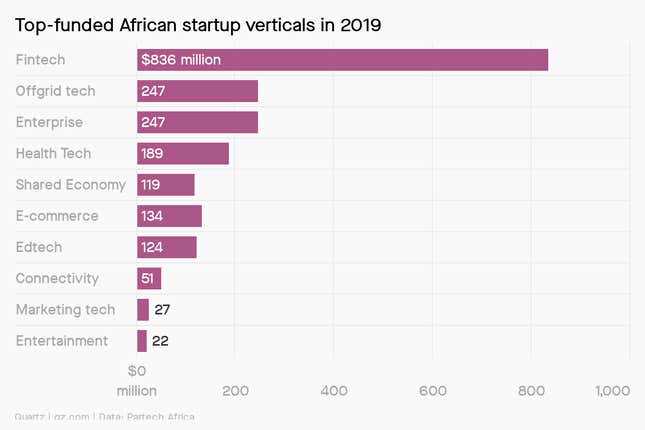 How did you do on the quiz?
Fintech has dominated funding for African startups for years. But the coronavirus pandemic may change that (✦), as investors start to shift their focus to spikes in demand caused by the pandemic, in e-commerce, edtech, healthcare, and basic services. Still, given how the crisis has underlined the critical role played by fintech, the sector is likely to continue to dominate in the future.
---
Our best wishes for a productive day. Please send any news, comments, awoken gas giants, and robot gratuities to hi@qz.com. Get the most out of Quartz by downloading our app on iOS or Android and becoming a member. Today's Daily Brief was brought to you by Susan Howson, Katherine Foley, and Nicolás Rivero.