Good morning, Quartz readers!
Here's what you need to know
Donald Trump threatened to deploy troops—in America. The president said he would send in the military to quell protests if governors didn't take more decisive action, and then posed for photos while holding a Bible outside a church. The Episcopal bishop of Washington, DC lashed out at Trump for using the church as a "prop." More protests are expected after the death of George Floyd in police custody was ruled a homicide.
Joe Biden is poised to win the Democratic nomination. As protests continue to roil the country, seven states and the capital will hold primaries. Biden also met with black leaders in Delaware, and vowed to tackle institutional racism in his first 100 days of office if he wins the presidency.
The US entertainment industry joins Blackout Tuesday. Companies such as ViacomCBS and Funny or Die are heeding calls on social media for a "day of pause" in solidarity with the black community. BBC radio stations will broadcast programming in support of racial justice.
Facebook workers walked out virtually. Employees were angry with the company's decision to leave an incendiary Trump post suggesting that violent protesters should be shot, after Twitter hid the message with a warning. CEO Mark Zuckerberg will hold an all-hands meeting with employees today.
The UK publishes quarantine guidelines. Critics say that the rules for a mandatory 14-day quarantine for all arrivals into the UK, due to come into effect on June 8, are too loose. People under quarantine are expected to be allowed to go grocery shopping and take public transport.
Canada rejected Russia's return to the G7. Prime minister Justin Trudeau said he did not support Trump's proposal to re-admit Russia to the group, after the president said he wanted to expand the list of invitees to the meeting, which has been delayed from June to September. The White House said the expanded grouping is a counter to China.
Quiz: Which verticals got the most startup funding in Africa in 2019?
Choose the top three:
health tech
entertainment
e-commerce
offgrid tech
marketing tech
enterprise tech
fintech
connectivity
shared economy
retail
✦ Members, feel free to give yourself a leg up by reading all about it, as part of our field guide on Africa after Covid-19. To gain access to all the stories, presentations, field guides, workshops, and more that is available exclusively to Quartz members, try a seven-day free trial. ✦
Otherwise, find the results—and why they matter—in handy chart form at the end of this email.
---
You asked about vaccines
If we are able to develop a vaccine, will vaccinated people who later get exposed to the virus still be able to pass it on to other, not-vaccinated people?
Great question, Petra! While viruses can survive on skin or other surfaces for a short time, they can't replicate outside of cells. The process of replicating is what causes infections, and what allows the virus to spread from person to person.
When someone has recovered from an illness or gotten a vaccine, they have antibodies against the virus. If they encounter it again, their bodies have a built-in defense system—and without a home, the virus dies off. When enough people can't host the virus, the whole community is protected against it; it's what immunologists call "herd immunity."
All of this is to say that a person who has been vaccinated shouldn't be able to transmit the virus to someone who hasn't been vaccinated, because they can't host a virus long enough to replicate. That said, if a vaccinated person has a virus on their hands and touches another person without washing them, they could pass it on. Good personal hygiene is always a great defense against infection.
✉️ Do you have a burning question about how coronavirus is changing the world?
---
Surprising discoveries
Japan held secret fireworks. The five-minute pyrotechnic displays were intended to lift people's spirits as the country emerges from the state of emergency imposed during the pandemic.
No one is buying truffles. As high-end restaurants shut down or go bust, sellers may have to pivot to making processed products like truffle oil to get rid of inventory.
The sun might be waking up from a long nap. It just emitted its biggest solar flare since 2017, which might signal a return to a more active phase that could mess with electrical grids.
Otters are causing a headache in Singapore. They're wreaking havoc in the city-state, including eating up fish in a pond at a spa.
Our interstellar visitor may have been a hydrogen iceberg. A new theory could explain 'Oumuamua's strange proportions and its odd acceleration without relying on aliens.
---
Charting how African startup verticals are funded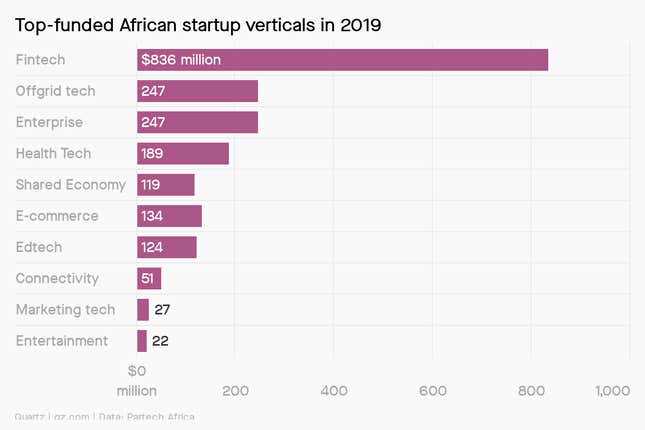 How did you do on the quiz?
Fintech has dominated funding for African startups for years. But the coronavirus pandemic may change that (✦), as investors start to shift their focus to spikes in demand caused by the pandemic to e-commerce, edtech, healthcare, and basic services. Still, given how the crisis has underlined the critical role played by fintech, the sector is likely to continue to dominate in the future.
---
Our best wishes for a productive day. Please send any news, comments, napping suns, and urban otters to hi@qz.com. Get the most out of Quartz by downloading our app on iOS or Android and becoming a member. Today's Daily Brief was written by Isabella Steger and edited by Tripti Lahiri.