Good morning, Quartz readers!
Here's what you need to know
Dozens were killed in an explosion in Beirut. Hundreds were injured and buildings destroyed after a major blast at the city's port. An official suggested there was a fire at a facility housing confiscated explosive materials, but the exact cause is still unknown.
The EU opened a full-scale probe into Google's FitBit acquisition. Following a preliminary review, the European Commission is taking additional steps over concerns the merger will give Google a "data advantage." The investigation should wrap up by Dec. 9.
Hong Kong hears its first case under the national security law. A man facing charges of terrorism and incitement to secession for allegedly riding his motorcycle into a group of police officers while flying a pro-independence flag will apply to be released on bail. It will be the first test of how judges will square common-law rights with the sweeping law imposed by Beijing, a non-common law jurisdiction. Separately, Agnes Chow, the pro-democracy activist who pleaded guilty last month to charges related to the city's 2019 protests, is expected to be sentenced.
Indonesia had some good news on a Covid-19 vaccine. The country said it will be able to make 250 million doses a year by the end of 2020. Meanwhile, Thailand secured a $1.5 billion loan from the Asian Development Bank to help its pandemic response, Hanoi is running low on rapid testing kits for mass screenings, and the Philippines saw a record daily rise in new cases.
---
Cutting corners on vaccines?
As the world races to produce a viable coronavirus vaccine, Russia and China have recently claimed to have pulled ahead. But the global scientific community has its doubts, particularly on the safety of these supposed breakthroughs.
🇷🇺 While Russian officials are calling it a "Sputnik moment," the Gamaleya Research Institute scientists behind a new vaccine have yet to publish data showing it works, and it doesn't yet meet World Health Organization standards.
🇨🇳 China is telling state employees it's safe to use an experimental coronavirus vaccine—even though it has yet to undergo a third phase trial, which would establish efficacy and longer-term safety profiles by following thousands of participants. Scientists warn no vaccine should be presented as definitively safe and effective while testing is ongoing.
---
Charting tourism in Africa
Due to extensive experience with past or present epidemics like TB, HIV, and Ebola, African countries were fairly quick to react to news of coronavirus's spread by closing borders. Tourism—responsible for 6.8% of the continent's total employment—is bearing the brunt just after it achieved the status of second fastest growing tourism industry in the world.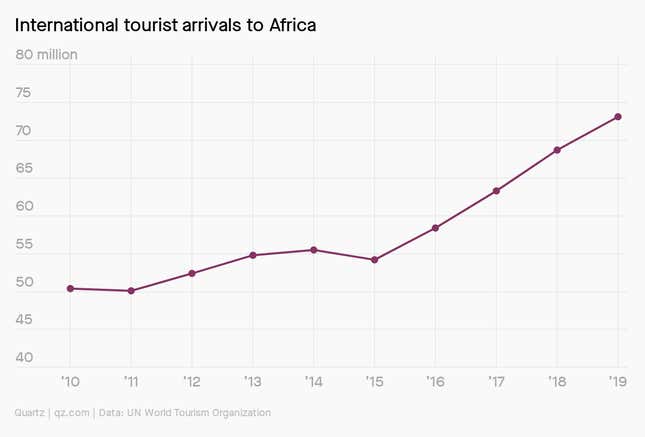 The World Travel and Tourism Council's best case scenario is a $53 billion hit to GDP across the continent; its worst case scenario is a $120 billion hit.
---
✦
For members: Cannabis by the digits
The wide world of weed, in number form:
$12.4 billion: Value of the regulated market in 2019
90%: Estimated amount of cannabis still consumed on the black market
$45 billion: Amount the industry is projected to be worth by 2025
~75%: Share expected to come from the US market
Two thirds: Number of Americans that support the legalization of cannabis
33: Number of US states that currently allow cannabis for some form of medical use
11: Number of states that also have recreational or "adult use" programs
Cannabis sits at a unique intersection of medicine, agriculture, consumer packaged goods, food, beverages, and recreation. What might a great modern cannabis industry look like? And how might it be prevented from exacerbating the inequality and exploitation already rampant in American capitalism?
Read more in our field guide on cannabis at a crossroads.
✦ Access all of our articles, presentations, field guides, and workshops by signing up for a Quartz membership.
---
Suit yourself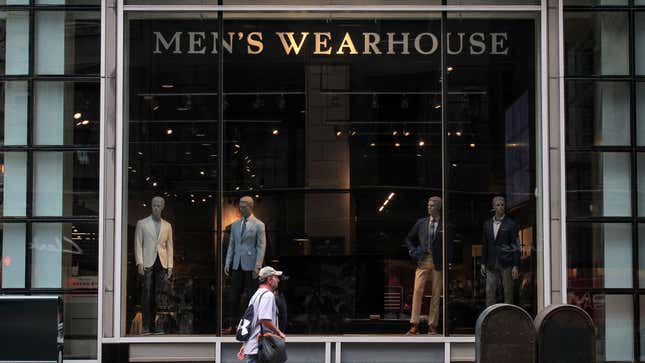 Men's suit sales were in decline long before anyone had ever heard of Covid-19, thanks to the century-long trend of apparel getting more casual and even the most conservative office places loosening up dress codes.
Now, having a business reliant on suit sales is a downright liability.
While some smaller upstarts selling custom suits have managed to establish footholds in the US in recent years, mass-market suit sellers have had little choice but to change up their offerings. Even those who had already seen the writing on the wall and begun pivoting to more casual clothes could never have anticipated quite how casual apparel was about to get when workers were forced to spend a whole lot more time at home.
---
Surprising discoveries
An "SOS" written in the sand actually worked. Three Micronesian men were stranded on a deserted island and used the code to signal rescue helicopters.
Calling all Rosses. If you're a footballer—especially if you're a keeper—you have a good chance of getting a spot on Scotland's Ross County roster.
Poisoning dingoes just made them bigger. The surviving wild dogs had less competition for food, which boosted their body size over generations.
Chipotle is putting all those avocado pits to good use… The chain's new clothing line is naturally dyed using all those guacamole byproducts.
…but self-dyed cotton could make it moot. Psychedelic, lab-grown cotton is coming, which could help rid the planet of toxic dye pollution.
---
Our best wishes for a productive day. Please send any news, comments, dingo pups, and avocado pants to hi@qz.com. Get the most out of Quartz by downloading our app on iOS and becoming a member. Today's Daily Brief was brought to you by Olivia Goldhill, Heather Richardson, Jackie Bischof, Marc Bain, Liz Webber, and Susan Howson.