Good morning, Quartz readers!
Here's what you need to know
The US held off on more Airbus tariffs. It left tariffs on the European aircraft maker at 15%, walking back on a threat to increase them as the two sides tussle over state aid for Airbus and US-owned Boeing. The US also maintained 25% tariffs on other European goods such as French salami and single-malt Scotch whisky.
The White House has a new policy on Confucius Institutes. The US state department could announce as early as today a requirement that China's state-funded language schools be registered as foreign agents. China critics say the institutes, which are usually housed inside universities, are tools to spread Chinese political influence.
France signaled a stronger commitment to the eastern Mediterranean. President Emmanuel Macron said he would increase France's troop presence there in response to Turkey's increasing oil-and-gas exploration in disputed waters, which has heightened tensions with EU members Greece and Cyprus.
Initial jobless claims numbers in the US continue to fall. The number of people newly out of work for the week ended Aug. 8 is expected to come in at 1.1 million, which would be the 21st consecutive week that the number exceeded a million, though the number has been steadily decreasing.
Joe Biden made a speech with his new running mate. The US Democratic presidential nominee campaigned together for the first time with California senator Kamala Harris, a day after he named her as his vice president. In the speech in Delaware, they excoriated Donald Trump's handling of the pandemic and the economic crisis.
After healthcare workers, who's next in line for a vaccine?
The first US recipients of any potential Covid-19 vaccine are fairly uncontroversial: Healthcare workers directly interacting with coronavirus patients. But who comes next?
That broadly depends on whether the US chooses to prioritize recipients' personal risk or potential to spread the disease. A risk-focused approach tends to emphasize protecting groups such as the elderly or immunocompromised people. Alternatively, vaccines could first be given to those more likely to act as vectors for the virus, such as bus drivers and supermarket employees. And some global health experts are making a serious argument for prioritizing vaccine recipients based on race, as Latino and Black Americans are at higher risk of contracting and dying from the disease.
If prioritization sounds complicated in theory, it's even more complex in practice. Currently, several panels of US healthcare experts are developing plans to guide these tough decisions.
---
Charting the buoyancy of Jordans
Last December, Jordan Brand, which Nike turned into its own subsidiary in 1997, recorded its first-ever billion-dollar quarter. Even when Nike reported a drop in total sales for the fiscal year through May due to Covid-19, Jordan stood out as one of the most resilient segments of the business.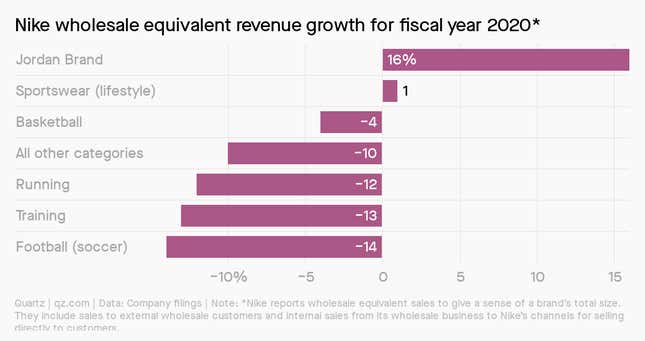 Jordans—in particular the retro models—have a nearly unmatched cachet in the sneaker world, continuing to earn them fans and driving hype around the brand. Sales of the shoes also got a real assist from ESPN's Michael Jordan docuseries The Last Dance, which aired in May.
---
How to get over the company culture shock of 2020
With so many working from home, how can a company keep an eye on its employee morale? We interviewed employers who are trying to preserve their company culture during Covid-19. Here are some of their tips:
Scheduling informal catch-up chats to mimic serendipitous hallway conversations
Inviting guest speakers to talk to staff during special occasions like Pride Month
Social video calls, including movie evenings, workouts, coffees, and bingo
Embracing and even inviting employees lives onto calls, including kids, spouses, and pets (our favorite Quartz pet is editor Oliver Staley's cockatiel, who sits on his shoulder during meetings and makes it impossible to be in a bad mood)
Elaborate pranks that require a deep level of commitment of which we believe you are capable
Read more in our latest field guide, Reimagining the Office. It's available exclusively to members, who also get to fully explore all of Quartz's culture (though we have yet to introduce them to Oliver's cockatiel) with no paywall and plenty of perks. Interested in joining up? It's currently 40% off your first year.
---
Essential viewing
If you're concerned about company culture suffering because of the pandemic, you might want to also take a look at what it was like to work at your company before anyone had ever heard of Covid-19. Our latest Remote Control workshop from Quartz at Work (Thursday at 11am EDT) continues to tackle one of the toughest questions of our times: "What's the most effective way to build an antiracist company?" 
This is the second part of our antiracism workshop series, where our panel of experts will continue to answer your questions on how to make things more equitable at your own place of business. Register here for this free virtual workshop.
---
We're obsessed with natural capital
Natural capital—the dollar value of the services nature provides, from clean water to breathable air—is worth more than $160 trillion every year. Think of that like free interest from nature's bank account, only we're quickly depleting the principal and running a deep deficit. Now an entire field of economics and ecology has sprung up to define, map, and track the world's declining stock of natural capital. Get in the right mindset with a playlist of music inspired by—or directly made by—nature itself, then try to avoid resource bankruptcy with the Quartz Weekly Obsession.
Get free interesting topics delivered to your inbox every week by clicking below.
---
Surprising discoveries
Apple is suing a tiny company with a pear logo. Prepare, a company with five employees, is raising funds online to fight the legal battle.
Mary Ann Evans's book is hitting shelves. Middlemarch, which appeared under the pseudonym George Eliot in 1871, is being reissued as part of a project to restore recognition to female writers.
Stem cells could bring back an extinct rhino. And a horse could be used as a surrogate.
A man commissioned a life-sized wax statue of his late wife in India. She died before their dream home was finished.
Don't push slow friends out of the way if a bear attacks. That's according to useful tips published by the US parks service.
---
Our best wishes for a productive day. Please send any news, comments, updated versions of Middlemarch, and meaningful wax statues to hi@qz.com. Get the most out of Quartz by downloading our app on iOS and becoming a member. Today's Daily Brief was brought to you by Isabella Steger, Tripti Lahiri, Liz Webber, and Susan Howson.