Good morning, Quartz readers!
Here's what you need to know
Apple's Epic feud. The iPhone maker began the day with a new $5.5 billion bond issuance amid reports of a forthcoming streaming video bundle. Then, an hour before the company's stock closed at a record high, Apple kicked Fortnite out of the App Store over setting up a payment system designed to avoid an increasingly controversial 30% fee. Anticipating the move, Fortnite-maker Epic Games filed a lawsuit and released a short video calling on Apple to #FreeFortnite.
The US designated the Confucius Institute as a foreign mission. The Trump administration said the cultural organization, which has partnerships with 500 US elementary and secondary schools and 65 universities, is used to spread Beijing's propaganda. It's probably not what China's assistant minister of commerce had in mind when he said he hopes the US will stop targeting Chinese firms so the Phase 1 trade deal can be implemented.
India and China continue to sever business ties. As tensions remain over their border spat, India plans to bar China's Huawei and ZTE from its 5G trials and stopped using Chinese ships to transport crude and petroleum products. India is also funding a $500 million infrastructure project in the Maldives to offset Chinese influence. On the flip side, China extended tariffs on Indian optical fiber products.
Israel and the United Arab Emirates agreed to normalize relations. It's only Israel's third peace deal with an Arab country and the first with a Gulf state. As part of the historic agreement, Israel will delay its annexation of the West Bank.
New US unemployment claims dipped below the million mark. It's the first time the number has been so low since March, but 963,000 claims are still historically high in number—this time last year the US was looking at 218,000 newly unemployed workers.
---
Our new Obsessions
Halfway through 2020, with coronavirus upending, well, everything, we decided it was time to update our Obsessions, the framework around which we organize our journalism. Each one is a set of questions we're fascinated by and hypotheses we're testing. Together, they keep our newsroom focused on the future: on how and why the world is changing, and the challenges and opportunities that come with every major shift in technology, society, and the economy.
Over the next nine weeks, we'll introduce each Obsession—why it's important, who the key players are, and perhaps even the song that best represents it. You'll just have to stay tuned.
🚧 Borders
---
Charting the hemp boom and bust
Eight short months ago, hemp was the fastest growing crop in US agriculture. As of August, US farmers have reported slashing the planted acreage of the crop by 67%, from 137,000 acres in 2019 to 45,000 acres. This drop follows four consecutive years of US farmers more than doubling their hemp acreage annually.
"We saw CBD production explode in 2019," says Erica Stark, the executive director of the National Hemp Association. "The demand didn't increase at the same pace…There's still a lot of farmers who are still looking to find buyers for their 2019 crop."
So, what went wrong? Blame the CBD boom.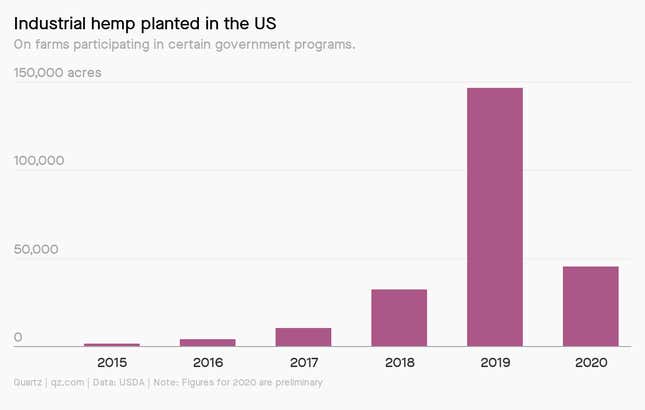 ---
What is presenteeism?
Presenteeism /prɛznˈtiːɪzəm/ (noun)
— the practice of being present at one's place of work for more hours than is required, especially as a manifestation of insecurity about one's job.
Coronavirus has cast presenteeism in a new light, forcing workers and their employers to ask: What are we willing to risk in order to maintain a culture which, many were already pointing out, neither benefited most employees nor, perhaps, provided an accurate measure either of productivity or engagement? Learn more about the ways companies are reimagining the office, from their design to making sure presenteeism doesn't manifest during work-from-home, in our latest field guide.
✦ After all that work why not give a present to yourself. We suggest a Quartz membership, now available at a 40% discount.
---
Imagery interlude
This week, a massive formation of thunderstorms known as a "derecho" passed over the central United States, with severe weather knocking out power and damaging homes. Using data from Earth-observing satellites that track cloud cover and lightning activity, the National Oceanic and Atmospheric Administration was able to produce this terrifying image of the derecho moving from Iowa and Wisconsin into Illinois and on to Indiana:
For more coverage of what's going on up above—like how SpaceX is caught in a $500 million dispute in Central Asia (and not saying much about its big new contract)—sign up for the Space Business newsletter.
---
You asked about flu shots
Will the rush to create and stockpile Covid-19 vaccines affect regular annual flu shots?
Public health professionals have one clear message: Get your flu vaccine, and get it early. This year, the US CDC estimates that vaccine manufacturers will supply the country with 194 to 198 million doses of the flu shot, compared to 175 million doses last year. They're expecting an increased demand for flu vaccines because of the pandemic.
Both diseases impact the respiratory tract, so a person who contracts a relatively mild case of Covid-19 could then wind up in the hospital if they catch the flu shortly after, even if normally they'd be able to fight off the flu at home. Getting your flu shot early also helps vaccine administrators avoid bottlenecks of high demand for the flu vaccine while they're also giving Covid-19 vaccines when they become available—which is realistically some time next year at the earliest.
---
Surprising discoveries
Africa is splitting into two, with a new ocean in the middle. OK, so it's happening very slowly.
The ecommerce boom is seeing a recession in returns. Retailers say consumers are thinking more carefully about what they buy.
We'll see your murder hornets and raise you terror crocodiles and demon pigs. Luckily, the crocs are long extinct and the pigs are just ugly.
Facebook abandoned drilling equipment off the Oregon coast. After its undersea fiber optic cable project hit a snag, it decided not to recover drilling liquid, drill pipe, and other tools.
Russell Crowe donated $5,000 to a Beirut cafe. At first, other donors weren't sure if it was him, but the Oscar-winner later confirmed it.
---
Our best wishes for a productive day. Please send any news, comments, new African beachfront property, and pigs only a mother could love to hi@qz.com. Get the most out of Quartz by downloading our app on iOS and becoming a member. Today's Daily Brief was brought to you by Katherine Ellen Foley, Tim Fernholz, Jackie Bischof, Jenni Avins, Liz Webber, and Max Lockie.