Good morning, Quartz readers!
Here's what you need to know
Typhoon Goni slams into the Philippines. The biggest typhoon of the year has killed at least 10 people while more than 300 houses were buried by mudslides. It's the most powerful storm to hit the nation since Typhoon Haiyan killed 6,000 in 2013.
Asia's Muslims still simmer with anger at France. Indonesian president Joko Widodo says French president Emmanuel Macron "insulted Islam" while 40,000 joined protests in Bangladesh's capital, Dhaka. Other protests took place in Pakistan, Palestine, Iran, and Afghanistan.
Crackdowns continue in Hong Kong. Seven pro-democracy politicians were arrested early Sunday on charges of contempt and interference for their role in a contentious meeting of the territory's legislative council in May.
Missives from Covid-free lands. While the coronavirus pandemic surges across Europe and the US, Australia appears to be making progress in taming the virus, with no new locally transmitted infections for the first time in five months. Taiwan has reached a record 200 days with no new transmitted cases.
Thailand is divided over its monarchy. After months of protests calling for reforms of the nation's monarchy, thousands of yellow-shirted Thais marched in support of the royal family yesterday. Thai King Maha Vajiralongkorn sounded conciliatory in a rare interview, calling Thailand the "land of compromises."
---
What to Watch For this Week
Monday: People's Bank of China governor Yi Gang and Bridgewater founder Ray Dalio will speak at a Hong Kong Fintech Week event.
Tuesday: Hong Kong chief executive Carrie Lam begins a three-day trip to Beijing; Lenovo reports earnings; the Reserve Bank of Australia's board meets; Election Day in the US.
Wednesday: A US district court will hold a hearing on the fate of TikTok; China's president Xi Jinping addresses International Import Expo, SoftBank reports earnings.
Thursday: Ant Group debuts on Hong Kong and Shanghai stock markets after concluding the biggest IPO in history; Alibaba and Nintendo report earnings.
Friday: Toyota, Honda, NTT, and Singapore Airlines all report earnings.
Saturday: Myanmar holds an election clouded by human rights abuses.
---
A WPA for today
The Works Project Administration, created by FDR in 1935, put 1935 Americans to work in the depths of the Great Depression. Quartz senior reporter Sarah Todd argues it's time to revive the idea to combat the unemployment crisis in the US created by the coronavirus pandemic. While the WPA may be best remembered for its public arts projects, a modern WPA should provide jobs today's workers could perform from home. Some ideas include:
Online tutoring services
Reading to younger kids online
Digitizing documents (only 10% of the world's books are available electronically)
Labeling data in order to train artificial intelligence programs
Conducting virtual services aimed at helping to alleviate loneliness, depression, and anxiety
---
Charting name-dropped countries
On the campaign trail, Trump and Biden have both mentioned 26 countries, including the obvious ones like China and Russia, but also nations like Japan, Cuba, and South Africa. There's another 48, though, mentioned by only Trump or Biden, and there are more than 100 nation's neither has mentioned at all.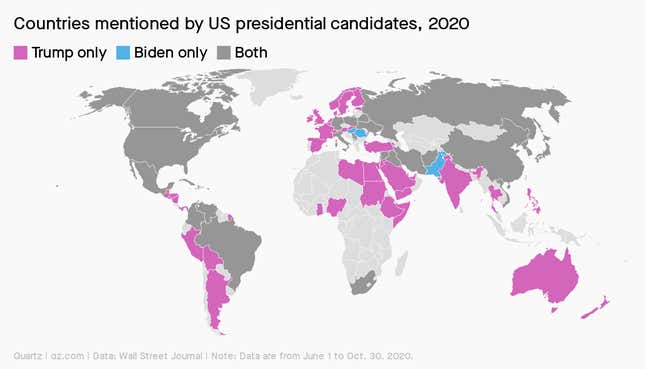 ---
The H1-B visa is under fire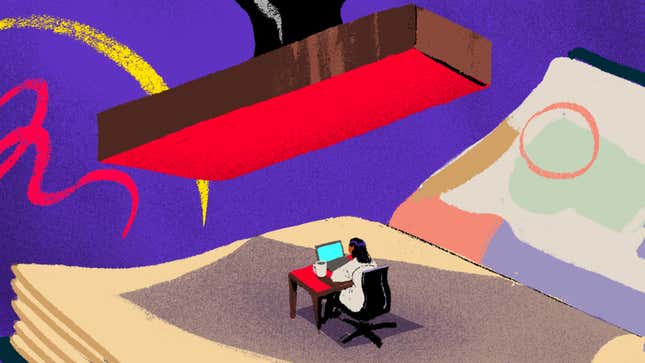 Many consider the H1-B visa to be the pipeline that helped America build the world's biggest tech hub in Silicon Valley. Over the last 30 years, beneficiaries of the visa, now numbering in the millions, have filled a massive skills gap in critical fields of science, technology, engineering, and mathematics.
But the visa category has come under immense criticism. Decades after its creation by one Republican president, another Republican president has targeted it as part of an anti-immigration clampdown. Our latest field guide examines how the visa became such a painful touchpoint in the debate over US immigration reform, and whether it can survive going forward. Read more about the status of the H-1B.
---
Surprising discoveries
Rice is political. Pakistan is "vehemently" opposing efforts by India to have the EU recognize only Indian basmati rice as authentic. About a third of the EU's imports of the rice come from Pakistan.
A building that walks. Engineers in Shanghai moved a five-story school building 200 feet using  mobile supports that act like human legs.
A nuclear fusion device switches on. UK scientists have activated a £55 million ($71 million) machine that seeks to replicate the energy-generating reaction that powers stars.
The world's smallest boat. Dutch researchers used an electron microscope and a high-definition 3D printer to make a toy boat 30 micrometers long, or a third the width of a human hair.
Did you know "gullible" isn't in the dictionary? An Indian doctor paid 7 million rupees ($93,600) for a magic lamp he was told would conjure a genie. After he complained to the police, two men were arrested.
---
Our best wishes for a productive day. Please send any news, comments, walking schools, and magic lamps to hi@qz.com. Get the most out of Quartz by downloading our iOS app and becoming a member. Today's Daily Brief was brought to you by Sarah Todd, Amanda Shendruk, Jackie Bischof, Annabelle Timsit, and Oliver Staley.