Good morning, Quartz readers!
Here's what you need to know
Boris Johnson says there's "no alternative" to a lockdown. Addressing parliament, the UK prime minister will make the case for a month of restrictive measures across England as coronavirus infections mount. Separately, palace sources revealed Prince William had Covid-19 in April. Elsewhere in Europe, Germany enters a monthlong partial lockdown, while Slovakia tested half of its population on Saturday.
The US postal service must follow "extraordinary measures" to deliver ballots. A judge yesterday directed the USPS to reinforce special procedures to deliver every mail-in ballot possible before the cutoff time Nov. 3, and to postmark all ballots even if they don't have postage. At least 92 million Americans have already voted in an election in which mail-in ballots will be crucial.
Moldova heads to a runoff election. Neither the pro-Russian incumbent Igor Dodon nor his opponent Maia Sandu, a former World Bank economist who advocates closer ties with the EU, cleared the 50% threshold required to avoid a second round on Nov. 15.
A major earthquake hit Turkey and Greece. At least 64 people were killed in an earthquake that jolted the Aegean Sea on Friday, injuring hundreds more and triggering a mini tsunami. Separately, the biggest typhoon of the year barreled through the Philippines yesterday, killing at least 10 people.
Hong Kong rounded up opposition lawmakers. In Beijing's ongoing crackdown on the city, eight pro-democracy politicians were arrested between yesterday and today over a contentious meeting of the local legislature in May, when they protested the pro-Beijing camp's takeover of a key committee.
---
What to Watch For this Week
Monday: EU and UK Brexit negotiators continue their talks in Brussels through mid-week.
Tuesday: Hong Kong chief executive Carrie Lam begins a three-day trip to Beijing, and it's Election Day in the US.
Wednesday: A US district court holds a hearing on the fate of TikTok; EU finance ministers meet to discuss money laundering and terrorism financing; and SoftBank reports earnings.
Thursday: Ant Group debuts on Hong Kong and Shanghai stock markets after concluding the biggest IPO in history.
Friday: Malaysia's prime minister presents his first budget amid challenges from the opposition and his own ranks.
Saturday: The EU deploys a team of election observers to Ghana ahead of general elections next month.
Sunday: Myanmar holds an election clouded by human rights abuses.
---
A WPA for today
The Works Project Administration, created by FDR in 1935, put 8.5 million Americans to work in the depths of the Great Depression. Quartz senior reporter Sarah Todd argues it's time to revive the idea to combat the unemployment crisis in the US created by the coronavirus pandemic. While the WPA may be best remembered for its public arts projects, a modern WPA should provide jobs today's workers could perform from home. Some ideas include:
Online tutoring services
Reading to younger kids online
Digitizing documents (only 10% of the world's books are available electronically)
Labeling data in order to train artificial intelligence programs
Conducting virtual services aimed at helping to alleviate loneliness, depression, and anxiety
---
Charting name-dropped countries
On the campaign trail, US president Donald Trump and Democratic challenger Joe Biden have both mentioned 26 countries, including the obvious ones like China and Russia, but also nations like Japan, Cuba, and South Africa. There's another 48, though, mentioned by only Trump or Biden, and there are more than 100 nations neither has mentioned at all.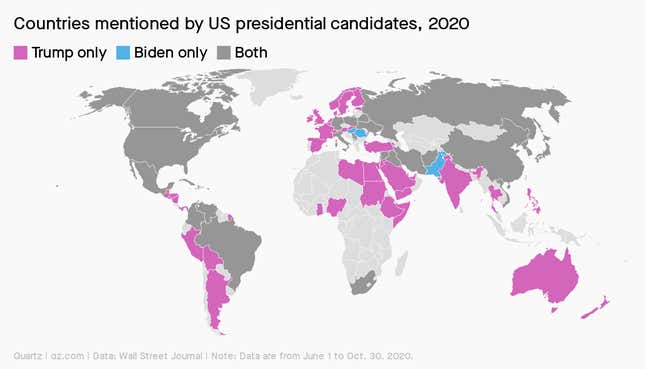 ---
The H1-B visa is under fire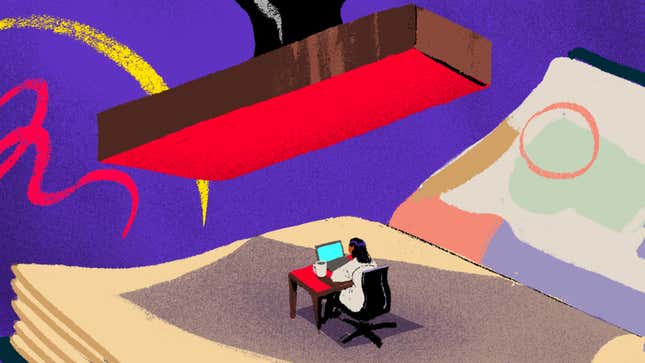 Many consider the H1-B visa to be the pipeline that helped America build the world's biggest tech hub in Silicon Valley. Over the last 30 years, beneficiaries of the visa, now numbering in the millions, have filled a massive skills gap in critical fields of science, technology, engineering, and mathematics.
But the visa category has come under immense criticism. Decades after its creation by one Republican president, another Republican president has targeted it as part of an anti-immigration clampdown. Our latest field guide examines how the visa became such a painful touchpoint in the debate over US immigration reform, and whether it can survive going forward. Read more about the status of the H-1B.
---
Surprising discoveries
Anti-lockdown is the new Brexit. The Brexit party applied to rebrand as Reform UK, positioning itself as a key voice against restrictive pandemic measures.
The UK's first vegan butchers are open for business. They're selling meat-free versions of traditional products like baycon, soysage and turk'y.
It took 41 years to deliver this package. A brown box postmarked 1979 finally made it to its recipient last month, who opened it to find a pair of boots from a now-defunct English shoemaker.
Rice is political. Pakistan is "vehemently" opposing efforts by India to have the EU recognize only Indian basmati rice as authentic.
A nuclear fusion device switches on. UK scientists have activated a £55 million ($71 million) machine that seeks to replicate the energy-generating reaction that powers stars.
---
Our best wishes for a productive day. Please send any news, comments, authentic rice, and fake meat to hi@qz.com. Get the most out of Quartz by downloading our iOS app and becoming a member. Today's Daily Brief was brought to you by Mary Hui, Tripti Lahiri, Annabelle Timsit, and Oliver Staley.