Good morning, Quartz readers!
Here's what you need to know
India's vaccine rollout is hitting snags. Four days in, the country's effort to vaccinate 1.3 billion people is off to a slow start thanks to low turnout and technical glitches with a mobile app used to register vaccine recipients.
Beijing and Washington are at it again. On the heels of strong economic results, China accused US officials of pushing "conspiracy theories" about the coronavirus and threatened them with sanctions for being too friendly towards Taiwan.
A Samsung executive was sentenced for bribery and embezzlement. Jay Y. Lee received a 30-month prison sentence in a retrial for bribing an associate of former South Korean president Park Geun-hye.
The United Nations could decide the fate of the Tokyo Games. At least that's what a former International Olympic Committee vice president suggested. Japan's prime minister says the Games will be "proof that humanity defeated the coronavirus," but many are skeptical—especially as more cases of the new Covid-19 variant emerge.
The UK is staging a pro-business recovery. Buoyed by his country's successful vaccination campaign, prime minister Boris Johnson plans to regularly meet with top firms to loosen regulations post-Brexit.
Netflix reports earnings. The streaming giant is creaming the competition when it comes to 2021 content, but investors will be looking at subscriber growth, which right-sized in the third quarter after an initial pandemic boost.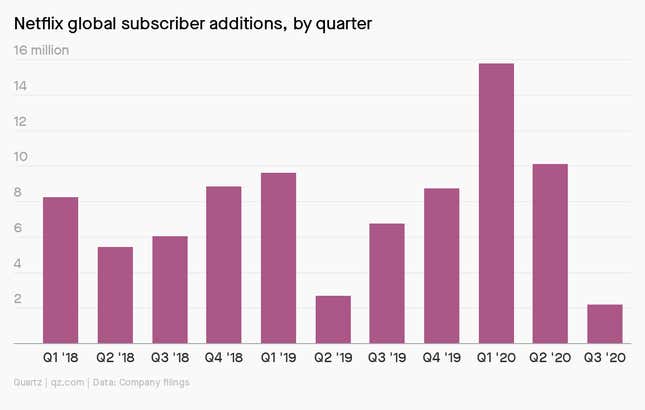 ---
What to watch for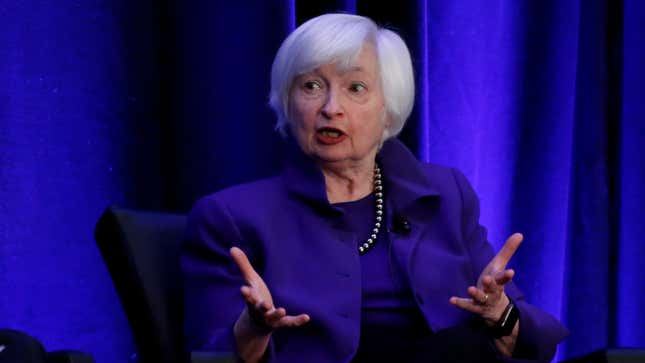 US president-elect Joe Biden's pick for Treasury secretary, Janet Yellen, appears before the Senate Finance Committee today for her confirmation hearing. The former chairwoman of the Federal Reserve is expected to signal a hands-off approach to the US dollar, and to criticize countries that manipulate their currency. What else might we expect during Yellen's tenure?
You can watch the hearing live at 10am US eastern time here.
---
Charting inflation expectations
The Federal Reserve is propping up the US economy with ultra-easy credit while Congress passes stimulus packages. But as lawmakers prepare to send Americans another round of checks, investors are starting to worry about inflation.
The breakeven rate gives a sense of what traders are expecting. As John Detrixhe explains, the rate is the difference between Treasury bonds and Treasury Inflation Protected Securities, which are linked to the Consumer Price Index. The 10-year breakeven rate signals investors are betting inflation will rise to about 2.1% in the next decade. That's not exactly Argentina-style hyper inflation, but would signal the highest expectations for price increases in the US in more than two years.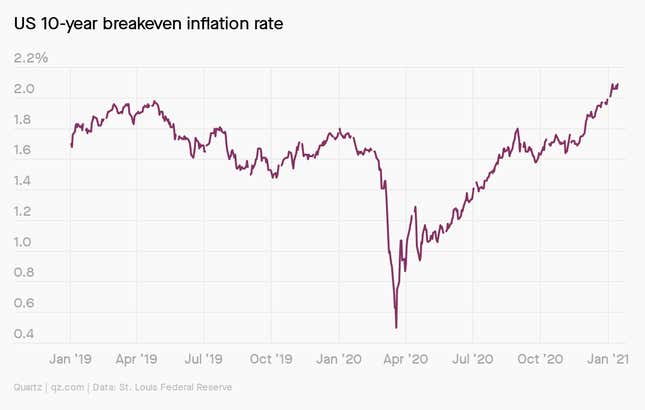 ---
So you want to sell on Amazon
Parler may struggle with its antitrust case against Amazon, but it's far from the first startup to make an antitrust accusation. Since Amazon launched its marketplace in 2000, small- and medium-sized businesses have had to carefully consider the cost of doing business with Bezos. Marc Bain looks at the pros and cons:
👍 The reach is hard to beat. Amazon's Prime program alone has more than 150 million global subscribers.
👍 Amazon will handle the grunt work. The company allows sellers to easily sign up, list items, and start selling. For an added fee, it will also warehouse and ship items.
👍 Amazon has incentive to support its sellers. Since 2017, sellers on Amazon's marketplace have been responsible for most of the company's product sales.
👎 Sales can come at a high price. There's a monthly service charge, a referral fee on each sale (sometimes higher than 15%), plus additional fees and program costs.
👎 There's tons of competition, including from Amazon. There are 2.4 million active sellers on Amazon, and the company itself has launched dozens of private label brands.
👎 Amazon has all the leverage. The feeling among many sellers is that Amazon squeezes them for as much money as it can, with little concern for their interests.
✦ Pros of becoming a Quartz member: We'll handle the grunt work of demystifying the global economy. Cons: None! Try it free for seven days.
Surprising discoveries
India's teachers are policing poultry. The latest task assigned to Indian educators—who have also helped run elections and collect Census data—highlights the government's chronic understaffing.
A man hid inside O'Hare for 3 months. Aditya Singh, a 36-year-old from California, told prosecutors he was living in the airport because he fears flying during the pandemic.
Mercedes has a signature scent. The car company's on-staff "futurologist," who developed its olfactory environment, is part of a growing move by carmakers to lean into mindfulness.
The most famous magic trick turns 100. Magicians from around the world gathered online to celebrate a century of sawing people in half.
Could your ice cream have Covid? Three samples of chocolate, strawberry, and taro ice cream tested positive for the coronavirus in northeast China. (Don't worry, it's likely a one-off.)
---
---
Our best wishes for a productive day. Please send any news, comments, Indoguration pics, and Covid-free ice cream to hi@qz.com. Get the most out of Quartz by downloading our iOS app and becoming a member. Today's Daily Brief was brought to you by Annabelle Timsit, John Detrixhe, Marc Bain, Karen Ho, Ana Campoy, Samanth Subramanian, Amanda Shendruk, and Kira Bindrim.