Good morning, Quartz readers!
Here's what you need to know
US travel bans on the UK and EU will stay. Despite president Donald Trump's order to lift entry bans from Jan. 26, the incoming Biden administration said it will maintain the restrictions.
An independent pandemic review panel faulted China and the WHO. The group, established by the World Health Organization and led by the former heads of New Zealand and Liberia, said the global health body and Beijing should have acted more quickly.
The UK-China trade bill could include a genocide amendment. Lawmakers vote on a measure that would give UK courts the power to determine if a genocide is underway in China's Xinjiang province—and allow parliament to reject a trade deal with Beijing based on such a determination.
France's central bank will start limiting fossil-fuel investments. By 2024, it will no longer invest in firms that generate revenue from coal, and divest from companies making more than 10% and 50% of revenue from oil and gas, respectively.
Parler is partially back online. The social media app favored by the far-right, which was blocked by Amazon, Apple, and Google, has reappeared on the internet with the help of a Russian technology firm.
Netflix reports earnings. The streaming giant is creaming the competition when it comes to 2021 content, but investors will be looking at subscriber growth, which right-sized in the third quarter after an initial pandemic boost.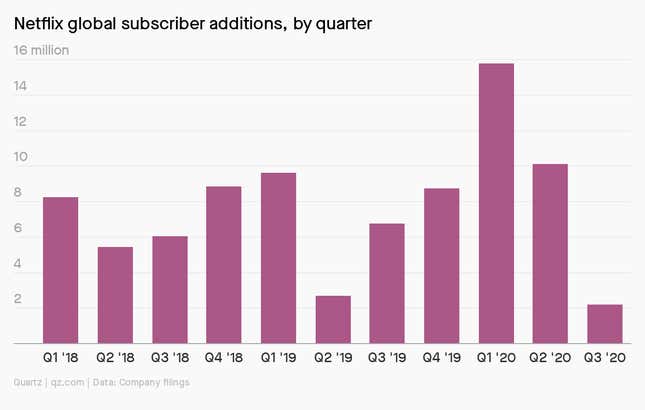 ---
What to watch for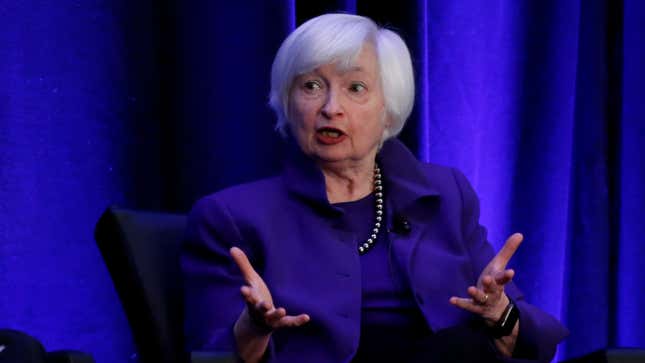 US president-elect Joe Biden's pick for Treasury secretary, Janet Yellen, appears before the Senate Finance Committee today for her confirmation hearing. The former chairwoman of the Federal Reserve is expected to signal a hands-off approach to the US dollar, and to criticize countries that manipulate their currency. What else might we expect during Yellen's tenure?
You can watch the hearing live at 10am ET here.
---
Charting inflation expectations
The Federal Reserve is propping up the US economy with ultra-easy credit while Congress passes stimulus packages. But as lawmakers prepare to send Americans another round of checks, investors are starting to worry about inflation.
The breakeven rate gives a sense of what traders are expecting. As John Detrixhe explains, the rate is the difference between Treasury bonds and Treasury Inflation Protected Securities, which are linked to the Consumer Price Index. The 10-year breakeven rate signals investors are betting inflation will rise to about 2.1% in the next decade. That's not exactly Argentina-style hyper inflation, but would signal the highest expectations for price increases in the US in more than two years.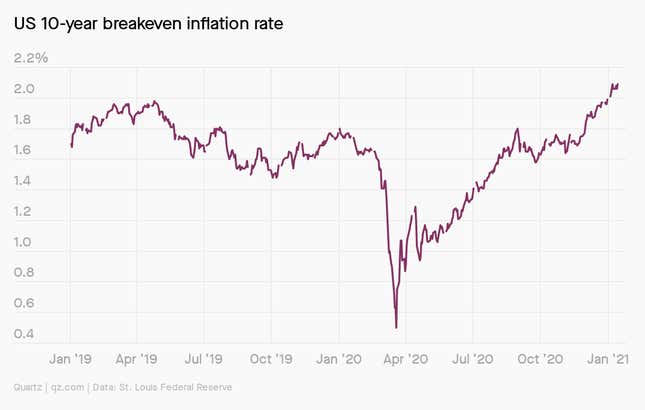 ---
So you want to sell on Amazon
Parler may struggle with its antitrust case against Amazon, but it's far from the first startup to make an antitrust accusation. Since Amazon launched its marketplace in 2000, small- and medium-sized businesses have had to carefully consider the cost of doing business with Bezos. Marc Bain looks at the pros and cons:
👍 The reach is hard to beat. Amazon's Prime program alone has more than 150 million global subscribers.
👍 Amazon will handle the grunt work. The company allows sellers to easily sign up, list items, and start selling. For an added fee, it will also warehouse and ship items.
👍 Amazon has incentive to support its sellers. Since 2017, sellers on Amazon's marketplace have been responsible for most of the company's product sales.
👎 Sales can come at a high price. There's a monthly service charge, a referral fee on each sale (sometimes higher than 15%), plus additional fees and program costs.
👎 There's tons of competition, including from Amazon. There are 2.4 million active sellers on Amazon, and the company itself has launched dozens of private label brands.
👎 Amazon has all the leverage. The feeling among many sellers is that Amazon squeezes them for as much money as it can, with little concern for their interests.
✦ Pros of becoming a Quartz member: We'll handle the grunt work of demystifying the global economy. Cons: None! Try it free for seven days.
Surprising discoveries
India's teachers are policing poultry. Their latest task highlights the government's chronic understaffing.
A man hid inside O'Hare for 3 months. He told prosecutors he was living in the Chicago airport because he fears flying during the pandemic.
Mercedes has a signature scent. The car company's on-staff "futurologist," who developed its olfactory environment, is part of a growing trend by carmakers to lean into mindfulness.
The most famous magic trick turns 100. Magicians from around the world gathered online to celebrate a century of sawing people in half.
This French woman is fighting to prove that she's alive. A series of judicial errors led her to be officially and erroneously declared dead in 2017.
---
---
Our best wishes for a productive day. Please send any news, comments, old tricks, and vehicular smells to hi@qz.com. Get the most out of Quartz by downloading our iOS app and becoming a member. Today's Daily Brief was brought to you by Mary Hui, Tripti Lahiri, Karen Ho, Ana Campoy, and Kira Bindrim.