Good morning, Quartz readers!
Here's what you need to know
The US threatened renewed sanctions after Myanmar's coup. But Myanmar's military can likely count on support from China.
The euro zone will post a decline in fourth-quarter GDP… Lockdowns put the brakes on the third-quarter's strong recovery, while vaccine supplies will determine this quarter's growth.
…and the EU takes a hard look at Johnson & Johnson's delivery plan. Fearing a repeat of AstraZeneca's delays, the bloc is worried because the firm's vaccine will go to the US for the last mile of production.
A Moscow court weighs jail time for Alexei Navalny. The detention of the opposition leader upon his return to Russia has sparked massive protests against leader Vladimir Putin.
The UK formally asked to join the Trans-Pacific Partnership. The move was welcomed by Japan, which serves as president of the TPP's decision-making body.
Robinhood raised another $2.4 billion. The investing app central to the GameStop saga has raised more from shareholders in the past week than it has over its entire existence.
---
What to watch for
Three of the biggest names in tech report earnings today. Rosy numbers are expected all around, thanks to pandemic-driven shifts to e-commerce and cloud computing. For some, however, it won't be all "great quarter" backslapping:
🛍 Alibaba's extended Singles' Day sales likely paid off financially, but it's under the cloud of a Chinese regulatory crackdown. Coincidentally, founder Jack Ma was left off a list of Chinese tech luminaries published by a state-run paper today.
☁️ Alphabet's overall numbers are expected to be strong, but the company is for the first time reporting costs and operating profit for Google Cloud. Analysts believe that business is much weaker than Amazon's Web Services.
🛒 Amazon caps off an already stellar year with a report that includes its Prime Day sales and the holiday season.
---
Charting sub-Saharan Africa's 2021 growth
Sub-Saharan Africa will see moderate but positive GDP growth of 2.7% this year, a welcome rebound from the region's first recession of 25 years in 2020, when GDP shrank by an estimated -3.7%.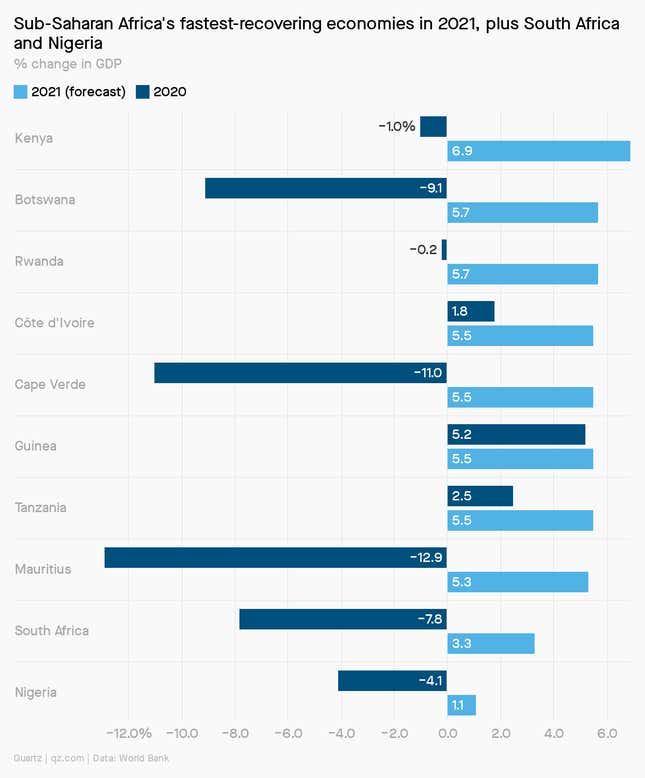 But Yinka Adegoke notes that growth won't be especially strong for oil producers and other extractive-reliant economies, including the region's largest economies: Nigeria and South Africa. More diversified economies including Kenya, Côte d'Ivoire, and Tanzania will recover better.
---
Presenting the beauty industry's makeover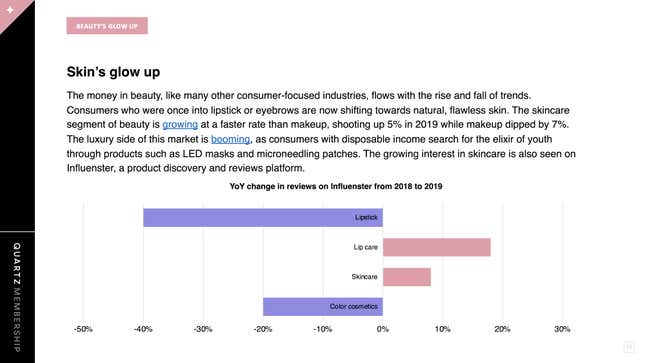 Beauty is all dressed up and going places. Despite an unexpected 2020, the beauty industry is thriving. That's in part because brands with social media mastery are appealing to an eager customer base willing to spend. In our latest presentation, Chika Dunga explores the forces that are creating beauty's glow up.
✦ Give your news diet a glow up with a Quartz Membership. Try it out free for seven days.
Surprising discoveries
The GameStop saga is getting a movie. MGM acquired the rights to adapt Ben Mezrich's GameStop book proposal, The Antisocial Network.
20,000 honey bees took over a tech company's empty office during lockdown. They produced 10 gallons' worth of honey, beeswax, and pollen.
A fitness instructor's video captured Myanmar's coup. She regularly films workouts in front of the country's parliament.
Everyone's buying Kamala Harris's favorite shoes… Sales of women's Chuck Taylors doubled during inauguration week.
…and more books, but not to read. It's all for the Zoom background.
---
---
Our best wishes for a productive day. Please send any news, comments, office bees, and Converse sneakers to hi@qz.com. Get the most out of Quartz by downloading our iOS app and becoming a member. Today's Daily Brief was brought to you by Tripti Lahiri, Mary Hui, Liz Webber, and Jordan Lebeau.